Warm Up - Threading the Needle
Ski Fitness - Warm Up - Threading the Needle
This exercise can be performed as part of your home or gym warm-up routine.
Threading The Needle - Chemmy's Tips
Start on your hands and knees on the floor.
Make sure your hands are underneath your shoulders and your hips above your knees.
Extend one arm.
Whilst exhaling thread through underneath the other arm, rotating your thoracic.
This should feel like a lovely release of the back.
Repeat 5 times each side.
More Ski Warm Up Exercises
Ski Warm Up exercises, expertly demonstrated by Chemmy Alcott :-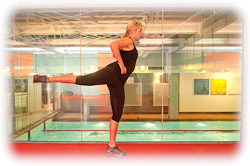 Warning and Disclaimer
Please Note :- Chemmy is not a qualified trainer or coach, and we offer this information only from her viewpoint, ability and experience as an Olympic athlete. Should you choose to follow the advice on this page, you do so entirely at your own risk.
ALWAYS :- Consult your doctor before starting any fitness programme.
ALWAYS :- Warm Up before exercising, and gradually increase range and speed of movement.
ALWAYS :- Stop and seek advice if you feel unwell or experience pain or nausea while exercising.
Note :-
The information on J2Ski, where not clearly factual, is opinion only and is neither definitive or exhaustive.
Warning :- Snow Sports are Dangerous!
Skiing, snowboarding and all winter sports involve risk of serious injury or death. You MUST confirm all information, especially snow and weather conditions, locally before you ski or board. You participate at your own risk.