Warm Up - Standing Leg Swing
Ski Fitness - Warm Up - Standing Leg Swing
This exercise can be performed as part of your home or gym warm-up routine, or even on the mountain immediately before you ski (with your boots on)!
The Standing Leg Swing - How To
Muscles Exercised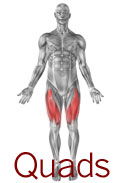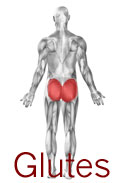 Remember
Transverse Abs - Tensed!
Repeat Both Sides
Standing Leg Swing - Chemmy's Tips
Stand in a neutral body position not overly arching your back with your Transverse Abs (TA) switched on (these are your deep abdominals - you should be able to breathe freely and talk comfortably but feel like you are slightly sucking your belly button into your spine).
Holding on to something secure, actively swing the leg as far forward and backward as you can. I say active as it should be a conscious mind to body swing of the leg not just gravity pulling it to and fro. The movement comes from your glutes and quads (bum and thighs!!).
Remember to switch sides.
Repeat until you feel the tensions ease and the legs are warm.
More Ski Warm Up Exercises
Ski Warm Up exercises, expertly demonstrated by Chemmy Alcott :-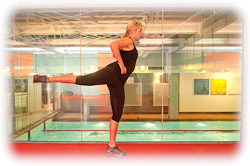 Warning and Disclaimer
Please Note :- Chemmy is not a qualified trainer or coach, and we offer this information only from her viewpoint, ability and experience as an Olympic athlete. Should you choose to follow the advice on this page, you do so entirely at your own risk.
ALWAYS :- Consult your doctor before starting any fitness programme.
ALWAYS :- Warm Up before exercising, and gradually increase range and speed of movement.
ALWAYS :- Stop and seek advice if you feel unwell or experience pain or nausea while exercising.
Note :-
The information on J2Ski, where not clearly factual, is opinion only and is neither definitive or exhaustive.
Warning :- Snow Sports are Dangerous!
Skiing, snowboarding and all winter sports involve risk of serious injury or death. You MUST confirm all information, especially snow and weather conditions, locally before you ski or board. You participate at your own risk.