°F / in / ft / miles
°C / cm / m / km
Ski Fitness - Tips, Advice and Exercises from Chemmy Alcott
Chemmy Alcott's Tips for Ski Fitness
As Britains Number One Skier, Chemmy stays on top of her fitness at all times. Here she shares some of her favourite Exercises, and other tips for ski fitness.
Ski Fitness
We illustrate a range of Exercises, including an extensive warm-up, exercises you can do at home and variations you can add at the gym.
Warming Up with Chemmy Alcott
Follow the links to view various Ski Fitness Warmup exercises.
...the warm up is essential - especially if you haven't been able to regularly train before...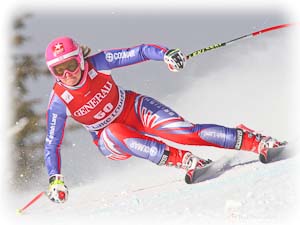 Ski Fitness Exercises to do At Home
Coming soon :- effective and efficient exercises that will raise your level of ski fitness, without leaving home!
Ski Fitness Exercises to do At The Gym
Coming soon :- additional gym exercises to further improve your ski fitness.
Warning and Disclaimer
Please Note :- Chemmy is not a qualified trainer or coach, and we offer this information only from her viewpoint, ability and experience as an Olympic athlete. Should you choose to follow the advice on this page, you do so entirely at your own risk.
ALWAYS :- Consult your doctor before starting any fitness programme.
ALWAYS :- Warm Up before exercising, and gradually increase range and speed of movement.
ALWAYS :- Stop and seek advice if you feel unwell or experience pain or nausea while exercising.