Ski Fitness - The Warm Up
Before starting any workout (or going skiing!) you should always do some form of Warm-up. Preparing muscles and joints for activity helps prevent injury, as well as encouraging circulation.
Importantly - having warm muscles will help you ski most effectively, from the start of the day.
Chemmy's Warm Up Tips
First things first, the warm up is essential - especially if you haven't been able to regularly train before.
You get the most out of your muscles when they are warm and slightly stretched. It also helps to reduce injury during the exercises themselves.
I personally have a huge emphasis on warm up, spending up to 40 minutes doing a thorough, all body warm up before I lift weights but I appreciate that not all of you can be so indulgent with time so I would say allocate at least 10 minutes for warm up...
...by the end of it you should NOT be out of breath but maybe slightly perspiring!!
You can find five of my favourite warm up exercises linked below.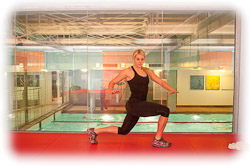 Ski Warm Up Exercises
Warm Up exercises, expertly demonstrated by Chemmy Alcott :-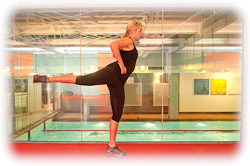 Warning and Disclaimer
Please Note :- Chemmy is not a qualified trainer or coach, and we offer this information only from her viewpoint, ability and experience as an Olympic athlete. Should you choose to follow the advice on this page, you do so entirely at your own risk.
ALWAYS :- Consult your doctor before starting any fitness programme.
ALWAYS :- Warm Up before exercising, and gradually increase range and speed of movement.
ALWAYS :- Stop and seek advice if you feel unwell or experience pain or nausea while exercising.
Note :-
The information on J2Ski, where not clearly factual, is opinion only and is neither definitive or exhaustive.
Warning :- Snow Sports are Dangerous!
Skiing, snowboarding and all winter sports involve risk of serious injury or death. You MUST confirm all information, especially snow and weather conditions, locally before you ski or board. You participate at your own risk.
Ski Fitness Tips :- Warm Up
More Ski Fitness Tips