Warm Up - Round the World Leg Swing
Ski Fitness - Warm Up - Round the World Leg Swing
This exercise can be performed as part of your home or gym warm-up routine, and just requires a little floor space!
Muscles Exercised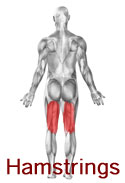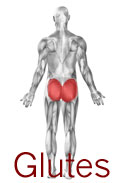 This will exercise your Hamstrings, Glutes, Lower Back, Core & Chest.
Round The World Leg Swing - Chemmy's Tips
Lying on the floor on your back, bring your knees up to almost 90 degrees.
Drop one leg down and circle across the body, twisting your lower torso.
As you can see by the photos, I have quite flexible hamstrings so can get my leg quite high - this is just a warm up so you should feel comfortable.
This exercise is a dynamic lying down leg pendulum.
Continue until legs feel loose and warm.
More Ski Warm Up Exercises
Ski Warm Up exercises, expertly demonstrated by Chemmy Alcott :-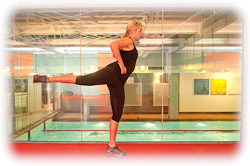 Warning and Disclaimer
Please Note :- Chemmy is not a qualified trainer or coach, and we offer this information only from her viewpoint, ability and experience as an Olympic athlete. Should you choose to follow the advice on this page, you do so entirely at your own risk.
ALWAYS :- Consult your doctor before starting any fitness programme.
ALWAYS :- Warm Up before exercising, and gradually increase range and speed of movement.
ALWAYS :- Stop and seek advice if you feel unwell or experience pain or nausea while exercising.
Note :-
The information on J2Ski, where not clearly factual, is opinion only and is neither definitive or exhaustive.
Warning :- Snow Sports are Dangerous!
Skiing, snowboarding and all winter sports involve risk of serious injury or death. You MUST confirm all information, especially snow and weather conditions, locally before you ski or board. You participate at your own risk.