Ski Fitness - Advice and Facts
Ski Fitness - Are you Fit to Ski?
Your general fitness can, of course, have a marked effect on the enjoyment you get from your skiing. This can be especially true for Beginners and early skiers for whom the effort of repeatedly regaining one's feet (and skis!) can quickly become tiresome. Any regular exercise you can do will make a huge difference to your holiday, so we're delighted to provide some tips, from two of Britain's top skiers - Chemmy Alcott and Graham Bell - to get you started.
Get Fit to Ski with Chemmy Alcott
Read the J2Ski Ski Fitness pages for Chemmy's advice, and a range of exercises, to improve your ski fitness :-
Warm Up Exercises - warm up the right muscles, before hitting the gym or the piste.
Ski Fitness Exercises at Home - coming soon...
Ski Fitness Exercises for the Gym - coming soon...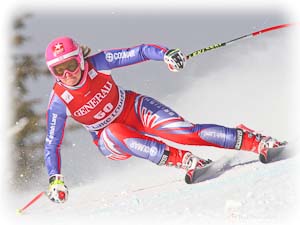 First Day Ski Blues
Most skiers feel the burn in the thighs above all else, but a day on the slopes can also leave you with aching calves, bum, groin, lower back and stomach. No matter how fit you are, your first days skiing always seems to leave you with soreness in muscle groups you did not even know you had.
Pre-Season Training
A pre-season programme of exercise for general fitness, combined with ski-specific strength training will help combat this. Your ski specific exercise needs to replicate the movements made when skiing, and must incorporate an element of balance and coordination.
You should try and cover all the key, complementary, areas :-
Endurance - to ski longer runs without breaks.
Strength - so you tire less easily.
Balance - to enhance your technique.
All the effort you can make before you go skiing will be repaid many times over; if you are fit when you hit the slopes, you'll be able to ski for longer, feel less tired and will enjoy your skiing a whole lot more.
The Skier's Edge (Big Mountain)
More about Ski Fitness
See Also :- Balance and Coordination for Skiers, Endurance Training for Skiers and Ski-specific Strength Training.
Our Ski Fitness Tips have been kindly provided by Graham Bell, former British Olympic Skier and UK Marketing Director for The Skier's Edge.
Note :-
The information on J2Ski, where not clearly factual, is opinion only and is neither definitive or exhaustive.
Warning :- Snow Sports are Dangerous!
Skiing, snowboarding and all winter sports involve risk of serious injury or death. You MUST confirm all information, especially snow and weather conditions, locally before you ski or board. You participate at your own risk.
Ski Fitness Tips
More Skiing Tips