J2Ski Snow Report 7th April 2022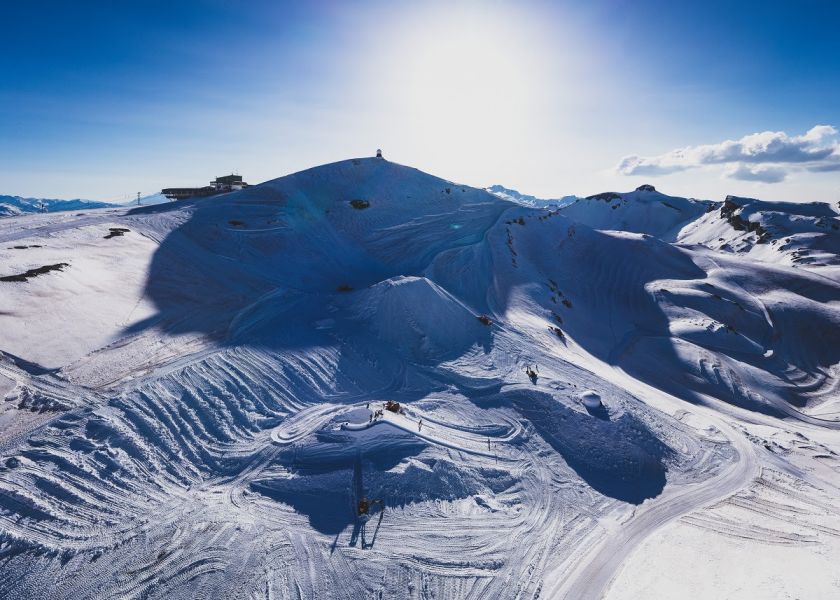 Crans-Montana is hosting The Nines by Falken Freeride comp this week...
Winter's back! For a while anyway...
The Snow Headlines - 7th April
- Weekend snow totals in the Alps are up to 60cm (two feet)
- World's thickest snowpack now in North America after Asia held top spot all winter.
- Strong winds temporarily close ski areas in the Western US.
- Mt Baker in Washington state reports 51" (130cm) of snowfall in 48 hours.
- Scottish ski centre closed in warm, dry March reopens in cold, snowy April.
Winter having another go?
Re-publication :- our Snow Report Summary, being the text above this line, is free to re-publish, but must be clearly credited to www.J2ski.com with text including "J2Ski Snow Report" linked to this page - thank you.
World Overview
Europe
The big change in the weather for April compared to March continues with the first big snowfalls in the Alps (and sub-zero temps down to valley floors) in about a month.
The same amounts of snowfall, or more, are forecast for the end of this week too, so we may be getting back into a cycle. But of course, this is April and the overall trend is towards seasons ending and snow melting whatever happens.
The Alps, Dolomites, Pyrenees and northern parts of eastern Europe have all had fresh snow, as have Scandinavia and Scotland, so there's new snow to report almost everywhere this week.
North America
It has been a fairly typical spring week in Canada and the US with a mixture of warm weather and snow showers.
The Pacific Northwest region has had several feet more snowfall and several resorts have announced extended seasons there.
Up in Alaska, bases of over 5 metres (200") have now become the deepest in the world as the deeper bases (up to 6m/20 feet) reported at some ski areas in Japan have now thawed below that level.
Elsewhere it's a different picture in California with a thin snowpack although some resorts there plan to stay open into May and there's been fresh snowfall. Fresh snow too in the Rockies and even the Northeast but the tide of season-end closures continues to build with most due to do so this coming weekend or the one after.
Europe
Austria
After a snowy weekend in Austria which saw ski areas posting 20-40cm accumulations, it has been largely dry this week. Temperatures in the mountains have been cooler than they were in March, typically -5C to +5C, and about five degrees warmer down in the valleys.
So the thaw continues and more than half of Austrian areas have now closed, or will have at the end of the ski day on Sunday, including the first of the country's big-name resorts.
But there's more snow forecast to end this week, interspersed with sunny spells, so those going through to the end of the month or even into May like
Ischgl
,
Kitzsteinhorn
, the
Stubai
glacier, Solden or
Obertauern
are looking good.
France
There was the first significant snowfall for about a month for many French ski areas over last weekend with up to 60cm of new snow reported on higher slopes.
Val d'Isere posted an old image of deep snow as an 'April Fish' (April fool) on the morning of the first, which fooled most people and led to accusations they'd made money by people booking under false expectations. They later said they'd actually received 30cm of new snow.
It has been a little unsettled, though often sunny and less snowy over the midweek period since with temperatures at the base of the mountains getting back up to double figures. There's more snowfall moving in now though with more significant dumps expected over the next day or two and into the weekend.
Italy
There was snowfall in Italy too at the weekend with
Bormio
reporting one of the biggest accumulations in the Alps – 60cm up at 3,000m at the top of the slopes, about half that at mid-mountain and not much at the base – reflecting the difference altitude makes at this point in the season.
It has been drier, mostly, for the past few days but there's more snowfall expected on Friday and Saturday, though for most areas it will be less than a week ago, more likely 10-20cm. Then we're back to full sunshine and fast-rising temperatures for most from Sunday.
More than half of Italian ski areas have closed for the season, or will do from Sunday and the amount of terrain still accessible at those still open is dropping too. The Milky way has only half of its 400km of slopes open but the Cervinia-Zermatt area still has about 90% of its higher altitude slopes open, the largest area in or accessible from Italy at present.
Switzerland
A fairly snowy weekend in Switzerland with
Verbier
reporting a 50cm (20 inches) accumulation, greatly improving the below-average cover for the time of year there and in many Western Swiss centres.
Resorts have been warning off-piste skiers and tourers of less substantial cover on glaciers making the dangers of, for example, falling into a crevasse, higher.
On the slopes, the fresh snow has improved piste conditions and most larger Swiss centres are still open although some big names like
Adelboden
have closed along with sectors of big areas like St Moritz, whilst higher areas remain open.
Engelberg, open to late May, has the country's deepest base upon its Titlis glacier at 3 metres/10 feet.
Scandinavia
Still fairly good conditions across much of Scandinavia with only more southerly parts of the region seeing regular positive temperatures and most largely resorts remaining at or below freezing still in the daytime.
A fairly dry week for most so some great days were reported with long daylight hours now, pleasant temperatures and the snow still in good shape. There has been some fresh snowfall reported, up to 30cm (a foot) in fact in the north and west of the region. Unlike most other parts of Europe and North America, most major Scandinavian ski areas plan to stay open to the end of the month and in some cases even into April.
Pyrenees
Some occasional snow showers in the Pyrenees but more sunny spring weather dominating and temperatures at bases getting well into double figures above freezing, hastening the thaw.
More ski areas, particularly in the French Pyrenees, including big names like St Lary, have now closed for the season and many more will join them this Sunday. But some of the big centres like
Grandvalira
in Andorra and Baqueira Beret in Spain remain open to easter or beyond and still have most of their terrain open.
Scotland
It has been cold and snowy in Scotland since the start of the month which has not exactly transformed conditions but has slowed the rapid snow loss that occurred through the warm, sunny weather in the latter half of March.
The Lecht
has re-opened, although only beginner terrain and thanks to its all-weather snowmaking machine making a good enough base. Cairngorm has stayed open although, by contrast, it says no beginner terrain is available.
Nevis Range
also has higher runs open and
Glencoe
continues to have the most runs available in the country.
Eastern Europe
We are into the last week or two of the season for most ski areas in Eastern Europe although
Borovets
is expecting to stay open through to the end of the month. Things have finally turned more springlike there over the past week following a cold and snowy March but snow cover is reported to be still good thanks to that March snow, just thawing fast down in the valleys.
There has been fresh snowfall in the northeast of the region with ski areas like Jasna reporting 20-40cm of snow.
North America
Canada
Canadian resorts are largely divided between the majority that close in the first half of April and the rest that stay open to the end of the month or into May. Most fall into the first category and either ended the seasons last weekend or will do this, despite snow still falling. Quite a lot of it too -
Kicking Horse
in BC reported 20cm in 24 hours on Wednesday and nearly double that since Sunday, so it's a powdery end to the season there.
Quieter in the East where
Mont Tremblant
continues to post the most terrain open. Sunshine at
Banff
,
Lake Louise
and
Marmot Basin
to the north and Whistler over on the Pacific Coast are among the Canadian areas staying open into May.
USA
More snowfall reported for most mountainous areas in the US over the past week, but when not snowing there's also been some very warm weather. On top of this strong winds have been a major factor in the west in recent days too with ski areas on the Pacific Coast closed by gales at the start of the week and in the Rockies at midweek.
More ski areas have closed for the season last weekend and more big names including Jackson Hole are due to close this coming weekend. But others are powering through to the end of the month and even staying open into May.
Mount Baker
in Washington state reported 51" (130cm) of snowfall in 48 hours at the start of the week and has announced an extended season by a week to the 24th.
Killington
in Vermont, the largest ski area in the eastern US, has announced it is still snowmaking during cold spells overnight in order to keep its main Superstar trail open through May.