Grandvalira
Ski Resort Guide
Grandvalira

,

Andorra
Rated: 4/5 (from 6 ratings)
Grandvalira Ski Area Highlights
Recommended For
Expert Skiers, Intermediates, Beginners, Snowboarders and Apres-Ski!
Highest Lift

2,640m

8,661ft

Resort Height

1,710m

5,610ft

Nearest Airports
Perpignan and Toulouse
Save Money on Ski Hire

Save up to 50%
Free Snow Reports by e-Mail
Sign Up Here
Grandvalira
Typically lively, high value, friendly Andorran resort with a larger than average ski area. The biggest investor in skiing in the Pyrenees during the 1990s, the resort added a new 8 seater gondola for the 1996/97 season and new hotels. A skiing link with Pas de la Casa and Grau Roig was completed in 1997/98 and has been subsequently improved. The two areas finally issued a joint lift ticket - Grandvalira - for the first time for the 2003-4 season. Investment for 2000 included three new six-seater chairs, immediately placing the resort in the world top five for numbers of this type of lift at the time. Soldeu is a modern, dynamic resort with picturesque scenery surrounding and the only ski area with ISO 9000 quality award status, a lot of competitions are organised each season and there are some first rate mogul/bumps slopes. The second base at El Tarter is more traditional.
Grandvalira Summary
The Andorran village of Grandvalira is in the Andorran Pyrenees at an altitude of 1,710m5,610ft.
The Grandvalira Ski Area includes 4 Andorran Ski Resorts with a combined total of 192km119 miles of downhill skiing, with 286 marked pistes, served by a total of 66 ski lifts. The appropriate Lift Pass allows you to ski or snowboard in any of the ski areas of Canillo, Encamp, Pas de la Casa / Grau Roig and Soldeu / El Tarter.
The ski resort itself is at 1,710m5,610ft, so skiing or boarding back to the resort is usually possible. With ski lifts as high as 2,640m8,661ft, skiing and snowboarding is assured throughout the season.
Grandvalira Snow Forecast
When will it snow in Grandvalira?
The next notable snow forecast for Grandvalira is 2cm1in, expected on 25 September, with around 2cm1in forecast over the next 7 days.
See our Snow Forecast for Grandvalira for the latest update, or Join our Snow Mail Here
Snow this week
Snow Forecast by day for Grandvalira
Sat
Sun
Mon
Tue
Wed
Thu
Fri
Snow
to
resort
Ski Area Stats
Grandvalira Ski Area
Piste and Lift Stats for Grandvalira
Black Pistes
Expert Trails

25

Red Pistes
Intermediate Runs

30

Blue Pistes
Easy Trails

42

Green Pistes
Beginner Runs

21

Downhill
Total Length

192km

119 miles

Cross Country
Total Length

13km

8 miles

Ski Lifts
Number of Lifts
66
Grandvalira Altitudes
Grandvalira Ski Area Height
Max Vertical and Resort Altitude for Grandvalira
Highest Lift

2,640m

8,661ft

Lowest Piste

1,710m

5,610ft

Resort Altitude (Grandvalira)

1,710m

5,610ft
Grandvalira Rated
Ratings for Grandvalira

| | |
| --- | --- |
| Expert Skiers | |
| Intermediate Skiers | |
| Beginners | |
| Snowboarding | |
| Snow | |
| Apres-Ski | |
Grandvalira Overview
Half a dozen of Andorra's ski villages, including the best known resorts of Pas de la Casa and Soldeu, share a common ski area called Grandvalira. This is the name by which the ski resort prefers to be known – like a giant French resorts such as La Plagne and Les Arcs – one ski area with ,multiple base villages; however decades of being separate ski resorts mans many people still call the area by individual resort village names like Pas de la Casa and Soldeu.
But however important the name may seem to marketing people, the reality is that the experience is the same. Whichever village you stay in you'll have access to a very big ski area, indeed now one of the world's 50 largest as well as the biggest in the Pyrenees, and with some of the planet's most up to date lifts too. These now straddle the border in to France as well as taking up a large swathe of North Eastern Andorra itself. The different villages are of course of different sizes and have different facilities, but the lift pass issued at each covers the full ski area between them all.
Andorra itself is a tiny duty free principality in the southern Pyrenees. It's a country ideally suited to snowsports with its high snow sure mountains and almost Mediterranean. Its ski areas have seen constant development for many decades, growing from "Cheap and cheerful" in the 1970s and 80s to be increasingly sophisticated in the 1990s and since 2000 with modern lift infrastructure, ever expanding ski areas reaching world-class dimensions and resort bases moving up market.
Grandvalira came about in 2004 when the previously fiercely competitive resorts of Pas de la Casa and Soldeu, which had spread their ski areas across the mountains to meet each other, finally buried the hatchet and became a single ski area – Grandvalira. It has six key bases or access points, including Pas de la Casa, Soldeu, El Tarter, Grau Roig, Canillo and Encamp.
The largest of these is Soldeu which sits between Pas de la Casa and El Tarter. Soldeu is a typically lively, high value, friendly Andorran resort with a larger than average ski area. The biggest investor in skiing in the Pyrenées during the 1990s, the resort added a new eight seater gondola for the 1996/97 season and new hotels. Then for 1999-2000 the resort again made a huge investment with three new six seater chairs together with a second eight seater gondola. It continues to invest as part of Grandvalira today. Soldeu is a modern, dynamic resort set in dramatically picturesque surroundings. First rate for bumps and moguls - Soldeu is a regular venue for freestyle mogul comps.
The base at El Tarter is more traditional and many visitors choose to stay in the town of Canillo, 4km (2 miles) down the valley which has the lion's share of the 'off slope facilities' in the area. Access to the resorts is simple with the Funicamp (mountain cable car) making the journey from Encamp, Andorra's most central village, in 14 minutes up to the slopes - a journey which would previously have taken four times as long on a winding mountain road.
As well as being one of Andorra's most popular ski resorts Pas de la Casa is also a border town - the gateway into the country from France. The name Pas de la Casa (literally Pass of the House) derives from the days when all you would have found there was a shepherds' hut which served as a landmark for travellers crossing the River Ariege. Nowadays it is a busy border control manned by customs officers checking on the numerous visitors who come here either solely for the duty free shopping or to enjoy the variety of snowsports on offer. It is popular with the young French and Spanish too who frequently make the border crossing to enjoy the unrestricted nightlife in this unique Catalan snow-filled Tijuana.
The skiing at 'Pas' was first developed in 1957 by Francesco Viladomat, a local businessman, it started with only one draglift and gradually grew with more lifts introduced every year. Until 1976 the station was on one mountain only, the Peak of Envalira; by the 1980s it had spread to Monmalus and the Peak of Cubil up to the area of Cercle de Pessons and the Cortals d'Encamp.
Until the 1950's Andorra's economy centred mainly on the summer pasturing of sheep and cattle and the harvesting of tobacco, rye, olives and grapes while industry was limited to processing these products and the production of handicrafts. Since then tourism has taken over as Andorra's main source of revenue, exploiting its scenic mountains and recognising the massive potential for wintersports. Due to the lack of customs duties and low or non-existent taxes, Andorra has become an important international centre of retail trade attracting millions of shoppers from all over Europe to its duty free haven.
The 1990's brought dramatic changes to Andorra and its massive financial investments have brought Andorra's sports facilities, both on and off the mountains, firmly into the 21st century.
Notable Ski Runs
The longest possible descent in Grandvalira is 8km5 miles long and the most difficult run is the 'Avet No Fifteen', which is 2km1 miles in length.
Skiing in Grandvalira
The ski area is accessed by parallel chair and gondola lifts from the two bases at Soldeu and El Tarter, giving at least four choices to get up to the above-treeline terrain first thing in the morning, minimising queues. There are two large ski areas specifically designed for beginners at Els Espiolet in Soldeu and Riba Escorada in El Tarter and more than 160 multi-lingual teachers ready to give advice. Beginners will soon progress on to the gentle slopes of Solana del Forn above the resort. Intermediates will enjoy Soldeu's skiing the most, with predominantly easy and intermediate trails to enjoy.
The lift link to Pas de la Casa and Grau Roig opens up 200km (125 miles) of terrain best suited to intermediates. Expert skiers have eight trails to choose from and a drag lift serving the off piste terrain of Pic d'Encampadana. Here you will find a snowcat operation, unique to the Pyrenées, bringing off-piste powder to those who want it. It may be unique to the world in that the service is offered free of charge to lift pass holders without supplement. The resort announced a huge investment in new lifts and other infrastructure improvements for the millennium season. Soldeu built three new six-seater chairs all located to service the large snowfields above the treeline directly above Soldeu and neighbouring village of El Tarter. The lifts accessed 8 newly created trails (5 blues and three reds) adding 11km (6.5 miles) of terrain. A new quad, Les Solanelles also accessed some of these new trails and creates and also improves the link over to Pas de la Casa and Grau Roig.
An eight seater gondola links a third base village, Canillo, into the system, running from a base at 1500m up to 2100m where a new complex, El Forn, is being developed to include nursery school, ski school and restaurant. A quad then takes you further up to 2465m. A beginners area is also serviced by a short slow quad - North American style. The area also features a new drag lift and two new runs (blue and red). Soldeu's ski school manages heli-skiing excursions, snowcat and off-piste ski lessons if you need them and can also offer telemark and snowboarding tuition.
There are a variety of pistes to suit all levels of skier ability, from Beginner to Expert.
Snowboarding in Grandvalira
A natural choice for 'boarders, including from an après ski perspective, Grandvalira has great free riding terrain with natural jumps above the treeline and then great fun descents down through the trees. The access to the slopes by chair and gondola is also very 'boarder friendly and the resort's positive attitude to the sport on and off the slopes has been rewarded in hosting several top international events in recent seasons.
There's a half pipe and boarder cross and an additional natural half-pipe. For first timers the separate beginners areas and specialist ski school offer an ideal combination to get you 'boarding.
Pas de la Casa/Grau Roig's snowpark and half pipe Coma III in the Grau Roig area in the main meeting place for boarders and this is also where the new high speed 6-seater has been installed. Andorra is a country which has been welcoming snowboarders since the sport began to take off in the 80s. Consequently, many of the major surf and boarder cross competitions are held here.
Location and Map
Where is Grandvalira?
Grandvalira is in the Andorran Pyrenees in Encamp, Andorra.
Map of Grandvalira
Tap

for Full-Screen, or see J2Ski's Map of Grandvalira.
How to get to Grandvalira
How To Get To Grandvalira by air
The nearest airports to Grandvalira are Toulouse, Perpignan and Carcassonne. There are six airports within three hours drive.
Infrastructure
Ski Lift Capacity
The 66 ski lifts of Grandvalira are able to uplift 100,700 skiers and snowboarders every hour.
Snow Making
Grandvalira is able to make snow, on 78km48 miles of ski runs, with 1008 snow cannons.
Grandvalira Season Dates
When is Grandvalira open?
We don't currently have confirmed season dates for Grandvalira.
Usual opening is late November, and usual closing is Mid April (Occasionally open to early May).
NOTE:- Lift and Piste openings are always subject to Snow Conditions in Grandvalira.
COVID-19 / Coronavirus
We don't yet have specific details of the COVID-19 precautions being taken in Grandvalira, but they may include any or all of the following :-
Face masks required on lifts, and in shops.
Social distancing in public areas.
Reduced lift capacity.
Visit the Grandvalira Tourist Office for the latest.
Talking about Grandvalira
Mentions in recent J2Ski News Items and Snow Reports from our users...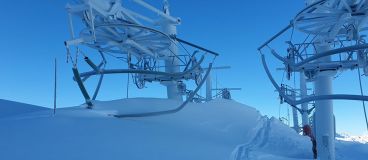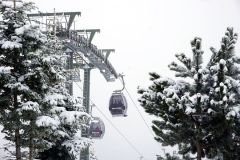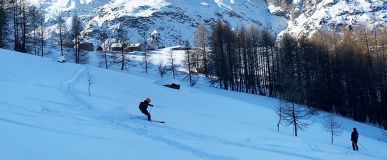 Grandvalira Aprés Ski
Soldeu El Tarter's three bases are usually lively from lift closure in to the small hours and its fortunate that the free ski bus runs to 1am. It's particularly busy in the holiday periods. The duty free priced drinks, cheaper than pretty well anywhere else are a major contributing factor to the fun, international young feel of this resort.
The most popular haunts tend to follow an Anglo-American theme with names like the Aspen Bar, Pussycat and Fat Alberts. The El Duc discotheque is one of five helping to keep the action going through the night, with the Piccadilly Bar especially lively with a different theme every night of the week.
With 30 bars in Pas de la Casa holiday makers are spoilt for choice. Something for everyone depending on whether you want to relax over a quiet meal by a log fire or join the non-stop party scene. The Milwaukee bar, Billboard, West End, Pas 83 all have a lively atmosphere with music and dancing. The Underground Bar seems to be one of the most popular but all the bars have very reasonable prices. Most bars have Happy Hours starting as soon as the lifts close.