Ordino-Arcalís
Ski Resort Guide
Travel Offers

Ordino-Arcalís

,

Andorra
Rated: 2/5 (from 6 ratings)
Ordino-Arcalís Ski Area Highlights
Recommended For
Beginners and Snowboarders.
Total Piste Length

24km

15 miles

Highest Lift

2,600m

8,530ft

Resort Height

1,940m

6,365ft

Nearest Airport
Barcelona
Save Money on Ski Hire

Save up to 50%
Free Snow Reports by e-Mail
Sign Up Here
Ordino-Arcalís at a glance
Andorra's newest ski area with ultra modern lifts is located in one of the country's most beautiful mountain valleys, also offering some of the principality's more challenging skiing above. High value as always in Andorra and lift queues a rarity.


7th day Free on selected dates
Ordino-Arcalís Facts, Stats and Ratings
Ordino-Arcalís Rated
Ratings for Ordino-Arcalís

| | |
| --- | --- |
| Intermediate Skiers | |
| Beginners | |
| Snowboarding | |
| Snow | |
| Apres-Ski | |
How High is Ordino-Arcalís?
Max Vertical and Resort Altitude for Ordino-Arcalís
Highest Lift

2,600m

8,530ft

Lowest Piste

1,940m

6,365ft

Resort Altitude (Ordino-Arcalís)

1,940m

6,365ft

Max Vertical

660m

2,165ft
Ski Area, Pistes and Lifts
Ordino-Arcalís Ski Area
Piste and Lift Stats for Ordino-Arcalís
Black Pistes
Expert Trails

 2 

Red Pistes
Intermediate Runs

11

Blue Pistes
Easy Trails

 6 

Green Pistes
Beginner Runs

 8 

Downhill
Total Length

24km

15 miles

Cross Country
Total Length

15km

9 miles

Ski Lifts
Number of Lifts
14
°F / in / ft / miles
°C / cm / m / km
Ordino-Arcalís

Summary

The Andorran Ski Resort of Ordino-Arcalís has direct access to 24km15 miles of downhill skiing, with 24 marked pistes, served by a total of 14 ski lifts.

The ski resort itself is at 1,940m6,365ft, so skiing or boarding back to the resort is usually possible. With ski lifts as high as 2,600m8,530ft, skiing and snowboarding is assured throughout the season.
Ordino-Arcalís Overview
VallNord comprises the lift and ski run connected ski areas above Pal and the village of Arinsal, as well as another ski area at Ordino, Arcalis - so essentially three areas for the price of one! Many tour operators and skiers still refer to these villages individually rather than under the new collective marketing name of VallNord.
The area has long been rightly famous for its fun and friendly environment, excellent English speaking ski schools and high value, often lively apres-ski, particularly in Arinsal. However the past decade has also seen a distinct move up market with ever higher quality evident on and off the slopes. Some prices have risen as a result of this, but VallNord remains markedly more affordable than the other Andoran ski area.
Until the 2000/01 Pal and Arinsal were two separate resorts and of course they remain two separate villages. However for that season the two resorts and ski areas were linked and both resorts began to market themselves jointly. This was followed by another marketing merger, this time with the Arcalis ski area (also known as Ordino). Together the ski areas became known as VallNord. They are the latest of many resort mergers in Andorra so that the country which once had ten or so fragmented ski areas, now officially has just two ski resorts.
Since the 1990s Andorra has made massive financial investment into its ski facilities and Pal - Arinsal, as well as the country's other resorts, has seen rapid development. For the 98/99 season Arinsal's first gondola lift was installed reducing the time needed to reach the ski area down to only four minutes. As well as the new gondola in 1998/99 both resorts renewed and extended their snow gardens therefore improving their facilities for children.
Arinsal was established in the early 1970s when the Western end of the La Massana Valley was developed. It is an attractive but rather spread out Catalan village, to the north of Andorra la Vella, the capital. The village itself is typical of quaint Pyreneen villages, attractively built in the typical local style slate and stone. The village is only nine kilometres (six miles) from the Spanish border and is famous for its young atmosphere. It is very lively and rapidly expanding (expect building work!).
Andorra, is, of course, a country well known for its extraordinary duty free shopping, Arinsal is a year round holiday destination but especially popular during the skiing season when seasonal workers outnumber locals six to one.
First opened in 1982 Pal lies at the head of the la Massana Valley to the north west of Andorra la Vella, the country's capital. The ski resort, one of five in Andorra, located between France and Spain in the Eastern Pyrynees. The resort itself is located in the centre of a National Park - an area of spectacular natural beauty, one good reason why people return to this area year after year - another being the extensive duty-free shopping in the country. During the 1990s Andorra made massive financial investment into its ski facilities with all the Andorran ski resorts undergoing major developments .
Pal is no exception and in recent years the resort has made several improvements. The opening up of the Seturia sector, mid-way between Pal and neighbouring Arinsal, added three new pistes, a quad chairlift, snow cannons, new car parks and more restaurants.
Arinsal has invested in a completely new, modern snow park. The Seturia Sector, mid-way between Arinsal and Pal was also opened up in preparation for the addition of Andorra's first cable car and further extending the skiing area and facilities. The 2000/2001 season saw the consolidation of investments with the spectacular Seturia cable car linking Arinsal and Pal into one extensive ski resort. A first for the Pyrenees, each cabin takes 50 people - on the six minute ride from its base in the Coll de la Botella to its summit at Port Negre, a distance of 2,376m.
Ordino-Arcalis, the newest of Andorra's four ski resorts is located in the north-eastern corner of this tiny duty free principality. Although its on the French border there is no entry into France - the access point is on the other side of the country at Pas de la Casa. Arcalis first opened in 1982; very recent in comparison with the other Andorran resorts. This is a purpose built resort with no slopeside accommodation, the closest lodging being at El Serrat 7km (4 miles) away and Ordino approximately 12km (8 miles) away. With the Ski Andorra lift pass it is now possible to ski all of Andorra's resorts on one pass so visirtors wanting to ski at Ordino might also consider staying in the capital, la Vella and travelling to each resort.
Ordino is probably the most culturally attractive town in Andorra and, considering the redevelopment which has taken place in the country over the last decade, the old part of the town has remained more or less unscathed. For centuries the Parish of Ordino was devoted to mining and metallurgy but its principal revenue now is from tourism - especially its winter tourist trade. There are still some traditional activities, mainly tobacco and potato farming, and farmers do still raise livestock. Ordino has a distinguished history and in earlier times it was this Parish which housed all the powerful Andorran elders such as the Casa d'Areny de Plandolit in Ordino, a rank which dates back to 1633.
The villages of the Ordino valley, with their ancient stone and slate roofed buildings, are totally in harmony with their natural surroundings, perhaps this is why the area has been twinned with the mountain resort of Gstaad in Switzerland. The parish church was built between the 16th and 18th centuries and houses the smallest and most ancient madonna in the principality la Verge del Remei (our Lady of Recoverance) in romanesque style. The National Auditorium represents Ordino's strong musical tradition, the outer shell of which dates to 1930 when it was erected as a National Museum. It was then purchased by the Government in 1991 and beautifully rebuilt in local stone and walnut.
On the Mountain
The longest possible descent in Ordino-Arcalís is 4km2 miles long and the most difficult run is the 'Gran Canal', which is 1km1 miles in length.
Skiing in Ordino-Arcalís
Ordino-Arcalis consists of two valleys, Arcalis and La Coma. Thanks to its mainly north facing slopes and geographic situation Arcalis has one of the best records of resorts in the Pyrenees for being able to offer the highest number of skiable days. The Pic d'Arcalis rises to a height of 2776m just above the highest lift, La Pleta, which reaches 1,620m. Due to its modern lift system queues are usually a rarity here.
This is an excellent beginners resort with six easy green runs including one of the longest in Andorra, La Basera, which runs from the Restaurant la Coma back along to the base station. The seven blue pistes are mostly long and gentle providing beginners with a gently increasing challenge easing the progression to more difficult slopes. The scenery is beautiful and the runs, especially on the Arcalis side are made even more attractive by the trees lining the routes. The nine red runs are mostly long and testing, La Balma is a good one to try, it starts practically at the top of the mountain and takes you all the way back to the base station.
There are only two black runs but they are both extremely difficult. If you enjoy a challenge you could try some of the off-piste which is very good in the Cercle de la Coma and around the Creussans where there are wide open spaces which would be excellent on one of the many powder days Arcalis enjoys. The Bar les Portelles with its large sun terraces is a good sandwich stop where you can enjoy some of the best scenery in Andorra before dropping down into La Coma bowl to enjoy some of the most wide open skiing in Andorra. Arcalis also lays claim to one of the longest chairlifts in the Pyrenees, la Basera, a quad chair which takes only 6 minutes to climb 548.6m (1800ft).
Heli-skiing is available in Ordino-Arcalis through several heli-skiing companies and, as with everything else in Andorra is doesn't cost as much as you might think. You do need to be a good skier, that is, able to ski a black run confidently. If you've never tried snowshoeing then Arcalis is the perfect place to try it. There are 5 different routes marked out for different levels and experienced guides to accompany you. The Ordino-Arcalis ski school has 40 multilingual instructors qualified in all the different techniques from snowblading to telemarking or snowboarding.
Ordino-Arcalís offers good sking, particularly, for Intermediate and Beginner skiers.
Snowboarding in Ordino-Arcalís
With a high speed quad chair taking you all the way to the top and the natural terrain at Arcalis this is a perfect resort for snowboarders. On a powder day the Cercle de la Coma has some excellent boarding while La Portella del Mig on the north eastern face of the Cercle de Arcalis has great chutes and powder stashes.
The blue runs here are wide open and treeless making it perfect for freeriding. If you like treelined runs then the Arcalis side has blues and reds through the trees. La Portella del Mig on the north eastern face of the Cercle de Arcalis there are great chutes and more powder stashes.
When is Ordino-Arcalís open?
We don't currently have confirmed season dates for Ordino-Arcalís.
NOTE:- Lift and Piste openings are always subject to Snow Conditions in Ordino-Arcalís.
Snow Making
Ordino-Arcalís is able to make snow, on 15km9 miles of ski runs, with 89 snow cannons.
Ski Lift Capacity
The 14 ski lifts of Ordino-Arcalís are able to uplift 13,500 skiers and snowboarders every hour.
Where is Ordino-Arcalís?
Ordino-Arcalís is in the Andorran Pyrenees in Carretera d'Arcalís, Ordino, Andorra.
How can I get to Ordino-Arcalís?
By Air
The nearest airport to Ordino-Arcalís is Barcelona which is 150 minutes drive away.
Talking about Ordino-Arcalís
Mentions in recent J2Ski News Items and Snow Reports from our users...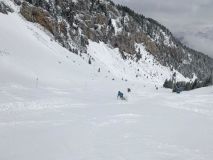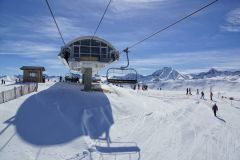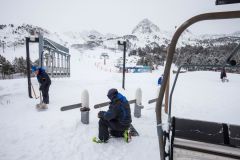 Ordino-Arcalís Webcams
The Webcams in Ordino-Arcalís are not always up-to-date. Please check the date on the image to ensure you are seeing current snow conditions.

Off the Mountain
Ordino-Arcalís Aprés Ski
The Ordino valley has several bars and restaurants although there are fewer in the village itself. Nearby facilities are limited to a few bars and a discothèque.
See More from Ordino-Arcalís and Ski Resorts in Andorra