J2Ski Snow Report 11th April 2019

Snowy peaks above the clouds in Les Arcs, France this morning...
More heavy snow in the Alps and Dolomites, with more in the forecast.
This Week's Snow Headlines - 11th April 2019
- Forecasts correct, with massive snowfalls in Alps and Dolomites to start April.
- World's deepest snow depth passes 7 metre mark for first time this year.
- Ski resorts in Italy claim up to 206cm (nearly 7 feet) of snowfall in 72 hours.
- Norway's Fonna summer glacier ski area opening for season this coming Sunday.
- Ski resorts in Austria, France, Italy and Switzerland report up to 1m of snow in 24 hours.
- Scottish ski areas re-open for a third time after heavy snowfall.
The final month of the ski season for most northern hemisphere ski areas got off to an exceptionally snowy start with heavy snowfall across many of mainland Europe's mountain ranges, particularly the Dolomites and the Alps. More than a dozen ski areas reported a metre (40 inches) of snowfall in 24 hour periods between Wednesday and Friday last week, with some claiming 2 or 3 day accumulations of up to 1.8 metres (6 feet).
So it was a powder skiing first weekend of April, albeit with the avalanche danger level going up from level 1 a little over a week ago to level 4, one below the highest.
It seems almost everywhere got some fresh snow, including many resorts coming to the ends of their seasons.
Most areas got at least 30-60cm (1-2 feet) but the biggest accumulations were reported from Italy and Switzerland.
Engelberg
said last weekend that, after a metre of new snowfall there, it had passed the 7 metre base depth mark up on its glacier, the first resort in the world to do so this season.
In Italy, along with big snowfalls in the Alps to the West, the Dolomites were transformed with their biggest snowfalls of the season – rather ironically right at the end of the season for most, although ski resorts in the area say they do their best business with groomed sunny slopes anyway so perhaps they're not too frustrated by that.
There was more snow in many areas on Sunday and conditions remain unsettled with ongoing snow showers in many areas, mostly light, but some bringing further big accumulations to higher slopes throughout this week.
The avalanche danger increased to as high as level 4 ("high"), one below the maximum 5, in some areas after all the fresh snow.
The Pyrenees has seen snowfall over a longer period with mostly light to moderate snow showers on and off over the last 10 days now adding up to more than 50cm for some areas.
It has kept snowing in parts of Scandinavia too and in Scotland heavy snowfall at the end of last seek resulted in two areas that had previously closed due to the thaw re-opening.
Across the Atlantic it has been rather less dramatic with no huge snowfalls to report and a rapid thaw underway in some areas. There has been some fresh snow at times, in Western ski states and in Quebec, Canada, but nothing more than 30cm in total.
Despite the fact that the snow is falling more heavily now than it did in February and March in many areas time marches on and another swathe of ski areas ended their seasons on Sunday, including some big name resorts, and more than half are likely to have closed by the end of next Sunday.
In the Alpine Forecast
Generally clearer this week, giving some great skiing, but please be aware that some resorts have already finished their season and more will close this coming weekend - so do check openings before you travel!
Next week will be warmer, with freezing levels above 2,000m at times, although with more precipitation so higher resorts and slopes should get quite a bit of fresh.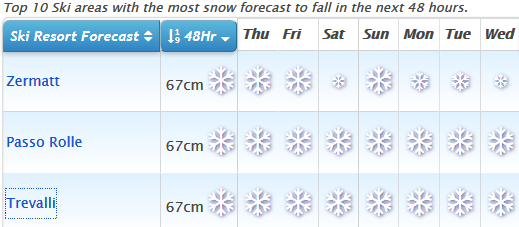 More snowfall expected for The Dolomites
, but please note many ski areas there are now closed.
Re-publication :- our Snow Report Summary, being the text above this line, is free to re-publish, but must be clearly credited to www.J2ski.com with text including "J2Ski Snow Report" linked to this page - thank you.
EUROPEAN ALPS
Austria
Austrian ski areas tend to close earlier in April than ski resorts in the other big four Alpine ski nations and resorts in the Skiwelt, for example, were already closed before last weekend when some of the biggest snowfalls for several months hit the Austrian Tirol ... along with most of the rest of the country.
The biggest accumulations were reported on the country's glaciers with 80cm for the
Stubai
, 90cm for the
Pitztal
and a full metre for Solden just in time for the weekend giving those areas that were still open a great last season boost and an excellent final powder weekend of the season.
Austrian ski areas have seen more snow over the past few days since the huge dump at the end of last week, but this has been more in the 5-20cm range.
France
France enjoyed the fruits of the big snowfalls across the Alps at the end of last week with ski areas reporting up to 1.2 metres (4 feet) of new snow up to the weekend. The heaviest snow was initially in the Massif Central region then in the Southern alps with
Serre Chevalier
reporting a metre of snow on upper runs in 24 hours and
Auron
1.2 metres over the three day period.
It hasn't really stopped snowing this week though. After a weekend lull the snow has kept falling, just not quite so heavily. Val d'Isere reported 25cm in 24 hours to start the week and
La Plagne
15cm on Tuesday, however since then skiers in many areas have reported glorious sunny conditions with the fresh snow and conditions best in the mornings. Apart from refreshing cover across the mountains the new snow has also bolstered lower slope depths in France making top to bottom skiing much more reliable in the run up to Easter.
Italy
Italy saw some of its biggest snowfalls of the season at the end of last week, and unusually there was snow right across the country's ski areas from Piemonte in the West to the Veneto Dolomites in the West. Italian resorts actually posted the biggest accumulations in the entire world for the past week too. Two small areas in Lombardy and Piemonte regions posted 1.8m (six foot) plus snowfalls in 72 hours up to Friday, far more than anywhere else.
A number of areas also posted 80-100cm accumulations in 24 hours over Thursday/Friday including
Monterosa
, Cervinia and
Val Senales
– the latter two open to early May so are now in very good shape for their final 3-4 weeks of the season. There were similar totals for the weekend in the Dolomites with
Alta
Badia,
Val Gardena
,
Arabba
and other areas getting almost as much snow in 24 hours as they had all year to date.
Switzerland
Swiss resorts also saw some of the biggest snowfalls of the past week with Engelberg passing the 7 metre upper slope snowfall depth as mentioned above, and,
Andermatt
(which has the world's second deepest snow depth at 6 metres/20 feet) reporting the biggest 3-day accumulation in the country with 1.2m (four feet) of new snow, so there were great powder conditions here when the sun came out at the weekend.
Beyond these big numbers most Swiss areas were offering great powder after 30-90cm snowfalls right across the country's mountains, and snow down to the valley replenishing top to bottom coverage, a rare treat this late in the season. Ski instructor Warren Smith in
Verbier
commented they were some of the best conditions there he had seen all winter.
Scandinavia
Most of the ski areas in Finland, Norway and Sweden are still open as the locals enjoy warmer temperatures and long days after the cold, dark winter. Temperatures have been staying mostly just below zero up in Lapland and northerly areas though so the snow quality here is about the best you'll find at present, other than the latest fallen snow in the Alps.
No big new snowfalls to report in the past week, just some smaller 5-10cm accumulations to freshen things up over the last week.
Pyrenees
It has stayed fairly snowy, at times at least, in the Pyrenees with unsettled weather bringing repeated snowfalls and some powder days to ski areas in Andorra as well as on the French and Spanish sides of the mountains. Although a growing number of smaller and lower areas have now called it a day on the 18-19 season most of the larger, higher international destinations still have at least a metre of snow depth on their higher runs and all of their terrain open with most planning to stay open now to Easter weekend.
Scotland
Scotland's ski areas got their third re-boot of 2019 when around 50cm of snow fell on Scottish hills at the end of last week – for many the biggest snowfall of the season. Cairngorm had previously had to close all its slopes after a thaw the previous week but was able to re-open 16 runs for the weekend.
The Lecht
, which had just had a beginner area of machine-made snow available, reported good cover across all slopes. Only
Glenshee
remained closed.
In the west
Nevis Range
and
Glencoe
which had both kept operating through the thaw thanks to deep snow bases and more fresh snow before the big dump also enjoyed a refresh of their cover. Typically for Scotland the snow has been followed by warm temperatures this week, so the runs still open at each area have diminished again, but at time of writing all but Glenshee still had some terrain open.
Eastern Europe
Most ski areas in Eastern Europe are now closed for the season but several dozen larger resorts are still operating and have seen some good snowfalls over the past week.
Bansko
remains open in Bulgaria and has benefited from some fresh snow on its higher slopes this week after others had already closed.
There's also been snowfall in the Czech and Slovak republics although most ski areas in both countries have now closed for the season with Jasna reporting great conditions for this late in the season.
North America
Canada
A week of varied weather in Canada as spring continues to take hold. Many of the country's resorts closed last weekend or will do next weekend but there's also been some fresh snow reported on both east and West sides of the country with the heaviest snowfall in the past few days in Quebec.
Here
Mont Tremblant
reports its upper slope base depth has reached 5.9 metres, by far Canada's deepest.
Le Massif
posted the biggest snowfall of the week so far with 35cm on Monday/Tuesday.
Over in the West, where resorts like
Marmot Basin
,
Lake Louise
, Sunshine and Whistler will stay open in to May there have been some glorious summer days and also some high altitude powder – Whistler reported 30cm of new snowfall at the start of this week and has a similar amount more in the forecast.
USA
There have been moderate snowfalls in the Western US over the past week, the heaviest falls through the weekend, and up in the northwest corner of the country. These were nothing like the accumulations of past months, but some areas received up to 50cm of fresh snow and most 10-20cm.
California continues to dominate the American snowfall table with most of the top 10 deepest snow packs here. Squaw Valley's, the deepest in North America, got back up to 6 metres/20 feet after a foot (30cm) more snow there.
Whilst most US resorts have closed already or will do at the end of this coming weekend, It and Mammoth, in second place with a 572cm (19 foot base) still have nearly three months of their extended season to run through to the start of July.