J2Ski Snow Report 19th November 2020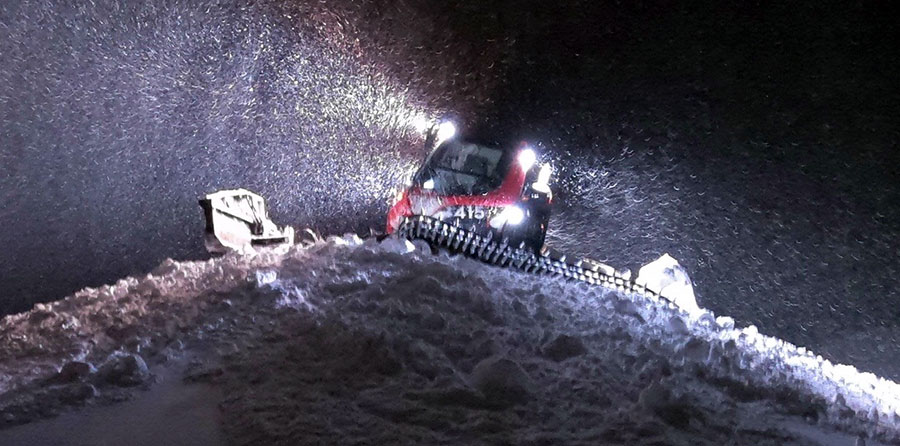 Park City Patrol, working through the night, opening tomorrow...
More ski areas opening in the USA, as Europe waits for lockdowns to ease and snow to come...
The mountains are waiting for us... please stay safe and respect local advice on travel. We can't all go skiing just yet but we can still dream!
The Snow Headlines - 19th November
- Newly open resorts include
Breckenridge
,
Jasper
and
Mammoth Mountain
.
- Scotland's
Nevis Range
ski area 'closed' until snow and virus prospects improve.
-
Cypress Mountain
first to open in BC, Canada - but lift tickets sell out.
- Powder skiing in the Rockies as more snow falls.
- Austria's
Stubai
and Finland's
Levi
to host World Cup events this weekend.
- Some ski areas delay opening due to warm weather.
- Big-names due to open this weekend are Are,
Heavenly
,
Hemsedal
,
Park City
,
Stowe
,
Trysil
and
Vail
.
The ski season remains on hold for most of the Alps as Austria, France, Germany and Italy remain in November lockdowns, the former now tightening and extending theirs into early December.
Swiss centres remain open but there was bad publicity with pictures of seemingly non-socially-distanced queues at
Zermatt
.
Restrictions are tightening in Scandinavia too but several of the region's biggest resorts do plan to open for the season this coming weekend.
Weather has been fairly dry with typical November temperatures, giving great conditions up on the glaciers, where open. In Scandinavia, things have turned cooler again after an unseasonably warm spell earlier in the month.
In the Alps, warmer temperatures at lower elevations are having an impact as the main season draws nearer. Zermatt (again) says it will delay opening its full area by a week, to the start of December, due to warm temperatures in the valley with no snowfall and not much cold weather for snowmaking. That said, most higher slopes across much of western Europe did get a dusting of snow on Monday.
After a few weeks where we've seen the number of open ski areas actually drop, due to early opening ski areas being closed by the pandemic lockdowns, the coming weekend should see several dozen ski areas open. A number of the world's leading resorts in Scandinavia and the USA, including northern Europe's largest resort (Sweden's Are) and the biggest ski area in the US (Utah's Park City) plan to open, among several dozen others.
In North America COVID cases are increasing and so are restrictions but so far this is not impacting ski resort opening. However, resorts do have stricter operating rules in place including, in most cases, pre-booked lift-tickets being required. Limited numbers on the mountain have led many to sell out of lift tickets in advance of ski days.
In the Alpine Forecast
Fluctuating temperatures, with another mild spell next week, should give way to cold and un-settled (snow!) weather for the final days of November. More on that next week!

Snow incoming for Norway this week...
Re-publication :- our Snow Report Summary, being the text above this line, is free to re-publish, but must be clearly credited to www.J2ski.com with text including "J2Ski Snow Report" linked to this page - thank you.
Europe
Austria
Austria has seen record numbers of coronavirus cases in the past week which has led the country's Chancellor to both tighten and extend the current lockdown to at least December 6th.
A number of ski resorts including St Anton and the
Arlberg
region, as well as
Ischgl
, had already announced they didn't plan to open until December 17th – around three weeks later than originally planned.
Elite competition is allowed to continue, however, and the Stubai is scheduled to stage World cup freestyle competition, with no spectators of course, at the weekend. As to the snow conditions – well it has been mostly dry and sunny, around 5-15 degrees above Celsius in the valleys, closer to freezing up on the glaciers. More snowfall is expected later this week up high.
France
France remains in lockdown too although here the current talk is of most of the country's ski areas opening on the days they had planned to for the season - usually the first or second weekend of December.
Only
Tignes
would have been open this week without a lockdown, probably, although we are now nearing the weekend when
Val Thorens
would have opened.
Italy
Italy is also in lockdown and here, like Austria, restrictions have been tightened in the past week as COVID cases have continued to rise. Parts of the country, including many ski regions in the north, such as the
Aosta Valley
and Lombardy, are on a higher level of alert than others.
Val Senales, which had stayed open to the public until the weekend before last, when it switched to being open only for racers, has now closed completely due to the virus. Sulden has done the same, leaving only Cervinia still operating in the country, and just for ski racers at present.
Italy went into its second lockdown before other countries and is due to come out of it on 24th November, but that date is now under review.
Here too it has been a largely dry and sunny week although there was fresh snowfall on higher slopes in the Italian Alps and Dolomites on Monday.
Switzerland
Swiss ski centres have stayed open so far although it feels like they could be shut down at any moment with much of Switzerland under fairly tight lockdown restrictions.
All have been stressing the need to follow the rules on social distancing but things weren't helped at the weekend when national newspapers published pictures of long, apparently non-socially-distanced queues. But looking at the positives, the sun was shining, temperatures were low and the snow up on the glaciers was in good shape, probably why those long queues formed.
There was more terrain available at several centres with
Saas-Fee
now offering more than 50km of slopes, the most anywhere in the world at present. It and Zermatt, along with
Engelberg
are the three centres open daily, the rest at weekends. The other eight open were the same as a week ago (
Andermatt
,
Arosa
, Crans Montana,
Davos
,
Gstaad
,
Laax
, St Moritz,
Verbier
) but more, including
Adelboden
and
Grimentz
, are expected to open next weekend. There's also cold and snowy weather in the Swiss forecast to end the week.
Scandinavia
The weather in Scandinavia has turned a little more wintry after an unseasonably warm spell. Already-open resorts including Sweden's Idre Fjall and Finland's Levi, report fresh snow. The latter will host World Cup ski racing this coming weekend.
A number of the regions big hitters are due to open this coming weekend including Norway's Beitostolen and Hemsedal and the region's largest resort and ski area, Are in Sweden.
Pyrenees
It has been pretty-much wall to wall sunshine in the Pyrenees over the past week. Temperatures have been freezing overnight on higher slopes but getting four or five degrees above in the daytime, and much warmer day and night down at the bases, so not great for snow. The season would normally be starting in a little over a week but colder and ideally snowier weather is needed.
Scotland
It has been a warm November in the Scottish Highlands so far although forecasts are for that to change later this week.
Most of the country's ski areas have said they have no plans to open until shortly before Christmas anyway, although
The Lecht
can open at short notice at any time if there's a good snowfall and
Glencoe
often does too.
The bad news was from Nevis Range, announcing they were temporarily closing until the snow was good and the prospects of trading in the pandemic better; indicating they hoped that would be some time in early 2021. They said they'd lost over £1 million through the pandemic and couldn't risk carrying on until they knew income would again exceed expenses.
Eastern Europe
Ski areas in Bulgaria posted images of snow dusting higher slopes at the weekend as temperatures finally dropped there. This was not the case further north in the Tatras and Eastern Alps where slopes remained dry.
Ski seasons normally get underway from late-November to mid-December in most of the region.
North America
Canada
It's looking good in Western Canada with
Marmot Basin
up near Jasper the latest area to open in Alberta and Cypress Mountain north of Vancouver on the West coast the first to do so in BC.
There's been plenty of fresh snow falling leading to great powder conditions at already open resorts including Banff's Sunshine and
Lake Louise
a little further north. The news for Eastern Canada has been less exciting with warm weather leading several areas including the biggest, Tremblant, to announce a delayed opening date to later this month.
Colder weather has now arrived and snow-making systems have been able to fire up. Mont Ste Sauveur which had been the first to open in the region, but then had to close due to the warm weather, says it will re-open on Friday.
USA
There's a rapid increase in the number of ski areas in the US opening and by this coming weekend, the country will be ahead of everywhere else in terms of what's available.
The good news is that the weather is cooperating, on the whole, with more fresh snow in the west (resorts in Colorado and Utah posted several feet more fresh snowfall) and, after a warm period over the first few weeks of November, colder weather has arrived in the East too.
Among the new openings are Colorado's Breckenridge, and Mammoth Mountain in California. All are limiting skier numbers on the slopes leading to day passes selling out in advance.
COVID does lurk in the background of operations as it does everywhere.
Mountain High
in California, which was going to have been first to open in California last week, delayed their plans when four employees tested positive.
Oregon has introduced stricter restrictions on business operating but they do not stop ski resorts operating and
Timberline
says they plan to open.
Big names opening in the next few days include Heavenly, Vail,
Solitude
and the country's largest ski area Park City.
Killington
has also announced that it will open this Friday too.