J2Ski Snow Report 1st October 2020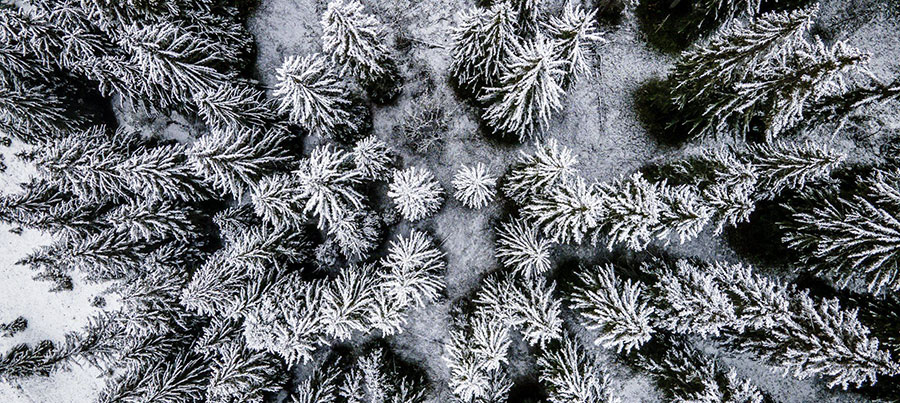 Early snow dusting the trees in La Clusaz, France this week
The Snow Headlines - 1st October
- Glacier ski areas in the Alps opening for 2020 season as normal.
- Heavy snowfall reported in the Alps and Pyrenees.
- First turns claimed on random fresh snow in US Rockies in
early
September!
- Swiss ski area opens more than a month early, after big September snowfall.
- Most ski areas in Europe hope to open without limited numbers on lifts.
- North American ski areas plan to limit numbers on lifts and on the mountain.
- Just a dozen ski areas still open in the southern hemisphere for 2020; most in NZ.
- Ski centres open or opening soon in Norway and Finland thanks to snow farming.
- Austria and New Zealand operating the most open ski areas in the world.
- First pre-season snowmaking achieved in the US.
- New Zealand ski areas plan to operate to mid-November (late spring) to "give Kiwis more ski time."
The final weekend of September brought heavy snowfall to slopes north
and
south of the equator but the southern hemisphere's 2020 season is definitely on the way out now with only a dozen or so areas still open into October, whilst in the northern hemisphere the past few weekends have seen two or three more glacier ski areas open in the Alps.
So early October will see similar numbers of ski areas open north of the equator and south. That point in time has come a few weeks earlier than usual, partly because about half the ski areas in the southern hemisphere never opened for 2020, and some of those that did are closing a little earlier than usual.
That's often a financial decision as the limits on operations imposed on ski areas that did open in Australia, New Zealand and South America made it difficult for them to break even at peak season, and almost impossible now things are quieter. An added issue was a warm winter in Australia and New Zealand, both reporting one of the warmest on record.
It's not quite yet all over however, with two ski areas in New Zealand announcing plans to stay open to mid-November (late spring in the southern hemisphere), snow permitting, "to give kiwis more ski time in what's been a tough year."
In the Alps, however, the start of the season seems surprisingly normal - but with masks and social distancing. Glacier ski areas are opening as usual so far – just a few small delays caused by thin snow cover in the earlier part of September rather than due to the pandemic. Some have announced that they hope to operate without limits on the numbers using lifts or on the mountain.

A fair bit of snow inbound for the high mountains...
Re-publication :- our Snow Report Summary, being the text above this line, is free to re-publish, but must be clearly credited to www.J2ski.com with text including "J2Ski Snow Report" linked to this page - thank you.
EUROPEAN ALPS, DOLOMITES and PYRENEES
The 24th to 26th September saw significant snowfalls in many of Europe's mountainous regions, with snow down as low as 500 metres above sea level. Glacier areas in the Alps reported as much as 70cm of snowfall accumulating, and in the Pyrenees there was up to 25cm.
We enter October with nine glacier areas open in the Alps, with the fresh snowfall having dramatically improved conditions after a warm summer; some areas reporting the snow lying only 20cm deep before it arrived.
Austria
Four glacier areas are open in Austria;
Hintertux
,
Kaunertal
,
Pitztal
and Solden.
Four more glaciers – the Dachstein, Kizsteinhorn, Molltal and
Stubai
are all due to open for the first weekend of October (the Dachstein is already open to cross country skiers but will also open its downhill runs).
Kitzbühel is due to open a few runs too, the first non-glacier area in the alps to open, using snow-farming to do so. It boasts of a 200 day season through to May each winter, pandemic permitting.
The FIS Alpine Ski World Cup tour, this winter exclusively in Europe, is due to commence in Solden in October too, without spectators.
France
The 20-21 ski season is due to start in the French Alps at
Tignes
on October 10th. Les 2 Alpes plans to open for a fortnight over the latter half of October a week later.
Italy
Passo Stelvio and
Val Senales
have opened their glacier ski areas.
Presena
Glacier (by
Passo Tonale
) expects to open soon and Cervinia will also re-open at the end of the month but initially only (or mostly) with access to skiing on the Swiss side of the border.
Switzerland
Glaciers already open for 20-21 are Glacier 3000 (
Les Diablerets
),
Saas-Fee
and
Zermatt
.
Glacier 3000 – near
Gstaad
and Les Diablerets – is a surprise. It was not due to open until November but after a foot of snow at the start of September and then 70cm in the recent storm it announced it was opening early, on the last Monday of September.
The Titlis glacier above
Engelberg
is expecting to open this coming weekend, and lined up to open in the latter half of October is the
Diavolezza
Glacier near St Moritz, as well as
Laax
.
Northern Europe
Ski areas are beginning to open in the northern hemisphere where they have glaciers, altitude and where they have latitude ... that is a northerly latitude!
There have been frosts and up to 25cm (10 inches) of fresh snowfall reported in parts of Finland, Norway and Sweden to end September and more ski areas are opening now to join the region's highest area, Galdhoppigen in Norway, which has been offering glacier skiing all summer and should stay open to the end of this month. The other two glacier areas in the region, Fonna and Stryn are now closed.
Snow-farming is being used by resorts to open early. Norway's
Kvitfjell
, near the Olympic town of Lillehammer, opened a few runs using this technique of saving snow under cover from the previous winter through the season then spreading it back out on the slopes as temperatures cool. It's initially only open to race teams and season pass holders, however.
Next up is due to be the two large Finnish ski areas on
Levi
and
Ruka
, opening on Friday, October 2nd, for their eight-month 2020-21 ski season (virus permitting)
North America
Ski areas have started announcing opening plans which are largely as normal in terms of dates (only
Copper Mountain
has announced it won't open until late November, two or three weeks later than usual, and little
Badger Pass
ski area in Yosemite National Park has said it will not operate at all, but that appears to be due to financial issues with the operator, rather than for pandemic reasons).
However, they are announcing strict social-distancing on lifts (in contrast to Europe), limited numbers in resort and many other measures much stricter than the Alps. This could (as was seen when similar restrictions were put in place at Australian areas), mean days on the slopes sell out in advance, especially at peak periods, and a number of resorts including Canada's
Sun Peaks
have sold out of season passes which, they say, guarantee slope access.
In terms of the weather, besides that heat, there have been promising signs. One was a sudden 60 degrees Fahrenheit temperature drop in 48 hours in early September which resulted in reported snowfalls of up to 45cm (18 inches) in the Colorado Rockies and first-turns of the season (kind of) being reported on "very wet snow" before it thawed in ski areas like Silverton and
Wolf Creek
. Snow-making was also fired up in Maine over on the East Coast when
Sunday River
resort reported a frosty night later in the month.
How's it looking for October? Well currently nowhere is open and only one resort we've found has named an October opening date –
Nakiska
up in Calgary, the closest ski area to Calgary, which is targeting the final weekend of the month. There was snow to end September in the region upon higher runs so hopefully that's a good sign.
High resorts (and usual early-openers) in Colorado like
Arapahoe Basin
and Loveland will be hoping for temperatures cold enough for them to start snow-making and open later this month. Better still a good early natural snowfall or two could help a lot.
Asia
There's nowhere open in Asia so far. Most Japanese areas tend to open in late November although a few small areas do use all-weather snow-making to open from later-October some years, mostly for the novelty value.
Southern Hemisphere
The Southern Hemisphere's 2020 season has definitely been one 'like no other' having operated (or not, in quite a few cases) through the height of the pandemic.
As we start October just a dozen or so ski areas remain open, most in New Zealand although there's a few of the big names operating in other countries – Catedral near
Bariloche
in Argentina has the most lifts on the continent,
Perisher
in Australia the most in the southern hemisphere. Both had seemed likely to stay open for a week or so into October but Catedral suddenly announced it would close on the last Sunday of September whilst Perisher is ending their season on Sunday, October 4th.
Here's a quick look back as there may be a lot to learn for the northern hemisphere from the past four months at ski areas south of the equator.
Warm temperatures and poor snowfalls were a big factor of 2020 in Australia and New Zealand (it was a snowy winter – initially at least and ironically when all centres were closed – in the Andes).
Africa saw the first ski area to open in the southern hemisphere in early June, Afriski in Lesotho, which had a full season (with face masks and social distancing) to the end of August, but did not get normal business levels as most skiers come from South Africa which remained in lockdown, hitting Afriski hard, presumably.
Tiffindell, South Africa's resort, never opened making the country the first to lose a whole season due to the virus.
In the Andes, there were the best snowfalls for 15 years in June-August leaving bases up to five metres deep but the pandemic meant ski areas couldn't begin to open until early August, and with very strict limits, the harshest in the ski world to date in fact. That led around three-quarters of areas to decide to stay closed, including famous areas like
Portillo
and
Valle Nevado
in Chile, as operations weren't viable. Half a dozen resorts did open and a few are still open to the start of October.
Australia had a stop/start/stop/start season due to pandemic lockdowns. It also had few natural snowfalls - the combination of a limited number of resorts open for a limited period and limited people allowed on limited slopes meant many Aussies never got on the snow this winter. Perisher did have the most terrain open of anywhere in the world for much of August and September though, peaking at 80km – about 4/5 of its maximum.
Australia did see some good snowfalls in September, including the last week of last month although Perisher was the only area still open to enjoy it.
Finally, New Zealand hit the headlines as the first country to remove most virus restrictions a few days before the season began in June, meaning skiers could, for the first few months of winter at least, visit without masks or social distancing. There was a renewed light-lockdown in August-September, but it was lifted again for the last week of last month and hopefully the remainder of the season at those areas still open.
The Remarkables
is one saying they're aiming for 11th October at least whilst
Turoa
and
Whakapapa
on the north island have said they intend to stay open to mid-November if the weather allows – that's late spring in New Zealand.
The main problems there were caused by a warm winter, some say the warmest for decades, and some areas deciding to limit opening due to limited numbers using facilities, they feared, with the border closed to the big Australian market. So there were days of good snowfall when centres that would normally be open weren't and days when ski areas couldn't cope with pent-up demand following closures and had to turn skiers away.
Here's hoping winter 2021 will be much more like normal in the southern hemisphere. Season passes are already on sale...