J2Ski Snow Report 1st September 2019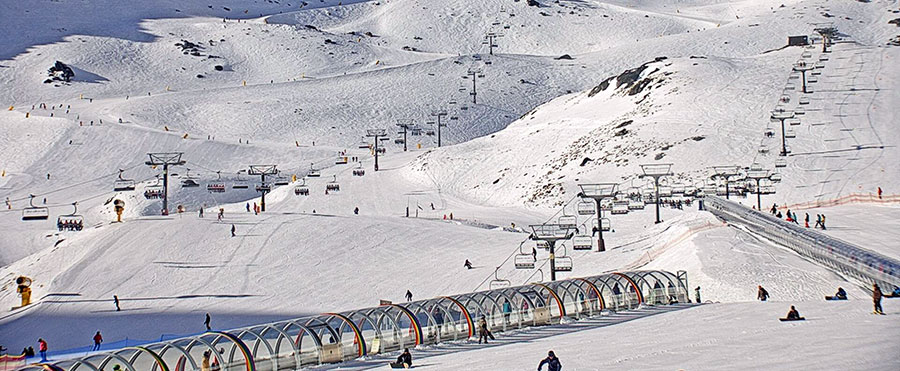 Sunshine and Snow this morning at The Remarkables, New Zealand
Welcome to our guide to where to ski this September !
This Week's Snow Headlines - 1st September 2019
- Only 6 ski areas open in northern hemisphere (a historic low) due to summer heat.
- Australia's season continues with more snow in August and bases reaching 2 metres.
- Glaciers in Austria and Norway close as snow cover melts from ice.
- New Zealand's 2019 season picks up after heavy snowfalls in August.
- Austrian, French and Italian glacier areas due to open in September.
- Most southern hemisphere ski areas to close by the end of September.
The first of September officially marks the start of meteorological autumn, and we can start to get excited about the coming ski season in the northern hemisphere. Around half-a-dozen Austrian glaciers will open later this month, ahead of 'October-ski-fests', and the French ski season also begins at
Tignes
. Up in Scandinavia the first centres open too.
How September 2019 will shape up in Europe though remains to be seen, it has been an exceptionally hot summer and a number of glacier ski areas are just bare ice with several currently closed that should be open because of that. In fact there are only five areas open in Europe as we start the month, a historic low.
So we have our fingers crossed for a repeat of the snowy September 2018, and so far the forecasts are looking fairly promising with some snowy weather forecast up high for the first week of September, with the Austrian Alps expected to see the biggest falls (at altitude).
In the southern hemisphere September is the start of spring and the wind-down month for many areas. The two commercial ski fields in southern Africa already closed for their 2019 seasons at the end of August, most of the rest in the Andes, Australia and new Zealand will shut-up-shop in the latter half of this month, although some of the major players usually soldier on in to early October.
Over the past month Australia has continued its great season with more big snowfalls and good skiing weather in between, New Zealand has caught up lost ground, things have remained pretty good at most Argentinian ski areas and not so great for most Chilean areas, although there have been a few snowfalls to bring a little cheer to the mostly dry, warm 2019 winter there.
In the Alpine Forecast
Cooler temperatures, and a little snow at altitude, are expected next week - particularly in the eastern Alps (Austria).
Longer range, temperatures look set to be a little below average for the first half of September but it's obviously (very) early days!

Northern hemispere ski areas edging into the snow forecasts...
.
Re-publication :- our Snow Report Summary, being the text above this line, is free to re-publish, but must be clearly credited to www.J2ski.com with text including "J2Ski Snow Report" linked to this page - thank you.
EUROPEAN ALPS
Austria
The warm summer sun has had a damaging impact on summer skiing in Austria with only the
Hintertux
glacier open at present and reporting a thinning base, down to around 45cm from well over a metre at the start of last month.
The snow cover has gone completely from the more southerly and smaller Molltal glacier however, as it did in August last year, leaving the glacial ice exposed and the summer ski slopes closed until more snow arrives. It had opened in June for a 10.5 month season through to early May 2020, by some measures the first to open for the 19-20 ski season, but it is currently temporarily closed.
September is normally when Austria dominates the list of open areas with all or most of its eight glacier areas opening ahead of 'Octoberfests' in the first half of next month.
September 2018 was a very snowy month so the resorts will be hoping for a repeat of that. The
Pitztal
glacier, which does have an all-weather snow-making machine to ensure cover, is due to open in the middle of the month and the Kauntertal glacier towards the end. The
Stubai
has not named a day as yet but has given ski ticket prices for a period from 15th September so that could be a clue. The Dachstein and Solden may open later in the month if conditions are right, only the
Kitzsteinhorn
above
Kaprun
say that they're targeting October, although they haven't got a fixed date yet either.
So depending on how the sun and snow goes through September, there may be seven Austrian areas open by the end of the month, or none!
France
There are currently no ski areas open in France; Les 2Alpes had hoped to stay open for summer skiing to the end of August but ended up closing early in the month as it was too hot on the glacier.
It was a similar story for Tignes which closed at the end of July, rather than early August, so missing its target to be open every month of the year for at least a day or two. It is aiming to get back on track at the very end of September, hoping to open for the last weekend of the month. Last year it missed that target as there was not enough snow so they'll be hoping for some good September snowfalls.
No other French areas are due to open in September.
Italy
Italy's summer ski season at Cervinia is scheduled to draw to a close at the end of the first full weekend in September next week. It doesn't stay closed long though and is scheduled to re-open at weekends initially from October.
That will leave only Passo Stelvio open in the country through September. It's upper slope base has halved from 3.5 metres when it opened for the season back in early June to 1.8 metres now and the snow has gone completely from the lower glacier leaving bare ice exposed. So there's currently about 6km of snow cover maintained by the groomers on the upper half but no home run back to base.
The former Italian summer ski area of
Val Senales
is also due to open in September, usually in the first half of the month, conditions permitting, but again the webcam images are currently showing bare ice so the end of September at the earliest currently looks more realistic.
Switzerland
Swiss glacier ski areas look to be standing up the best to the summer heat, perhaps thanks in part to their few hundred metres higher elevation and orientations. Saas Fee and
Zermatt
are both due to stay open through September, each with 13-15km of slopes open and 1-2 metres of snow depth on the ice.
Other Swiss glaciers should start opening from next month.
Northern Europe
The
Folgefonn
glacier was due to stay open until the start of September and Galdhopiggen through until the end of October but both were forced to close in July by what the manager of the latter described as unprecedented warm temperatures.
It hasn't been non-stop sun, there was a brief snowfall in mid-August for some respite and the managers at Galdhopiggen has said that it does aim to re-open when it hopes things will have cooled down a little around 14/15 September but that's yet to be confirmed.
North America
Only the
Timberline
permanent snow field on Mt Hood in Oregon is open as we enter September. It actually starts it's annual calculation of snowfall on September 1st so it kind of regards then as the start of its 2019-20 ski season. 2018-19 to 321st August netted 496 inches (12.6 metres) they said but that didn't change through the summer as it has been mostly warm and dry. The centre usually closes for a period in September and October for an annual maintenance shut down in its year-round schedule.
Southern Hemisphere
Australia
Australia has been enjoying one of its best winters in years – arguably the best of the four major southern hemisphere ski nations - with half-a-dozen major multi-day snowstorms over the past three months which have helped build bases to as deep as 2.2 metres at one centre with several others reporting snow depths of more than two metres.
Those are some of the best numbers in 29 years with a metre snow depth generally regarded as a pretty good benchmark for a decent season in the country. In between the storms there have been perfect sunny days with temperatures hovering around zero.
Most of the country's ski areas are fully open, or thereabouts, with the largest,
Perisher
, one of those reporting more than a two-metre base and up to 100 trails open.
Usually the Australian ski season ends at the end of September, but it seems likely there will be some season extensions into early October with conditions as they are.
New Zealand
It's not been the best ski season for New Zealand but the best conditions have definitely come towards the end of the winter with some heavy snowfalls last month after an often warm, dry and even wet June and July at many areas.
The snow has arrived with some fairly extreme weather at times with gale force winds a frequent problem, leading to the cancellation of the finals of the inaugural FIS World Cup competition of 2019-20 at
Cardrona
in late August.
Snow depths on some of the club fields are now up to 3 metres, the deepest in the southern hemisphere, and the country's biggest resort, Ruapehu on the North Island, has 2.2 metres lying at its
Whakapapa
base. Most New Zealand ski areas stay open to early October and Ruapehu is usually the last to close at the end of next month or sometimes even staying open in to 'Snowvember' so all will be hoping for a good September to make up for ground lost earlier in the season.
Chile
2019 will not be a season to look back on for most ski areas in Chile. Some of the country's famous areas like
Portillo
and
Valle Nevado
are still struggling for snow cover and their famous off piste powder has been thin on the ground, but both have 50-70% of groomed runs open despite these challenges.
It's looking better further south where Nevados de Chillan has clocked up a 1-2 metre base and in contrast has had lots of snowy days and is fully open.
Argentina
Most ski areas in Argentina have had the better of the August snowfall (and indeed the snowfall all season) in South America.
The largest area, Catedral near Barriloche has more than a metre of snow lying on upper slopes. Las Lenas, another of the country's famous resorts has had some big snowfalls at times but has stuggled to maintain decent cover, especially off piste, although it did get a good snowfall in the last few days of August.
Southern Africa
The 2019 season finished on schedule at Afriski in Lesotho and Tiffindell in South Africa after what both described as an unusually warm August.