J2Ski Snow Report May 11th 2023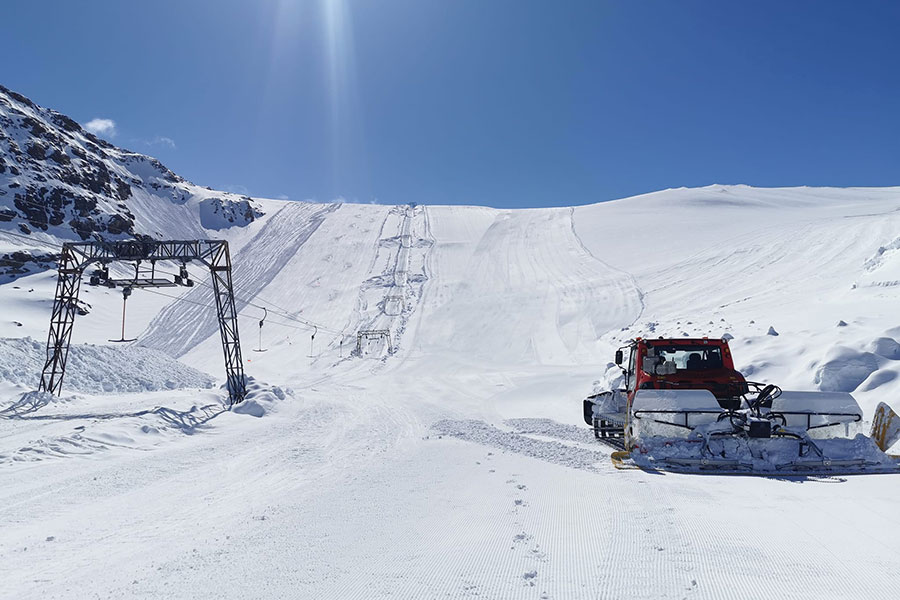 Fonna Glacier, Norway, started their summer season this week...
Snow coming for New Zealand, still snowing on Alpine glaciers!
The Snow Headlines - 11th May
- Heavy pre-season snowfall in Australia.
- Snow forecast for New Zealand.
- 22/23 season over in Finland, Italy and Slovakia.
- More than 30 ski areas still open in nine countries in the northern hemisphere.
- Less than a month to the start of the 2023 southern hemisphere ski season.
- Snow still falling on Alpine glaciers –
Hintertux
reports 50cm in 24 hours on May 11.
-
Levi
and
Ruka
complete 7-month 22-23 ski seasons in Lapland.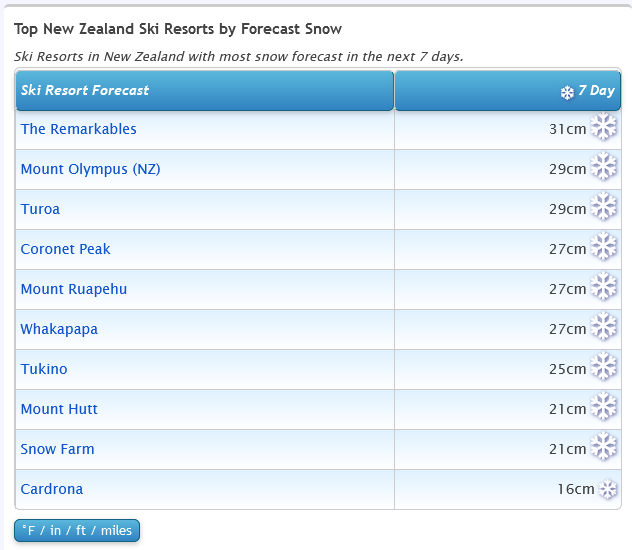 Up next! Snow for New Zealand's ski areas...
Re-publication :- our Snow Report Summary, being the text above this line, is free to re-publish, but must be clearly credited to www.J2ski.com with text including "J2Ski Snow Report" linked to this page - thank you.
World Overview
As we move further into spring in the northern hemisphere, another swathe of ski areas in Europe closed after the weekend, including all those that had been open since 2022 in France and Italy. There are still more than a dozen places skiable across the continent, with reports of more fresh snowfall on glaciers over the last week. In fact some of the totals up high continue to be much greater than they were in actual wintertime.
The USA continues to have by far the most ski areas open of any one country in the world at present. Although half-a-dozen resorts closed after last weekend, nearly 20 continue to operate, most having extended their seasons thanks to record snowfall last winter.
In the wider world, the season has more or less ended in Japan with the last resorts closing at the weekend, and just the Gassan summer ski area open there now.
In the southern hemisphere, where the 2023 season is approaching fast, there have been some good snowfalls on Australian slopes and higher runs in the Andes. New Zealand too has reported some big snowfalls – up to 40cm in 24 hours – in the last few days. Our southern hemisphere section is back for 2023 below and will be expanding over the coming weeks as the number of northern hemisphere ski areas continues to fall.
Europe
Austria
Several more glacier ski areas ended their 22-23 seasons in Austria at the weekend, with the country's highest slopes at
Pitztal
, as well as Solden's twin glacier ski area, now closed for snowsports until the autumn (when they're often among the first to open for the new season).
Five Austrian areas remain open to the end of May, more than any other European country at this point. The
Kaunertal
,
Kitzsteinhorn
and Mölltal glaciers plan to stay open through to Sunday May 28th, the
Stubai
to the 21st and the Hintertux glacier intends to remain open year round.
It continues to be cold (full-time below freezing above 3,000m) with snow showers almost daily, some of them quite major – up to 50cm in 24 hours in fact - so it's a much brighter picture than the warm spring of 2022, so far at least, although low visibility continues to be an issue.
France
The French ski season is over, kind of,
Tignes
, Val d'Isere and
Val Thorens
, which had been the last areas still open there for the 22-23 season, all closed at the weekend.
However this year Les 2 Alpes has reopened for late-spring/early-summer glacier skiing, which it has moved forward by nearly two months from the usual 'summer' opening. It plans to keep its glacier slopes, claimed to be the world's biggest skiable glacier area, through May and June so in 2023, the French ski season continues!
That said, L2A currently has very limited terrain open, mostly used for team training, but open to the public. The snow depth is reported to be 1.5m (5 feet).
Snow showers have continued with the freezing point at 2500-3000m altitude and the occasional 5-10cm up at these heights. But there have also been 4-6 hours of sunshine most days.
Italy
Cervinia ended its season at the weekend, and was the last Italian area still open so currently there are no lift-served Italian centres available.
Passo Stelvio will open for glacier skiing on the final weekend of the month and Cervinia itself will re-open for summer skiing in June.
Switzerland
Four more Swiss ski areas including
Adelboden
, the
Diavolezza
glacier near St Moritz in the Engadin,
Engelberg
and Glacier 3000 near
Gstaad
and
Les Diablerets
closed on Sunday leaving Crans Montana and
Zermatt
the two still open areas in Switzerland.
Crans Montana though will end its season on Sunday, while Zermatt intends to return to year-round opening of its glacier ski areas if the summer allows in 2023 (2022 saw a 7 week closure in August and September last year as the snow melted from the glacier).
Here too the weather has been generally cooler than average for early May and has stayed below freezing on glaciers, double digits below (freezing) up at the highest points of Zermatt's area. There have been more snow showers and Zermatt's glacier snow depth has actually increased slightly.
Scandinavia
Finland was another country where the 22-23 season ended last weekend as Levi and Ruka came to the end of their 7 month ski seasons.
All of the ski areas in Norway open through the last winter ski season have also closed, but last weekend saw the Stryn and Fonna summer ski areas open (Stryn initially for cat skiing only) for glacier skiing.
The country's third summer area,
Folgefonn
, is due to join them next weekend.
The other Scandi ski option right now is Sweden's most northerly area, Riksgransen, which is now offering twice-weekly skiing and boarding under the midnight sun now that 24 hour daylight has arrived at its location 200km north of the Arctic Circle. The lifts re-open on Thursday and Sunday evenings from 10pm to 12:30am.
Conditions are pretty good but temperatures could be cooler, as currently they're in the zero to +10C range with a mix of sunshine and showers, the showers more likely to be rain than snow until things get cooler.
Eastern Europe
Slovakia's Jasna stayed open a week later than expected but closed on Sunday, leaving Kanin in Slovenia the only area still open in Europe outside of the Western Alps and Scandinavia. The resort, located on the Italian border and offering views out to the Adriatic, is opening for (at least) two more long weekends of spring skiing up high.
The snow depth is reported to be up to 2m and there's about 5km of slopes still open. After a warm weekend it has also been cold with snow showers on higher slopes this last week.
North America
Canada
Lake Louise was the latest Canadian ski area to end its season, last weekend, leaving Sunshine near
Banff
in Alberta and Blackcomb Mountain by Whistler in BC the only two areas fully open.
In the East of the country, Summit St Sauveur in Quebec is opening one run at weekends.
All three are aiming to stay open through to May 22nd. It's turning sunny for the remainder of the week after cool temperatures and some snowfall in the west over the last few days.
USA
The US continues to have by far the most areas open in May, many in the west of the country thanks to record snowfall through the winter.
More than two-dozen areas were open there last weekend in 11 states and although half-a-dozen closed after Sunday afternoon, almost 20 remain open either daily or at weekends, mostly in Colorado, California, Oregon and Utah.
In terms of weather, the big thaw is underway but its still snowing in the West, and California's Palisades posted 11" of fresh snowfall in the last week.
In California, Mammoth and The Palisades remain open with the world's deepest snowpack still, and a third area,
Kirkwood
, is also still operating but may close this coming weekend.
For Colorado, Copper and Loveland have closed but
Breckenridge
,
Winter Park
and Arapahoe basin remain open.
In Utah, Brighton,
Snowbird
and
Solitude
still going strong.
Oregon's Mt Bachelor,
Timberline
and
Willamette Pass
are also still open, as is Crystal Mountain up in Washington state.
Lee Canyon in Nevada, the ski area closed to Las Vegas, has kept extending its season and will re-open next weekend, now making this the centre's longest ever season.
Over on the East Coast
Jay Peak
and
Sugarbush
closed leaving only
Killington
still open and hoping to remain so through May.
Southern Hemisphere
The southern hemisphere's 2023 season is just a month away now with the first ski areas in Australia, New Zealand South America expected to open in early June.
Unfortunately, there's no sign of any skiing being possible in Southern Africa this winter, at least at a regular ski area. Tiffindell, South Africa's only ski area, has not operated since 2019, although it has not officially shut down permanently either. Afriski, Lesotho's ski area, announced earlier this year that it would not operate this winter.
The past week has been a very good one on Australian ski slopes with several snow showers, each delivering up to 15cm of fresh snow (and some gale force winds to drive it in). Most resorts have also fired up snowmaking systems, including
Selwyn
Snowfields, due to re-open this winter three years after it was ravaged by bush fires.
New Zealand had seen warmer temperatures until the past few days but on Thursday 11th May resorts across the country posted images of substantial snowfalls, up to 50cm in 24 hours.
There has also been snowfall on high slopes in Argentina and Chile again too, with up to 15cm accumulations reported here.