J2Ski Snow Report 13th October 2022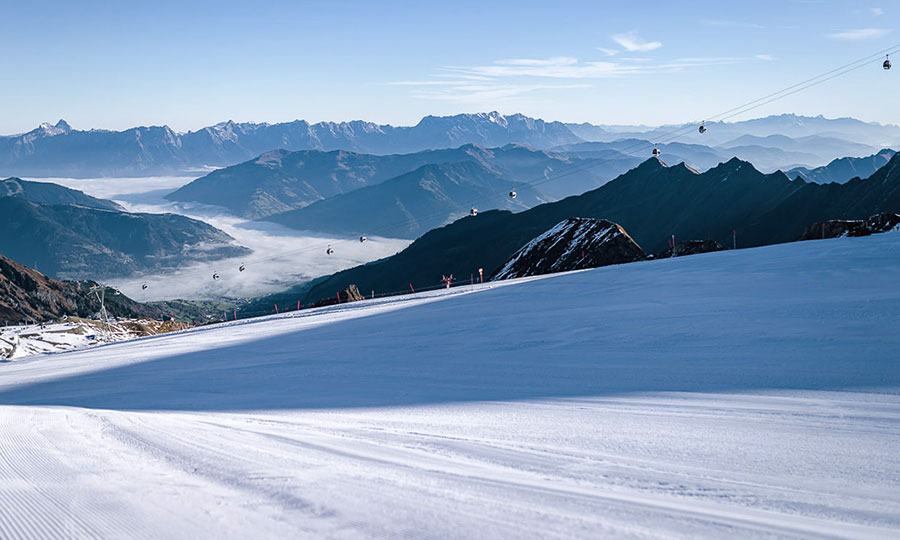 Kitzsteinhorn, Austria, now open...
Finland gets going, more skiing on Austrian glaciers, and France waits...
The Snow Headlines - 13th October
- Ski season is underway in Finland.
- Snowfall and snowmaking in East and West US.
- French 22-23 ski season start delayed.
- The last three areas open in The Andes expected to end their seasons this Sunday.
- Fresh snowfall in Australia where all areas are closed now with 22 season over.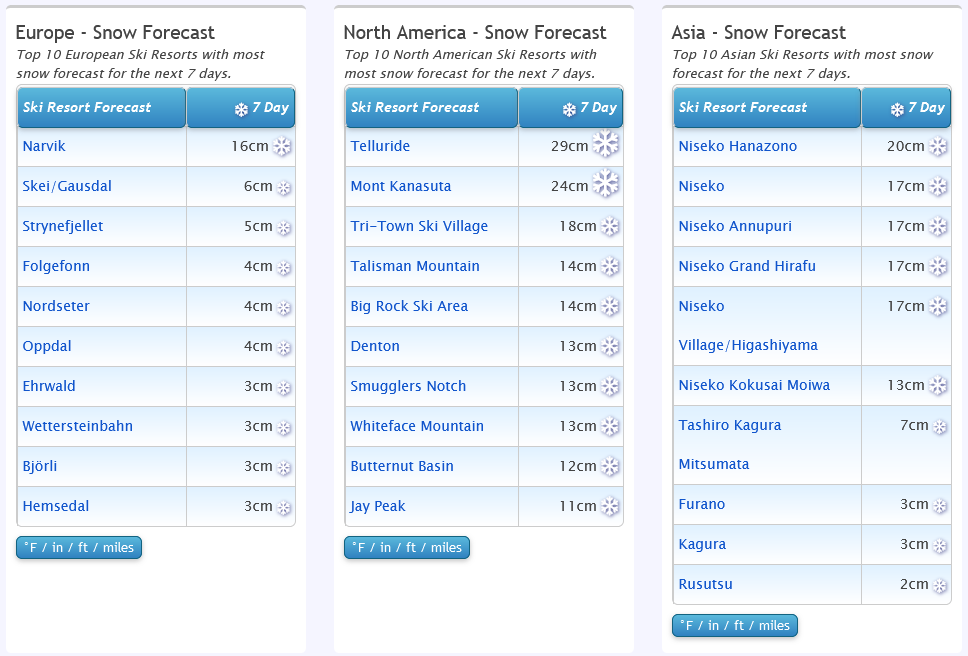 See where it's going to snow next week...
Re-publication :- our Snow Report Summary, being the text above this line, is free to re-publish, but must be clearly credited to www.J2ski.com with text including "J2Ski Snow Report" linked to this page - thank you.
World Overview
The gradual change of the seasons means that the number of ski areas open in the southern hemisphere is expected to drop to two after this week, whereas we now have more than a dozen areas open in Europe.
Finland was the latest to join the party with two centres opening there thanks to snow-farming last weekend.
In the Alps, temperatures have stayed close to freezing up at glacier level and we're into double figures for the number of areas open with Saas Fee and the
Kitzsteinhorn
near
Kaprun
the latest to open to the public.
There have been more light snowfalls but so far nothing significant. That seems to be why Les 2 Alpes and
Tignes
- which had hoped to open this coming weekend - have delayed. Les 2 Alpes had hoped to open a week later than planned on the 22nd October but has now postponed until late November.
In North America, more and more centres have announced snow-making underway, now in the east as well as Colorado, but we're yet to have anywhere confirm an opening date before early November. Several of the "snowmakers" still hope to open in October if they can though.
In the southern hemisphere the 2022 winter wind-down continues with just three areas left open in the Andes with its final weekend coming up, and four in New Zealand, two of them closing on Sunday too. That's not stopped the snow from falling though with Australia's ski slopes receiving a decent dump nearly a fortnight after all the resorts there closed for the season!
Northern Hemisphere
Europe
Finland is the latest ski nation to open for the 22-23 season, with the leading areas of
Levi
and
Ruka
getting their lifts spinning on runs made of snow piled up last winter and stockpiled through last summer then spread back out on the slopes.
A sixth Austrian glacier, the Kitzsteinhorn, has also opened for the season there and in Switzerland Saas Fee, which had opened back in July but only allowed access to race teams training due to limited snow cover, is now open to all. So we're into double figures for the first time since last May in terms of what's open.
France, where at least one area had been expected to open this weekend, is currently on hold though as Les 2 Alpes and Tignes wait for more snow. The good news is it has remained cold up at glacier level, across the Alps and there's been more light snowfall as well as snow on high slopes in the Pyrenees, Scandinavia and on eastern European peaks.
Austria
Austria continues to lead the way with more than half of Europe's currently open ski areas operational here.
There are six glaciers open for downhill skilling and a seventh (the Dachstein) offering cross-country slopes only at present.
Although snow cover is thin and terrain open so far limited, conditions are generally fairly good with light snowfalls topping up cover over the past week and temperatures at glacier height sticking close to freezing.
Solden, which hosts the World cup Alpine 22-23 ski racing season opener later this month has the most terrain open with 27km of slopes, a little more than
Hintertux
. Smaller areas are available at
Kaunertal
, the
Pitztal
the
Stubai
and most recently opened Kitzsteinhorn.
France
It had been hoped that Les 2 Alpes and Tignes would start the French 22-23 season this coming weekend, but Les 2 Alpes has now announced it won't open until the main season start in late November while Tignes has not yet named a date.
Tignes issued a statement effectively saying the hot summer following a below-average snow season last winter meant that "although the glacier is still there," the autumn operations had been "compromised" and that it would potentially open if it got a good autumn snowfall. It has been around freezing and there have been some snowshowers but so far not enough.
Les 2 Alpes had put pressure on itself to open by hosting the opening stages of the World Cup Snowboard Cross tour at the end of this month and the skiing equivalent at the start of November but the skiing event has now been cancelled, the snowboarding one set back to early December.
Italy
Italy's
Val Senales
and Passo Stelvio glacier ski areas remain open and, as with other already open resorts in the Alps, report thin cover but cold weather and light snowfall refreshing the surface over the past week.
Cervinia continues to provide access to the glacier slopes above
Zermatt
.
Switzerland
Saas Fee is now open to all after being only available to professional race teams training for the past three months. The centre says that thanks to recent cold weather and snowfall it now has about 20km of slopes open, about five times as much as before. It joins Zermatt where anticipation is building for the first cross-border downhill ski races ever staged, opening the 22-23 World Cup speed racing circuit a month earlier than before.
Scandinavia
Ruka and Levi have both opened for their 2022-23 seasons, which run for seven months through to May 2023. They use snowfarming techniques to create runs a few kilometres long initially. They join the Galdhopiggen glacier summer ski area in Norway which is in its final month of 2023 operations.
The weather in the region has been cold and snowy with resorts like
Voss
in Norway reporting snowfall down to quite low elevations.
North America
It's been a predominantly dry and sunny week across North America but overnight lows below freezing have allowed snow-making systems to fire up and there's still hope of an October opening somewhere on the continent.
Among those with snow-making underway are the high-altitude centres of
Keystone
, Loveland and
Arapahoe Basin
in Colorado and
Killington
, Vermont, in the East.
The two resorts to have named early opening days – both targeting November 4th – are Mount Rose by Tahoe in California USA and
Lake Louise
in Alberta, Canada. But usually, someone beats them to it.
Southern Hemisphere
As mentioned in our introduction, there are currently seven areas left open for the 2022 season in the southern hemisphere, most in New Zealand and more than half are due to close after operations this Sunday.
It is the midway point in spring by the meteorological measure of the seasons.
Chile's
La Parva
has remained open daily, the only resort in the Andes that still is, but Catedral near
Bariloche
and
Antillanca
in Argentina both plan to open for a final weekend of 2022 this coming weekend.
The weather has been largely sunny but with overnight lows still getting below freezing – daytime highs in double digits above though.
In New Zealand, it's the final weekend coming up at
Cardrona
and
The Remarkables
, while
Mount Hutt
plans to continue another week then keep its terrain park open into November.
Whakapapa
on the North Island is also aiming to stay open at least to the 23rd but snow cover is thin there and the centre's operators have also gone into voluntary administration after a tough winter.