J2Ski Snow Report 29th September 2022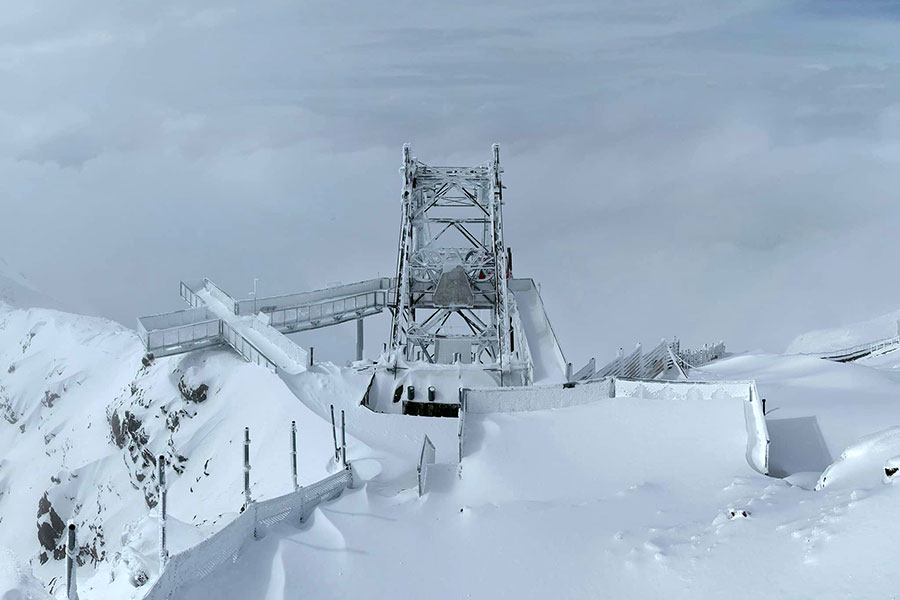 On the Aiguille Rouge, Les Arcs, France, today...
More snowfall in the northern hemisphere, and cooling too...
The Snow Headlines - 29th September
- More snowfall in the Alps, with 10+ ski areas expected to be open this weekend.
- More pre-season snowfall in Eastern and Western North America.
- First ski areas due to open for season in Finland next week.
- First snowfall of the autumn reported in the Pyrenees.
- More southern ski areas end 2022 seasons, in the Andes and New Zealand.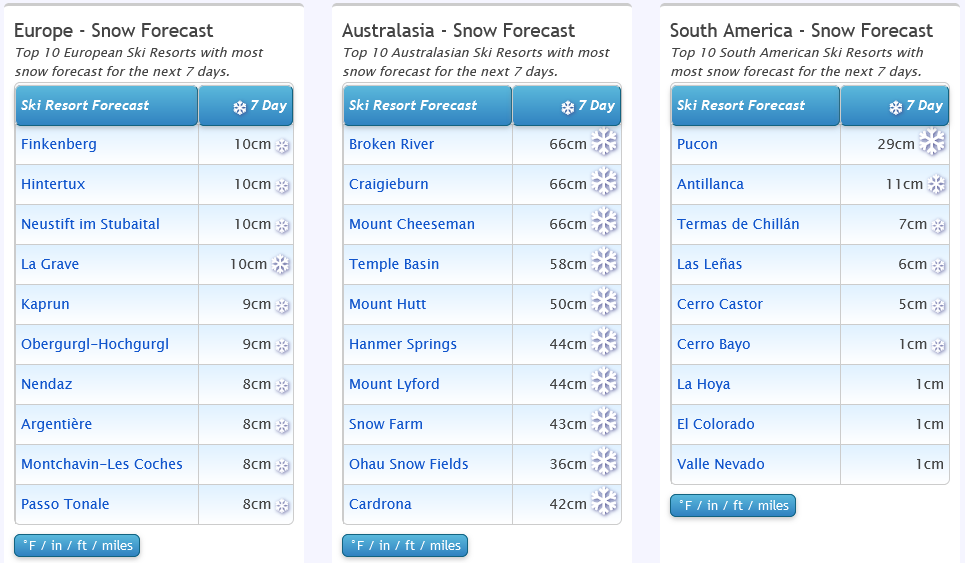 Last blast (maybe?) for New Zealand...
Re-publication :- our Snow Report Summary, being the text above this line, is free to re-publish, but must be clearly credited to www.J2ski.com with text including "J2Ski Snow Report" linked to this page - thank you.
World Overview
The impact of spring and autumn is being felt on either side of the world. In the north it's getting cooler and there have been early snowfalls up high; in the south it is getting warmer but there have still been more snowfalls reported in the Andes and New Zealand.
In Europe several high-altitude glacier ski areas have opened for their 22-23 seasons this week and more plan to open over the coming weekend. There have also been snowfalls reported above 1500m in the Alps, Pyrenees and other mountain ranges.
In South America, Australia and New Zealand more resorts have closed at the end of their 2022 seasons and more will close this coming weekend, most by the weekend after, but some plan to carry on into November.
Southern Hemisphere
Australia
Most Australian ski areas remain open right now, but most will close for the season at the end of this first Sunday of October (coming up) and the rest the weekend after. The country has had a fairly cool week with snow and rain showers and some sunny spells.
Thredbo and
Perisher
in New South Wales still report the snow lying nearly six feet deep on upper slopes and Perisher's 60km of slopes open is currently the most of anywhere in the world.
New Zealand
Most of New Zealand's smaller club fields have now closed for 2022 but the country's larger commercial centres are all open into October. Although most will close over the next few weekends, Ruapehu's
Turoa
and
Whakapapa
as well as
Mount Hutt
on the South Island plan to keep going to later in October, all being well, and Mt Hutt has announced plans to keep a terrain park open later in to spring – potentially mid-November.
The weather has been a mixture of typical spring conditions, usually starting around freezing but warming through the day, with rain and snow showers as well as clear sunny conditions at times.
South America
The ski season in the Andes continues to wind down and more big name resorts have closed, with Chile's Nevados de Chillan ending its season last Sunday and Argentina's Las Lenas saying it will finish its 2022 run on Friday, 30th.
The weather is typical for early spring, with the odd sub-zero temperatures overnight and the occasional snow shower still too, but both of these getting less common as temperatures inch upwards and the thaw gathers pace.
Most resorts still open here will close over the next two weekends.
Northern Hemisphere
Europe
There's been plenty of early-Autumn snowfall reported across Europe's mountains including the first reported falls in the Pyrenees and more for the Alps. Another glacier resort has opened there and four more are due to join them this coming weekend when we should see the number of areas open back in double figures for the first time since early May.
Up in Norway the one ski area open in Scandinavia reports 40cm of fresh snowfall.
Austria
Austria usually offers a far bigger selection of ski areas than any other European nation in the first half of autumn and 2022 is no exception.
The only difference is there's a lot less snow on the glacial ice than usual so cover is thin and terrain available limited. But it is now cold and there have been more decent snowfalls this week adding 20cm+ so it is currently an improving picture and skiers there now enjoying a fresh snow cover rather than little more than grey ice scrapings as had been the case.
Hintertux, the only area that's managed to stay open to its 365-day schedule, has tripled its open terrain from 6 to 18km and unveiled its terrain park. It has now been joined by Solden and three more resorts –
Pitztal
,
Stubai
and
Kaunertal
are opening this weekend.
The
Kitzsteinhorn
and Molltal glaciers are yet to name their opening days and the Dachstein has said it won't open for downhill skiing at all this winter but has already opened for cross-country skiing.
France
There are no French ski areas open at present and
Tignes
has now given up on its aim of opening at least one day of every month of the year so no attempt to open 30th September in 2022. Instead, it hopes to open in a fortnight's time.
Les 2 Alpes also aims to open from October 15th but initially for race team training only and then for a couple of weeks to early November before closing again ahead of its full season opening. Here too there's been cold weather and some fresh snow up high, improving the pre-season conditions and hopes of opening on schedule.
Italy
Italy's
Val Senales
and Passo Stelvio glacier ski areas are currently open, both with limited terrain open so far but with fresh snow cover. Cervinia is due to re-open it's link to the limited terrain that has re-opened above
Zermatt
from this weekend.
There was plenty of snowfall up high in the Dolomites this week too.
Switzerland
Zermatt remains the only Swiss area open after re-opening a fortnight ago following a seven week closure. It still only has limited terrain open. The FIS have OK-ed their first cross-border World cup Downhill in four weeks' time.
Saas Fee is still open but just to race teams training for now.
Glacier 3000,
Engelberg
and
Andermatt
as well as the
Diavolezza
Glacier near st Moritz were all expected to open for their seasons in October but a serious fire damaging a key restaurant and lift station at Glacier 3000 has thrown their opening plans into doubt.
Scandinavia
Scandinavia has been seeing colder weather too and snow showers on the hills in many ski regions as temperatures have been hovering close to freezing.
The only slopes currently open are those of Norway's Galdhopiggen glacier, but these are restricted to race teams training only at present. It does report 40cm of fresh snowfall though.
Finland's
Levi
and
Ruka
ski areas are due to open in a week's time for their 7 month plus seasons. They use snow farmed from last winter and spread back out on the slopes to create runs and few kilometres long to get their seaons started.
North America
There have been more positive signs of approaching winter from coast to coast in North America with more snowfall reported on high peaks in the East for the first time at resorts like Lake Placid and in the West there's been more on mountain tops around
Lake Tahoe
.
There's nowhere currently open in North America other than the indoor centre in New Jersey. Loveland in Colorado expects to start snow-making this weekend and is hoping to open later in October.