J2Ski Snow Report 1st June 2021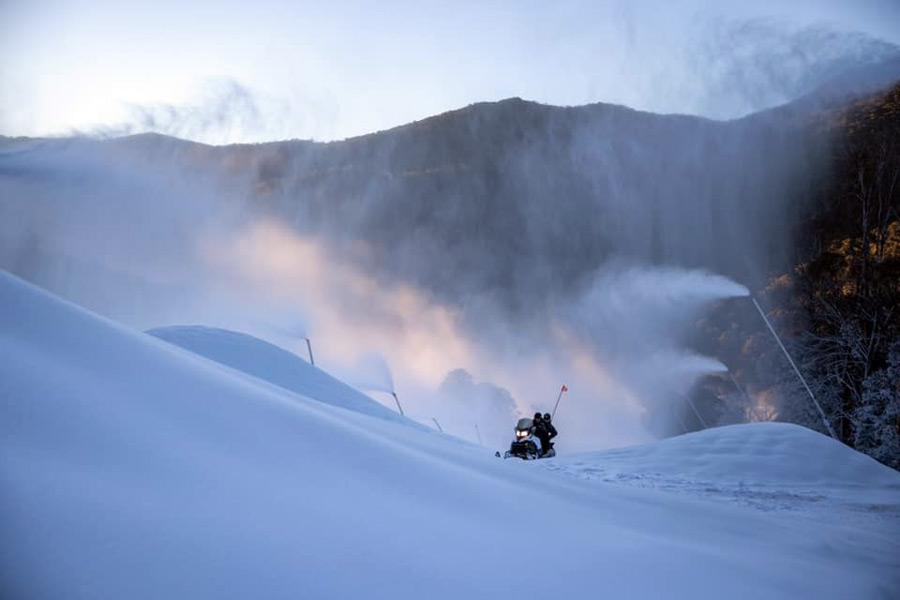 Making snow in Thredbo, Australia...
Northern hemisphere extends in places, southern soon to start (hopefully)...
The mountains are waiting for us... be patient, stay safe and follow your local advice and rules on travel.
The Snow Headlines - 1st June
- Ski season has restarted in France and Italy.
- Southern Hemisphere's 2021 season start imminent with more optimism than 2020.
- 'Hospitality' restarts in Austria; half a dozen glacier areas are open.
-
Zermatt
and Cervinia both open but border line across ski slopes closed to mid-June.
- Australia hopes to start season on 4th June in NSW, but
Victoria
in lockdown to 3rd.
- US areas close earlier than expected due to warm temperatures.
- Riksgransen won't open for midsummer skiing due to warm temperatures.
- Skiing in Slovenia in to June.
Last June saw the northern hemisphere's ski areas start to re-open after the first lockdown, whilst most of the southern hemisphere (with New Zealand the main exception) failed to start their 2020 ski seasons at all as the pandemic raged there.
Happily, this June looks much more promising. Most exciting, and an unknown when we wrote our last report a month ago, the French and Italian governments finally confirmed ski areas could re-open from 22nd May and two resorts,
La Clusaz
in France and the
Presena
Glacier in Italy opened for the 22nd/23rd weekend only, just because they could. La Clusaz offered 1000 free tickets which were claimed instantly on release, crashing their booking system.
Since then more areas have opened in both countries for summer skiing through June, detailed below. Things have also improved in Austria, with hospitality businesses allowed to reopen, and more glaciers open there than normal for this point in the year. Glacier areas have also opened in Norway and Switzerland has more choice than usual too to start the month.
Ski resorts also stayed open until the end of May in Slovakia (Jasna and Tatranska Lomnica) and Slovenia (Kanin and
Krvavec
) after being allowed to re-open in April. Kanin keeps extending its season and at the last update said it was staying open to (at least) June 6th.
The old pre-pandemic perennial issue of summer snow thaw in the northern hemisphere and early season cover in the summer may perhaps be a bigger issue for some this June than the pandemic restrictions.
In the southern hemisphere, most of the signs so far are positive with some nice, if not yet
massive, pre-season snowfalls and cold temperatures for snow-making. In the north, the Alps saw cold and unseasonably snowy weather in late May. But the US has been hot, leading some ski areas (that often open into June) like Squaw Valley closing early, in mid-May and up in Scandinavia there'll be no re-opening for midsummer skiing at Riksgransen for the same reason.
In Asia, Japan's sole summer ski area of Gassan has opened and still has six metres (20 feet) of snow lying to start June, which has dropped fast from the 10 metres it had six weeks ago. Hopefully, enough snow will survive through to its usual season end in Mid-July.
All in all though, at the time of writing, in terms of pandemic restrictions, early season conditions in the southern hemisphere and snow depths on European glaciers - June 2021 is looking much more promising than June 2020.
For many skiers who want to ski this month, it is less of an issue of what's open as 'can I get there?' The world is opening up but it remains a very complex and confused picture as to where it's possible to travel to; if you can leave your own country and are you allowed into the one you want to travel to? Do you need to have been vaccinated? Can you get insurance? ...and how much testing and quarantine may be required? Then what's the additional cost of all that?
Hopefully, things will start to become clearer and move in the right direction, through June.

See where it's going to snow...
Re-publication :- our Snow Report Summary, being the text above this line, is free to re-publish, but must be clearly credited to www.J2ski.com with text including "J2Ski Snow Report" linked to this page - thank you.
The Alps
It is a much brighter picture in Alpine nations than it has been all year with all four major nations allowing glacier ski areas to operate for the first time since late October. The re-opening of ski areas in France and Italy, as well as additional ski areas in Austria, occurred in late May just as the region was enjoying an unusual week of snowfall, right down to resort level.
Austria
Austria has the most centres open – seven glacier areas and even one non-glacier centre – as we enter June.
Several of these keep extending their seasons so it is unclear how long they might last through the month, but at the present time,
Kaunertal
,
Pitztal
and
Stubai
are due to end their seasons on the first Sunday of this month (the 6th). The other four – the Dachstein, Molltal,
Kitzsteinhorn
and
Hintertux
glaciers should stay open all month.
Three of the centres – Dachstein, Kauntertal and Molltal have just reopened in the past few weeks since hospitality was allowed to resume in Austria making operations (potentially) financially viable.
The surprise 'non-glacier' eighth area re-opening was the Wildkogel, which says it will have 2km of slopes open at its highest point over the coming weekend, as it did for the last weekend of May. Its unclear if it might try for another weekend after that.
France
In France Les 2 Alpes opened for the last weekend of May and Val d'Isere is due to join it for a four-week summer ski season on June 12th. A week later
Tignes
, the only area that had already started its 20-21 ski season when resorts were closed by the government there six months ago, will reopen.
Italy
In Italy Passo Stelvio and Cervinia, the two ski areas that were open when the last shut down began, have re-opened, and a third area,
Madesimo
, has skiing up high for the first two weekends in June.
Passo Stelvio is open to ski tourers but has actually delayed opening its lifts for a fortnight to June 12th as the lockdown has put them behind on maintenance work. The 12th/13th should also mark the re-opening of the Swiss/Italian border to leisure travel meaning skiers will once again be able to ski across, as they're not currently allowed to.
Switzerland
In Switzerland, Zermatt is coming up to celebrating a year since it re-opened after the first (and so far only) Swiss lockdown on June 6th, 2020. That's the same day that Crans Montana, which extended its season by six weeks into June, is due to close. They're the only two Swiss areas open as we start June.
Northern Europe
Scandinavia is settling into summer ski mode with Riksgransen, "the spring skiing capital of the world" now closed for 2021 – it has said it won't re-open for skiing over midsummer this year as temperatures have been too warm.
So it is the three Norwegian glacier areas that are now all open, the Fonna, Gladhoppigen and Stryn glaciers, all of which opened through May and should remain open through June. They all say snow conditions are good and the Fonna glacier probably has the deepest snow base of an open centre in the world at present at 6-7 metres (20-23 feet).
North America
There was a fairly rapid shut down of most North American ski areas in mid-May as temperatures rose after a dryer than average winter.
Squaw Valley,
Snowbird
and
Killington
were among the areas that closed earlier than expected in the middle of the month. The final weekend of May actually brought fresh snow causing road closures in Washington State in the Northeast and even in Vermont on the East Coast, but it was too little too late for those areas.
Whistler is also missing its second-successive summer ski season on its Blackcomb glacier with a spike of the Brazil-variant of the virus shutting down the resort over the past few months.
So as of the start of June, three US areas are open.
Arapahoe Basin in Colorado, one of the world's highest, is currently setting June 6th as its closing date but there's a chance it may extend (although recent remarks from the centre's operators suggest it won't!).
Timberline in Oregon, which has a permanent snowfield, on Mt Hood aims to stay open to early September. It started well with 4 metres of snow lying mid-May but that dropped at a rapid rate to 3 metres so hopefully, the rate of thaw will slow a little.
The Beartooth Basin summer ski area on the Montana/Wyoming border opened at the end of May, after having delayed opened a few days to Saturday 29th due to too much snow needing to be cleared from the access highway, and should stay open through June.
Southern Hemisphere
We are on the cusp of the start of the 2021 ski season in the southern hemisphere and, touch wood, it is currently looking promising for most areas opening in June. Snow cover is the usual area of concern of course but in Australia, the Andes, New Zealand and the mountains of southern Africa all major ski centres have been reporting pre-season May snowfalls and cool weather allowing snow-making systems to fire up.
That can change of course but at least the autumn build-up has been promising.
In 2020 the pandemic was the bigger issue, closing almost all ski areas until August, except in New Zealand and in Australia's New South Wales, but this year (again with the caveat that things can change equally quickly), all areas appear to be lining up to open in June or early July.
Africa
The exception so far is South Africa's sole resort of Tiffindell. Here things are looking very quiet with no new posts on website or social media for a year and reports of no one answering phones or responding to email enquiries. The owners are reported to be considering whether to open.
Afriski, over the border in Lesotho, is all geared up to operate and celebrating a re-opened border with South Africa, from where most of its skiers arrive.
New Zealand
New Zealand's ski areas are also in upbeat mode after a snowy end to May there. Happy Valley, part of Whakapapa's ski area on Mt Ruapehu in the North Island, the country's largest ski area, could be among the first in the southern hemisphere to open, on Saturday, 5th June. It uses an all-weather snow-making system to bolster cover or make sure there is some snow if mother nature doesn't play ball. But the area is mostly for 'snow fun' and beginners rather than having any long runs.
Skiers will have to wait another six days until
Mount Hutt
on the South Island is due to open. It reported 40cm of "rain affected snowfall" on May 31st. Most of the rest of the country's other ski centres will open in the following days and weeks. With the opening of leisure travel links to Australia expected to bolster skier numbers in NZ this season and the virus still (at time of writing) suppressed allowing for fairly normal operations and behaviour, the mood is currently good in NZ.
Australia
Elsewhere in the southern hemisphere, Australia's ski season appears to be on track for its start, officially, for most of the country's ski areas, the second Saturday of the month, June 12th.
Last winter was something of a mess with the virus still a new thing and some areas ending up only managing to open for a couple of days all winter, although several including the largest,
Perisher
, in New South Wales, opened all season after a later-than-usual start.
Perisher has just announced (on May 31st) that it will open just over a week earlier than planned, on Friday June 4th, probably the first in the southern hemisphere to do so. This year there's been some good May snowfalls and cold weather for snowmaking in the last week of May so things appear promising. One area reported 40cm of snow lying, a good early-season depth there.
The only potential 'hiccup' in the opening plans is a one-week fire-break lockdown in Victoria after cases of the Indian variant of the virus were found there. Starting on the last Thursday of May it is currently due to run to the 3rd of June – just a week before the planned opening weekend. Businesses are reporting advance bookings at very high levels so there's nervousness there could be an extension.
South America
The ski areas of Argentina and Chile in the South American Andes also appear optimistic that a 2021 season will happen there, starting this month, the first June skiing for two years. Last winter just a handful of ski areas in both countries were able to open for the final weeks of the season in August and September whilst some big-name resorts like
Portillo
, Las Lenas and
Valle Nevado
didn't open at all. Ski areas here normally open from mid-June, if snow conditions and pandemic restrictions allow, fingers crossed.
Currently pre-season snow cover looks good with most areas posting pictures of white slopes with the snow apparently 30-60cm deep at some already.