J2Ski Snow Report 1st May 2021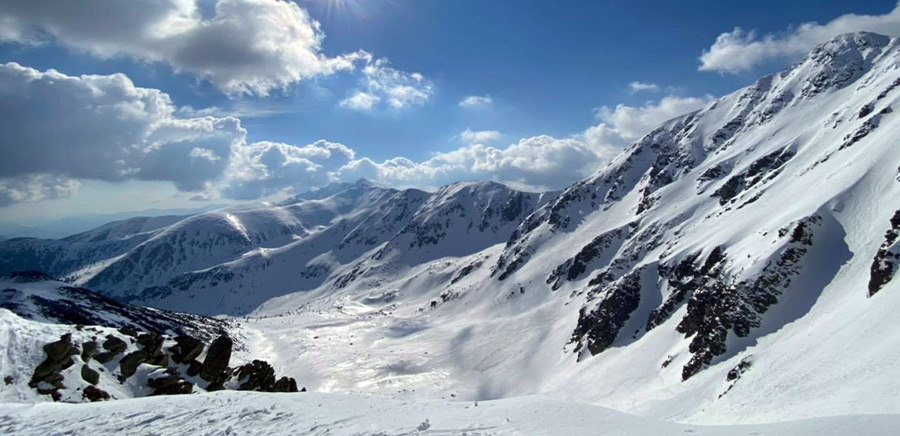 Jasna, Slovakia, open into May...
Cold weather in the Alps and America.
The mountains are waiting for us... be patient, stay safe and follow your local advice and rules on travel.
The Snow Headlines - 1st May
- After a cold April; snow depths over 4 metres on Austrian glaciers, over 5 metres in Switzerland.
- Unusually, Crans Montana and
Pitztal
glaciers open for skiing through May.
- Ski areas in Slovakia re-open; season extended to at least 9th May.
- Southern hemisphere ski areas report fresh snowfall ahead of their 2021 season.
- Whistler-Blackcomb closed early due to virus, some Canadian areas open into May.
- Austrian glacier areas re-open as hospitality can resume in May.
- Norwegian summer ski areas prepare to open.
- Skiing in Slovenia continues into May for second year.
Until the final week, this April was one of the coldest in the Alps in recent years. Much of North America was cold too, as were - at times - the Pyrenees, the Balkans, the Tatras, even Scotland.
But whatever the weather in the first half of spring, and whether it is a pandemic year or not, May traditionally sees the fewest number of ski areas open in the world - around the middle of the month - when we can drop to single figures, before summer skiing and the southern hemisphere's 2021 ski season kicks off in June.
In this oddest of seasons, some unexpected ski areas are opening (whether re-opening or staying open) later than they would normally.
Slovakia's Jasna re-opened on April 22nd after being closed for most of the season and has so far extended its season to May 9th; and may yet go later into May. Kanin, in Slovenia, also re-opened in April and is staying open into May – it did that in 2020 and stayed open all month in the end.
The ski season in the Pyrenees and Spain does seem to have ended though, a few weeks earlier than it would normally at resorts like
Sierra Nevada
which often stay open to the start of May.
In the UK Scottish ski areas were allowed to re-open on the final Monday of April but sadly the last one that had hoped to offer skiing,
Glencoe
, announced a few days beforehand that there was not enough snow left to open a run even up high. But the lifts can be used for ski touring again at least, and travel has re-opened across the UK, if not for international travel out of Britain.
Across the Atlantic, spring operations are fairly close to normal in terms of what's open in May. The big exception is
Whistler Blackcomb
, sadly closed last month and for the rest of the season (which usually includes much of May), due to a spike in the Brazil variant of the coronavirus pandemic there.
Over in Asia Japan's ski season is also winding down to its normal pattern and there's been plenty of early-autumn snowfall in the Andes, Australia, New Zealand and even the mountains of Southern Africa to get excitement building for, hopefully, a better southern hemisphere season than 2020, starting in just over a month now.
In the Alpine Forecast

See where it's going to snow...
Re-publication :- our Snow Report Summary, being the text above this line, is free to re-publish, but must be clearly credited to www.J2ski.com with text including "J2Ski Snow Report" linked to this page - thank you.
Europe
Swiss ski areas seem to be increasingly confident that they got their winter right in the Alps, opening with safety measures in place to stop pandemic spread and operating the closest to "normally" although in reality, far from it. Things did improve at the end of April, with restaurants allowed to reopen for outdoor service.
Ski areas open in May will include
Zermatt
and Crans Montana all month (the latter a bit of a surprise as it is not normally). Centres open at the start of the month include Glacier 3000 near
Gstaad
and
Les Diablerets
as well as the
Diavolezza
glacier near St Moritz to the 9th and the Titlis glacier above
Engelberg
, currently with Europe's deepest snowpack at 6 metres, to the 23rd.
Laax
is currently open for the first weekend of May only.
Austria has had a strange year with ski areas able to open but not to have any tourism. The result was that most ski areas closed a little earlier than they would on the first few weekends of last month. In terms of May skiing there was also an impact in that several of the glacier areas (
Kaunertal
and Molltal) that normally open in May haven't opened this season so far as operating costs were way too high for likely income from low visitor numbers.
However with the Austrian government's announcement in late April that hospitality could re-open on May 19th, the Kaunertal announced it will re-open on May 15th, and Molltal on the 22nd.
The
Stubai
glacier has kept changing its plans, originally saying they'd stay open into June but then cutting right back to announce closure on May 2nd, a month earlier than expected. The latest plan, announced on 29th April, is to stay open an extra two long-weekends (Friday to Monday) until mid-May.
Another unusually late spring opening has been announced by the Pitztal glacier, located on Austria's highest lift-accessed slopes, which normally opens from September to April. It has extended its season to early June, so this May is open and along with the
Kitzsteinhorn
and
Hintertux
glaciers, is also all month.
The Kitzsteinhorn above
Kaprun
announced it was extending its season from the previously announced May 25th closure day right through to July 24th, saying its decision was also thanks to the Austrian government plans to begin to ease tourism restrictions from mid-May. April was colder and snowier than usual in Austria and the snow is lying 3-4 metres deep so it should be a good month.
France has seen rapidly increasing vaccinations in recent months and the country's three summer glacier ski areas all seem optimistic of opening later this spring. Indeed Les 2 Alpes which had said it planned to open the first two weekends in June then daily from the middle of the month now says it plans to open daily from the last weekend of May. Then Val d'Isere from the 12th for a month, then
Tignes
a week later on the 19th, with a summer ski season to 1st August.
It may be possible, for those able to get there, to ski in Italy from the end of this month. Passo Stelvio is expected to begin its six-month summer season (which it almost managed to complete between Italian lockdowns in 2020, just having to shut down a week earlier than planned at the end of October). Cervinia says it will open for summer skiing for three months from June 12th.
Northern Europe
Scandinavia has had more of a 'normal' season than much of the rest of Europe although with borders largely closed, particularly Norway's, business is of course down here too.
Some of the region's bigger areas stay open to May 2nd but after that most will close. However,
Levi
and
Ruka
in Finland will stay open to May 9th and 'Europe's spring skiing capital' Riksgransen up in Norway for a few weeks longer than that, all enjoying the start of 24-hour daylight up at their northerly latitude.
Riksgransen's skiing under the midnight sun season is due to begin this month. Otherwise, the season is due to start at Norway's three small glacier ski centres, which report plenty of snow lying ready. Galdhoppigen is due to open for the season on May 13th, then the Fonna glacier the next day and finally Stryn in Norway on the 27th at 10 am precisely.
Eastern Europe
A year ago one of the first ski areas in Europe (and the world) to re-open after the first lockdown was Kanin in Slovenia, with its great views out to the Adriatic. Slovenian ski-areas were allowed to re-open after the latest lockdown there in mid-April and Kanin reported a base of over 4 metres. It stayed open through May last year, it is not yet clear how long it may stay open in 2021.
North America
We actually have mostly the usual suspects open in California, Colorado, Utah, Oregon, Vermont and Washington State in terms of still open ski areas in the US as we enter May, as well as several centres in Alberta Canada.
In addition, the continent's sole, small summer ski area, Beartooth Basin on the Montana/Wyoming state line, says its short 2021 season will kick off at 9 am on the 28th, all being well.
So as of the start of this month we have about a dozen areas open in the US.
North of the border, in Canada, open ski areas currently include the
Banff
resorts of Mt Norquay (having extended its season), plus
Lake Louise
and Sunshine as well as
Marmot Basin
further north. Most of these will close after the first weekend of the month, but Sunshine stays open to the 24th and it has been a cold and snowy April so those final weeks of this season should be good. The region has had a cold and frequently snowy April.
It's more of a mixed picture in the US with a snowier and colder April than March in the Rockies.
Winter Park
and Loveland have extended their seasons to May 9th and
Breckenridge
and
Arapahoe Basin
aim to stay open all month.
Snowbird
in Utah is also still open.
Over in California though it has been a warm and dry spring, mostly, and almost all areas have closed. The exceptions are Mammoth, which expects to stay open all month, and Squaw Valley, which has set 31st May as its season end date but says it doesn't expect to make it this year, as it's just too warm for the snow to last they think.
There are also ski areas still open up in the Pacific Northwest corner of Oregon and Washington state. Alpental, with a 6.4 metre (21 feet) base, the world's deepest, has extended its season to May 2nd, so far. There's also Mt Bachelor (to the end of the month), Crystal Mountain (to the 9th) and
Timberline
– which starts May with a 4-metre base. It has North America's longest season aiming to stay open to the start of September if the snow lasts.
Over in the east, it's really just
Killington
in Vermont now, with the snow piled high on the superstar trail with the annual attempt to keep skiing into June.
Asia
The season has ended in most Asian ski nations too, but some of the larger Japanese areas traditionally stay open to the start of May and 2021 is no different. It's often well into the teens' Celsius above freezing and the snow can be sugary but most have such big bases built through the winter there's plenty left to slide on.
May 5th is the main Japanese closing day but several areas, including
Happo One
, have extended their seasons to at least May 9th. After that the Gassan ski area usually stays open as the sole Japanese option to July.

Southern Hemisphere
April saw the first snows of 2021, in what was early Autumn, on ski slopes in Argentina, Australia, Chile, Lesotho, New Zealand and South Africa – in other words on each of the six southern hemisphere ski nations. In fact, most reported several decent dumps in April.
Currently, all six do look to be planning to open for the 2021 season. This time in 2020 Les Lenas in Argentina had already announced it wouldn't even try to open that year, whilst others such as
Portillo
in Chile and South Africa's only ski area Tiffindell never got to open because of the pandemic.
Hopefully, this winter will be better, particularly for Australians whose own ski areas should be open, fingers crossed, as well as now having the 'travel bubble' established with New Zealand so there's the option to go ski there.
The 2021 southern hemisphere ski season should start in just over a month's time in early June.