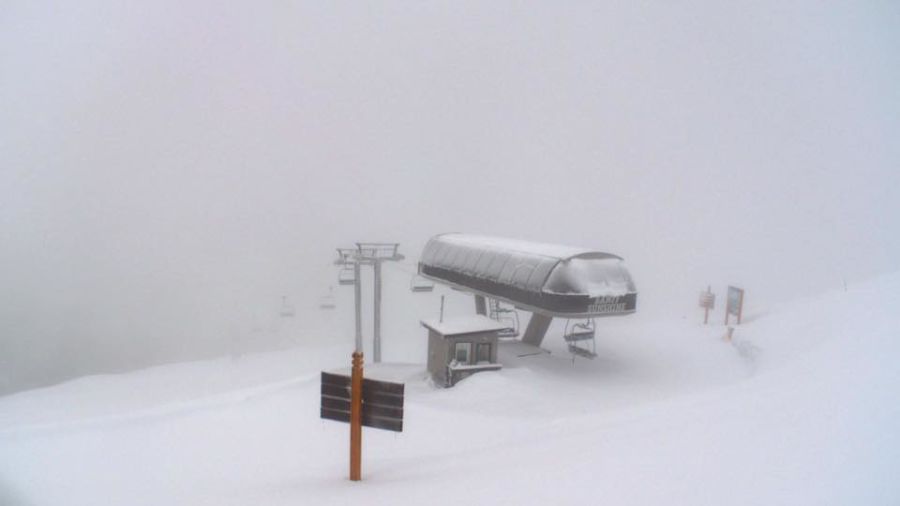 Canada's winter season traditionally lasts until about now with Sunshine ski area near Banff, Alberta (pictured above with heavy snowfall this weekend) and Whistler in BC traditionally the final two areas to end their ski seasons in the latter half of May each year.
Of course 2020 is different and both areas closed months ago due to the pandemic, along with most other North American ski areas.
There is however still some hope that lift-accessed snowsports might make a limited return to Canada this spring or summer, maybe. Much depends on the easing of lockdowns in BC and Quebec – how fast they happen and what the rules are as they're eased.
In BC
Vail
resorts have not yet ruled out Blackcomb Glacier opening for is traditional summer ski season from early June to mid-July. On their website it says that opening and closing dates remain to be decided.
Operators of summer camps on the glacier remain optimistic that summer skiing and boarding may happen and that a decision will be made imminently.
In a separate development the resort of Mont Saint Sauveur in Quebec has announced that it is hoping to open its summer snow park if the provincial government eases the lockdown to an extent that it's considered safe to do so.
Whilst stressing that safety is paramount the resort, which has run a summer snow park for the past few years, says there's currently enough snow left to open a small snow fun area.
"If we have the OK from the government authorities and the Government du Québec, we will open for skiing one last time. This is our greatest desire. The finish was crazy for our sport and as long as there's snow, we'll want to ski!" a ski area statement reads.
If anywhere does re-open it's likely to be for Canadians only. The country's borders remain closed and there's talk of quarantine periods for non-Canadians arriving once they re-open.