As detailed in other posts, last week I was invited along to get a feel for the courses run by Phil Smith and his Snoworks school out in
Tignes
, France.
This was a "Press Trip" and, as such, was supported by
Snoworks
, Mark Warner (hotel),
Snowlinx
(private transfers) and Tignes.
I was encouraged to participate to whatever degree I wished, and to feedback and report whatever I found; so what follows is my own opinion and as objective as I can make it.
TL;DR
- If you've hit that intermediate plateau, want to tackle your first Black run, struggle off-piste, want to learn to ski the whole mountain or just want to ski at a level beyond your usual buddies - Snoworks delivers! If you're already a strong all-mountain skier, Snoworks can take you forward. Last week I skied further, higher, steeper and way more powder than many of my previous trips combined - with very little time spent on pistes. And I learnt loads. Brilliant!
Read more below on The Snoworks Philosophy (Go Open, Baby!), how I found the individual courses, and some great commentary from a Snoworks regular.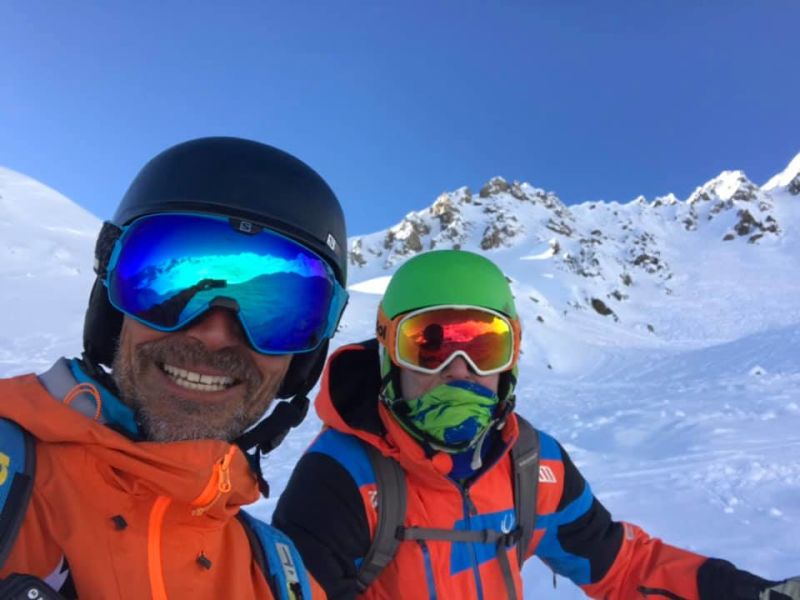 It's always a good sign when your instructor's constantly grinning...
picture (c) Snoworks
Snoworks "Minimum Requirements" and Introduction
Snoworks do not take a traditional, "structured" approach due to their "Open" philosophy (more on that below) and they're very much focused on the desires of skiers wanting to spend more time, and ski better, across the whole mountain.
You'll need to be at least a confident Blue and Red run skier (a Level 3 Skier in Snoworks parlance). Previous experience away from the pistes is not required for the entry-level Snoworks courses.
You can check your
Snoworks Ski Level here
.
Ultimately, they aim to advance you as an all-mountain skier and to take you - as soon as you're ready - away from the marked runs to places you couldn't (and shouldn't) go on your own. If you're more experienced, they've got you covered with courses and tours right up to pro-skier levels.
About me
I've been imagining I'm still in my twenties for a couple of decades now, and have been skiing regularly throughout that time. Family-focused ski trips and old ski buddies falling by the wayside (and becoming "more sensible") have limited recent off-piste excursions.
Having heard nothing but good things about Snoworks I jumped at this opportunity.
Courses Available
The three courses running last week represent the core of Snoworks offers, being All Terrain (AT), Off-Piste (OP) and Off-Piste Safety (OPS - a new addition). There were several groups of the AT and OP, for different Levels of skier.
A Snoworks course generally consists of 5 x 3-hour sessions (morning or afternoon) on five successive days, so I elected to follow the full Off-Piste Safety course and as much of a Level 5 Off-Piste group as I could.
Snoworks Philosophy
You'll hear a lot about this initially, as it is what makes them different. "Open Skills for an Open Environment" sounds a little glib until you get your head round it, but it boils down to this :-
- Piste skiing is a relatively Closed environment; lifts and pistes follow clearly defined lines, there are few surprises and a defined set of ski techniques.
- All-mountain skiing is Open; the routes, the snow, the terrain are all massively variable, as is the approach you need to take.
The "Intermediate Plateau" can be seen as being at the transition from skiing Closed to skiing Open.
Intriguingly, for anyone used to the familiar structure of group ski school lessons, the Snoworks Open approach extends to the curriculum; there isn't one!
A Snoworks course has no set program; rather, each session will be spent on the most appropriate (or fun) terrain in the most suitable (or enjoyable) conditions for the individual group on that specific day. The Open approach is about using whatever is there, whether it's a powder day or hard-pack, and going places.
Skiers are moved between groups, especially in the first couple of days, with the overriding aim being a consistent "speed of travel" - that everyone's comfortable with - across the likely terrain. The instructors take account of ability, confidence, fitness and preferences and this blurs the lines between the content of the different courses considerably.
One thing that is consistent, is the keenness of the instructors.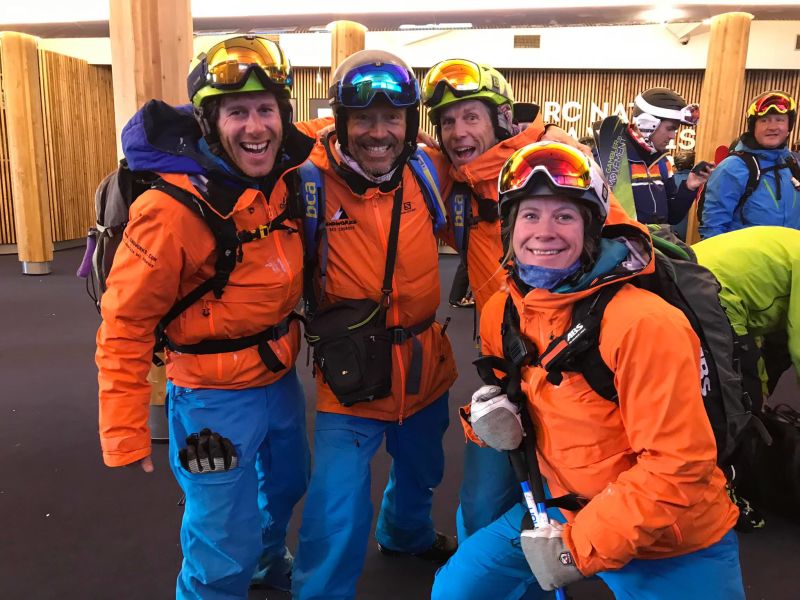 Yep, really, you should go ride with this crew! Photo (c) Snoworks
If you get Phil a beer and get him talking, you'll end up so enthused about your skiing that you'll have your skis and be half way to the nearest lift before you realise it's actually dark and everything's shut...
So, about those courses...
I've written a little about what we did each day in a series of earlier posts, but it's important to note that this Open approach means that no two courses will run the same way. The content of each week, each day even, will be the best match between the Group and the conditions.
Each day's skiing is preceded by the Snoworks staff meeting where they plan provisional routes for the day (taking account of weather and avalanche forecasts, and group capabilities) with safety a key input. Throughout the day, the various groups stay in radio contact so each knows where the others are - and they exchange info about the snow, other groups in off-piste sectors and so on.
Off-Piste Safety (OPS) Course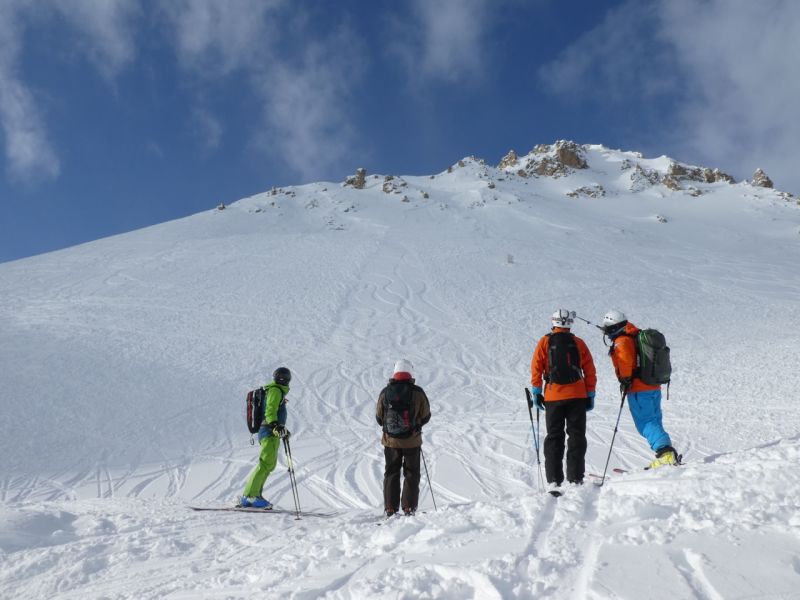 I chose to do this course in full as it was an opportunity to apply much of the off-piste "theory" I've read about for years but rarely get the chance to practice.
The timing was just about perfect, with a big snow-storm chucking it down on the first day and the snow-pack then evolving through the week.
As noted in my "Diary" posts (see links below), we started the week with powder skiing and transceiver search practice in a howling blizzard. Subsequent days had clearer weather and allowed us to observe initial avalanche activity (on slopes predicted by the avalanche information available) and stabilizing and transforming snow as time passed.
Every route we took was preceded with a quick discussion of why we were going that way (or, usually, why we were not going some other way). The terrain features - threats from above, terrain traps - and the likely exit were all noted. The terminology was familiar, but I found the constant reinforcement and observation very useful and "habit-forming".
For most descents, Nick would ski ahead to a visible and safe collection point and we'd then proceed either singly or with good spacing between us, as appropriate to the slope. Again, good practices being reinforced by repetition.
In addition to our excellent instructor, Nick Quinn, we were lucky to have Ric Potter, a full mountain guide, along with us for the week and his inputs were precise and very informative.
Did it work for me?
Yes, fabulously. We did a lot of skiing - more than I expected - with all of it being informed and educated along the way. Most importantly, I learnt a huge amount and got lots of practice at applying the theory I already knew.
What could be improved?
I'd have liked to do a little more transceiver search practice (even in a blizzard!), and newcomers to off-piste might benefit from a short pre-course briefing so the terminology is familiar - but those would just be tweaks to an excellent format.
You can read posts from each day of the Course(s) here :-
Day 1
,
Day 2
,
Day 3
,
Day 4
and
Day 5
.
Off-Piste (OP) Course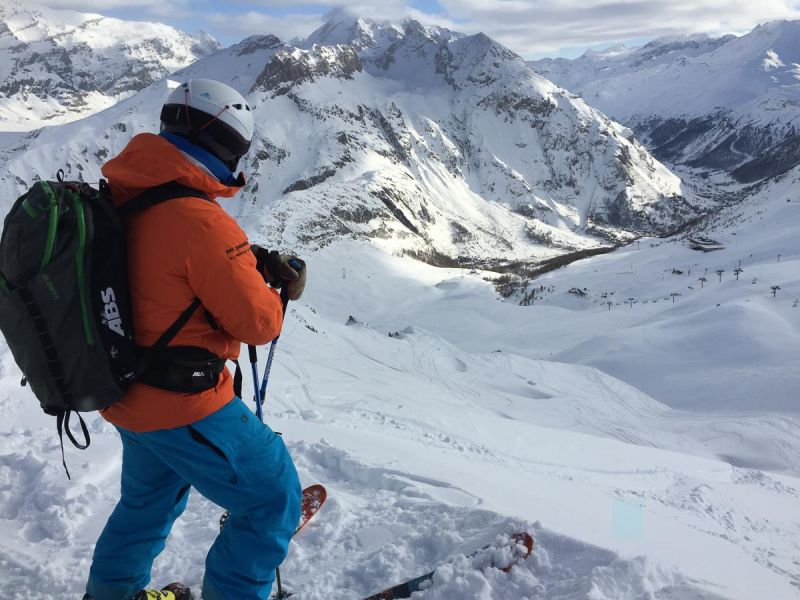 I joined what was provisionally a Level 4/5 Group led by Lee.
This turned out to be quite a strong Group and for most of the week was the full complement of 6 skiers, spending almost all the course time off-piste.
Transceiver checks and a quick summary of snow conditions started every session, and Lee set a good pace throughout the week!
He was adept at pushing us, according to our capabilities, and I think we all felt we had to occasionally "dig deep" - and as a result the confidence in the Group grew throughout the week.
The great snow conditions meant we were in powder much of the time but there were occasional "drills and skills" thrown in when the opportunity arose; twist-and-skid on some bumpy moguls, and synchronized short turns on a steep and hard piece of piste... and the occasional stop just to breathe in the view.
You can read more about what we did each day in the Diary posts referenced above, but keep in mind that each day will be different and tuned to the conditions on the day.
Did it work for me?
Absolutely. The combination of occasional, very specific feedback and lots of off-piste skiing that required just about every skill at some point has lifted my ability and confidence.
What could be improved?
Perhaps a few pre-course tips on fitness, carrying snacks and water would be good - each session is a solid 3 hours with very little standing around and might be a bit of a shock to someone used to more traditional ski school... but, again, just little tweaks to a great approach.
To finish off, I've included below some great commentary from Alex, a regular client of Snoworks, who was doing the Off-Piste Safety course with us :-
Alex wrote:
Which Snoworks course did you book onto last week?

I booked on to the Off Piste Safety course, which was a half day course, and the supplemented these with 4 half day Off Piste sessions, as I was travelling back to the UK on Friday evening and so needed to leave at midday.


And how did last week's course go for you?

For me it was excellent. I have skied off piste fairly extensively for the last 6 years, and whilst I had learnt a significant amount around off piste safety, reading the snow conditions, burial searches etc. I wished to further increase my knowledge and understanding within these areas, as with all matters, you can never stop learning or know enough. What was absolutely great was to be able to ski around and have open discussions with regards to the conditions, slope choices and then route choices on the slopes/terrain that we were to ski. This was then also supplemented with digging a snow pit to analyse the snowpack, a visit to a pisteurs hut to be shown around and have a talk from a pisteur on how they keep the pistes secure and safe from avalanche as well as carrying out training for dealing with multiple burials. This was also accompanied by a "classroom" session that further highlighted snow conditions, dangers and most importantly decision making processes.

What made you come on your first Snoworks course, and when was that?

I first went on a Snoworks course in December 2012, which was an off piste course. I had reached a plateau in my skiing ability. I could ski well pisted blues and reds with ease and panache, I could get down well groomed blacks, but as soon as the conditions became a little more challenging, such as bumped/mogulled or visibility started to be restricted (or just even flat light) then my skiing became laboured and difficult. I had a strong desire to be able to progress beyond this, and also successfully ski off piste.


How many courses have you done so far?

I have been on in the region of 20 Snoworks courses. However this does need to be put into some context as Snoworks offer a wide variety of courses and adventures. I tend to do one week a year on a "training" style course, such as the off piste/all terrain courses or race technique course. This is then often supplemented by Snoworks less instruction based and more adventure based courses, such as their backcountry (no ski touring but may require hikes in and/or out of terrain back to the lifts) or backcountry access (which does involve an element of ski touring, but is still predominantly lift assisted). I have also been on their adventures, which has included touring in the Lyngen Alps in Norway and this coming season I am going with them to the Troll Peninsula in Iceland for a weeks ski touring.


What, for you, makes Snoworks stand out from other ski schools?

The main difference between Snoworks is that they are output focused rather than input focused. So what made the difference to me was the clarity as to the different ways to control a ski, what circumstances to use these in and how to blend them to be able to control speed and direction within all terrains. A very different approach to how to hold your poles, how close to have the skies together and where to place your weight etc. It is a methodology that works well for me.


Will you be taking another Snoworks week this season?

Yes, I will be on a backcountry course with them in St Anton in January and then on one of their Adventure trips ski touring in Iceland in April.


Will you be back next year?

Yes, I will be doing some form of training course with Snoworks to continue to improve my skiing.


Anything you'd like to add (about Tignes, Snoworks or an individual instructor)?

Tignes, whilst perhaps not the most photogenic of the resorts, is always a good option for early or late season snow, and so an excellent choice for a training week in December. I think I have perhaps complimented Snoworks enough, but what I would add is that they are always a pleasure to do business with.

The one thing I would perhaps make people aware of is that if they expect to have detailed instruction all day long, then they may find the approach a little alien to start with. The Snoworks way is to explain the philosophy, the basics to put it into place and then allow the person to ski within their small group to develop these skills. They will be given pointers along the way, but the emphasis is very much on the individual working to put it into place. Nick Quinn, ever smiley and enthusiastic, is an excellent instructor.
In conclusion, I went to Tignes expecting good things and the reality exceeded those expectations. The Snoworks crew are a great team; I skied loads, learned much and loved it.
I've Levelled Up and I'll be going back!
Until the next time...