Where To Ski or Snowboard In September 2018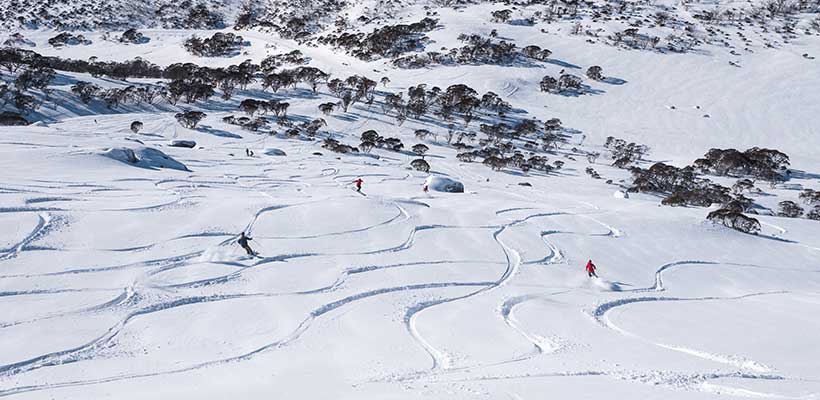 Perisher, Australia, has extended their season to October, following "the best snow in 14 years".
J2Ski's Where To Ski or Snowboard In September 2018
Brief, but heavy, snow in Austria intrudes into the hot European summer while southern hemisphere resorts enjoy good conditions.
September 1st Snow Headlines
- Heavy snowfall on the final weekend of August in Austrian Alps.
- Snow depths pass the 3 metre mark in southern hemisphere.
- Australian ski areas report deepest snow for 14 years - extend ski season.
- 2018 ski season over in Southern Africa.
- Year-round slopes at
Zermatt
get a second lift.
- Snow in the Andes after a fairly dry winter.
- Molltal glacier reports 50cm of fresh snow on last weekend of August.
- New Zealand ski areas posting deepest snow depths in southern hemisphere.
- First snows in North America "for 18-19" at Jackson Hole.
September is a month of change in the skiing world with summer almost over, autumn beginning and even snow starting to fall in the northern hemisphere; whilst ski areas begin closing south of the equator.
Ski areas in the Alps got quite a good snowfall at the end of August providing some summer powder skiing on the glaciers for the last few days of the month, so hopefully that's the first of much more to come. There has also been snow on high slopes in North America although only one centre is open there at present.
The number of ski areas open in Europe and north America should also double (back in to double figures!) over the next few weeks.
South of the equator it's the last full month of the season for most resorts with a few aiming to close the last Sunday of the month (30th) and the majority by the following Sunday. Base depths have just passed the three metres (10 feet) mark at some areas in New Zealand whilst resorts in Australia have begun extending their seasons after reporting the snowiest conditions for 14 years. It's been a less memorable season in South America but there have been a few good snowfalls in late August.
The 2018 ski season is over in southern Africa however with Afriski in Lesotho and Tiffindell in South Africa ending their seasons at the end of August.
In the Alpine Forecast
It means exactly nothing for the coming season, but there will be some significant snowfalls at high altitude (and, briefly, lower) in The Alps over the next few days; bringing fresh snow to the handful of glaciers currently open, and picturesque views to a wide area.
Only a few resorts are open, so check local conditions and opening times directly before travelling!

Unusually (for September!) there's snow in the forecast for the Alps...
Re-publication :- our Snow Report Summary, being the text above this line, is free to re-publish, but must be clearly credited to www.J2ski.com with text including "J2Ski Snow Report" linked to this page - thank you.
SOUTHERN HEMISPHERE
Australia
Australia is having an excellent winter 2018 with a number of resorts including Mt Buller and
Perisher
posting that they have hit the deepest base depths since 2004. Perisher, which says it has had snow every week of the season so far, has announced it is extending its season by a week to October 7th as a result of all the snow ... although it does tend to extend its season by a week every season anyway and most of the country's other leading resorts are also open to October 7th!
August has been especially snowy and base depths have passed the two metre mark at most of the country's bigger areas – meaning there are more Aussie areas in the current Southern Hemisphere deepest snow depths table than any other country.
New Zealand
Perhaps not one of the great seasons for New Zealand, but base depths are gradually climbing with August snowfall and almost all areas now have at least a metre lying to see them out the remainder of the 2018 ski season – which for most is another 5 – 6 weeks.
The two ski areas on Mt Ruapehu seem to be building their bases faster than the reported snowfall and now have more than three metres (10 feet) lying at
Turoa
and
Whakapapa
on the North Island. That's the deepest by some distance in the southern hemisphere. It's not all good news though; the
Manganui
Ski Area run by Stratford Mountain Club has struggled to remain open after being the first to open back in late May. Poor snow levels mixed with extreme weather (storms, avalanche danger when it did snow) have caused problems all winter.
Argentina
Not really the most memorable season so far in the Andes but there was some August snowfall towards the end of last month after a fairly dry winter. Bases are in the 60 – 160cm range with the continent's largest area, Catedral, again at the lower end of the figures with just over half its terrain skiable. There's a month of the season left so they'll be hoping it's a snowier one than the first three, it's certainly starting well with snow on 31st August across much of the country.
Chile
Not a memorable winter in Chile either with bases, like Argentina, rather thin at most areas following little natural snowfall. There was one reasonable dump in the latter half of August that brought about a foot of snow to Nevados de Chillan in the south of the country (which had widespread media coverage earlier in the month as a volcano erupted nearby whilst skiers kept skiing and lifts kept running) but only a few flakes landed further north.
Portillo
, for example, has only a 20-45cm base, and at
Valle Nevado
it's a little better, 60 – 110cm. After that snowfall Nevados de Chillan has the deepest base at 125cm however.
NORTHERN HEMISPHERE
Austria
Things were fairly normal in Austria until the last weekend of August which saw a big snowfall. The two glaciers already open for 18-19,
Hintertux
(75cm base) and Molltal (90cm base) reported 30cm and 50cm snowfalls respectively, giving powder days in the last week of summer. September will see five more Austrian glaciers open for their 18-19 seasons, probably, meaning that more than half of the ski areas open in the northern hemisphere will be in Austria by the end of the month.
The
Pitztal
and
Kaunertal
glaciers have planned opening dates of 15th and 29th September but the Dachstein,
Stubai
, Solden and
Kitzsteinhorn
glaciers are also expected to open during the month when conditions are right.
France
With the end of the summer ski season at Les 2 Alpes on the last Sunday of August there are currently no ski resorts in France open.
Tignes
expects to re-open on the last weekend of the month however.
Italy
Italian ski areas above about 1500 metres also saw a lot of snow over the last weekend of August, with film and pictures of heavy snow in the Dolomites appearing on social media. There are currently just two ski areas open in Italy and there'll be two still at the end of the month, but one will be different to one of the areas now open!
Things are looking good at Passo Stelvio (which had to close for lack of snow in August last year); it got 9cm of snow on that late August weekend and another 12cm on Sept 1st. Passo Stevio will be open through to October but access to Zermatt's glacier skiing from Cervinia will close after the second weekend of the month. However a third Italian glacier area,
Val Senales
, is due to open for its 18-19 season the following weekend (15th).
Switzerland
Europe's highest ski slopes at Zermatt will soon be accessible by the spectacular new 3S gondola which is scheduled to open there at the end of this month after three years under construction. It and neighbouring Saas fee are currently the only two areas open in Switzerland and look set to remain the only two through September too.
Scandinavia
Only the Fonna (
Folgefonn
) summer ski glacier in Norway is currently open (through to the end of the month), and reports a two metre base. Other areas like
Ruka
in Finland are due to start opening from early October for their long 2018-19 ski seasons (it uses snow farming to preserve snow from the previous season to re-use in the early autumn).
North America
It's a quiet time of year in north America with only the
Timberline
snowfield on Mt Hood in Oregon currently open, but usually closing for a few weeks of annual lift maintenance in September. It all kicks off next month when there'll be the annual contest to be first to open –
Arapahoe Basin
in Colorado, one of the world's highest ski areas, is usually a good bet. However the first resort to post images of fresh snow – last Monday August 27th – was Jackson Hole.