J2Ski Snow Report 24th February 2022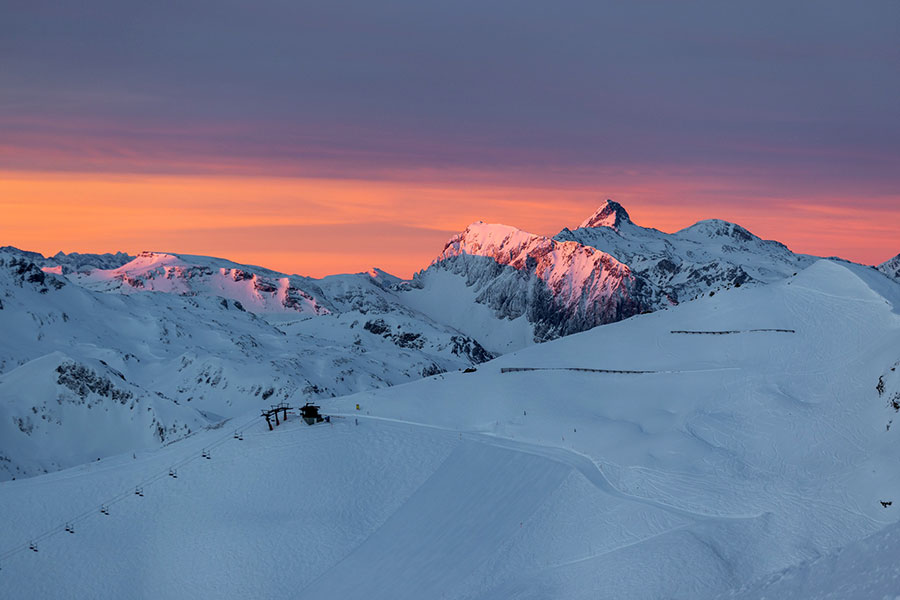 Not a bad view from Obertauern, Austria this morning...
Snow and sun for Europe, mostly snowy in Japan and a mix for the USA...
The Snow Headlines - 24th February
-
Mürren
first Swiss ski area to post a 3m/10 Feet+ base this season so far after snowy week.
- Best snowfall since late December currently dumping on Western North America.
- Wild warm, wet weather hits North-eastern North America before snow returns.
- Scotland enjoys sunny Saturday with fresh snow and all centres opening full runs.
- Austria and Switzerland ease pandemic restrictions.
- Spring skiing centre
Riksgränsen
opens for its 2022 season this weekend.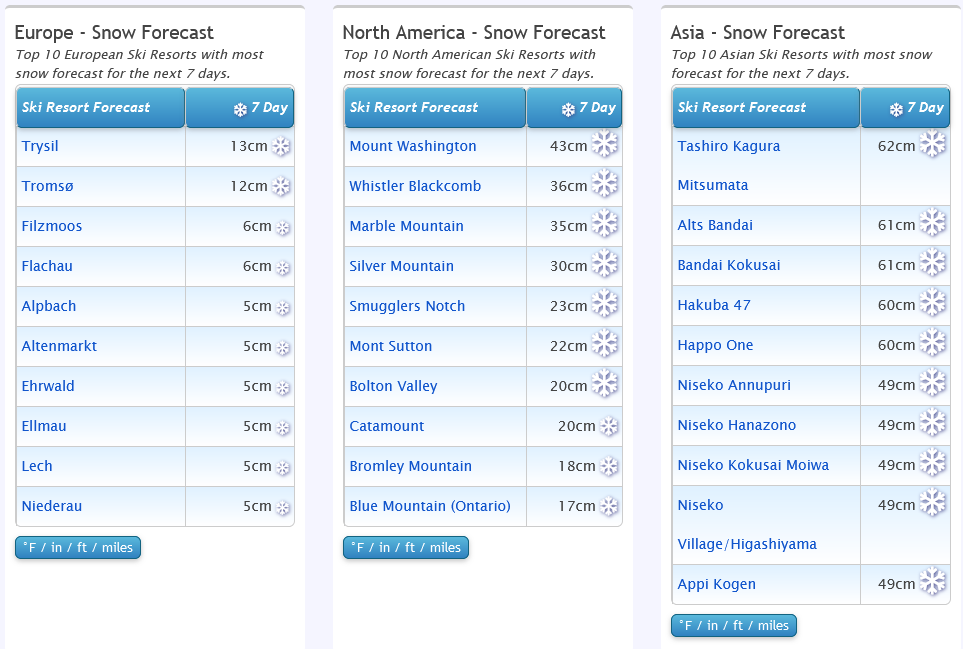 Snow in the forecasts, with lots for Japan (again).
Re-publication :- our Snow Report Summary, being the text above this line, is free to re-publish, but must be clearly credited to www.J2ski.com with text including "J2Ski Snow Report" linked to this page - thank you.
World Overview
Europe
Quite a snowy week for most of Europe with ski areas in the Alps reporting further accumulations after snowfalls in recent weeks ended the prolonged largely dry spell through the first five or six weeks of the year.
The result has been some great conditions once the sunshine returned and base depths moving in the right direction, getting deeper again, after declining in January. There has also been some quite wild weather at times though with strong winds, particularly in the north and west.
Elsewhere in Europe, the Pyrenees saw a second week of snowfalls and Scandinavia more snow, as well as stormy weather. The biggest step forward was up in Scotland where more than 70 slopes have been open across the five Highland centres when it had only been a handful all season until now.
In good news beyond snow cover, Switzerland has eased most pandemic travel restrictions and those on lifts in resorts, and Austria has also eased restrictions on dining and apres-ski.
North America

The main news from Western North America was a return of snowfall, with two storm systems passing across the continent in the past week. The first brought 6-12 inches of powder to the Rockies in time for the President's Day long weekend, the second even more snowfall over the past 72 hours, transforming the region that has seen little fresh snow since the end of last year.
The East, by contrast, has seen plenty of snowfall this month but had a bit of a shock at the end of last week when an unseasonal temperature spike saw warm, wet weather driven in on storm-force winds, closing slopes briefly. However, within 24 hours temperatures had dropped below freezing again, snow was falling and it was a winter reset.
Europe
Austria
It has been a frequently snowy week in Austria with most of the country's ski areas seeing snowfall on multiple days over the past seven, typically with light accumulations of 5-10cm but at times seeing as much as 20cm in 24 hours.
So there's plenty of fresh snow lying and base depths are building, particularly good news for glaciers aiming to open for late spring and summer skiing, as well as for those where March marks the last full month of the season.
In other good news, Austria has further eased pandemic restrictions allowing a more normal apres-ski scene to develop. Most of the country's slopes are open with the Skiwelt,
Arlberg
and Saalbach ski areas each having more than 240km (150 miles) of slopes open.
France
There was more fresh snow in the French Alps going into the weekend and again at the start of this week so there's been another good top-up of fresh cover, further improving conditions in what has been a snowy February - seeing bases build in most areas.
Another round of (lighter) snowfall is expected to end the week before a sunny weekend. Temperatures in most resorts should remain cold, close to freezing at low levels, 10C to 15C below at altitude.
Most of the large French areas are fully open, more or less, and for some of the high, well-known resorts there are still two months of the 2022 season left to run.
Italy
Italy has seen more snowfall over the past week and here too the slopes are in good shape in most areas after the February refresh.
The
Espace San Bernardo
ski area, which straddles the border between
La Rosière
in France and Italy's
La Thuile
, is posting the country's deepest base with the snow lying 2.4 metres (8 feet deep) on upper slopes and still 1.5m (five feet) at the base.
More snowfall is expected to end the week before a cold and sunny weekend across the country.
Switzerland
Swiss ski areas have also reported a couple of snowfalls since our previous report, nothing massive and with some sunny days before and after but enough to give a good refresh to the slopes. There have been strong winds at times too, closing some lifts whilst they blew through.
Unusually, the
Lötschental
ski area in Valais is posting the deepest base in the country, the only one to report the snow lying three metres (10 feet) deep on its upper slopes.
But most resorts have a decent depth for the start of spring, especially higher up, and have almost all runs open across the country. Here too after the end-of-week snowfall it looks like a dry and sunny weekend and start to next week with temperatures in the range of +5 down in resort to -15 Celsius on higher slopes in the mountains.
Scandinavia
The snowfall has eased off a little in Scandinavia with parts of the east of the region seeing more dry and sometimes sunny days – with the days also getting longer quickly now as we approach the start of March.
The main beneficiary of the storms that have been whizzing across the UK this week and hitting colder air over Scandinavia has been Norway's West coast with ski areas around
Voss
and the wider area being repeatedly dumped on. The snowpack there has now passed 2.2 metres (7 feet) and its powder conditions they say.
Riksgränsen up in the Swedish Arctic Circle opens for its 2022 season - which runs to mid-May - this coming weekend.
Pyrenees
The Pyrenees have had their second successive week where there's been fresh snowfall after a mostly dry few months between mid-December and early February. That early snow back at the start of the season was exceptional and left bases until very recently the deepest in Europe, and they're still up there, although a few in the Alps have finally overtaken the Pyrenees' deepest.
With the start of spring (by the meteorological calendar) arriving next week there's plenty of snow lying to see out the season.
Baqueira Beret in Spain with more than 100 miles of runs open and the snow lying more than two metres deep got another 20cm of snowfall and
Grandvalira
(Andorra) now has almost all of its 240km (150 miles) of runs open.
Scotland
Scottish ski centres were finally able to open more than just their small base area snow slopes at the weekend as heavy snowfall built bases across the Highlands with the worst of storms Dudley and Eunice unusually passing to the south.
Saturday was a stunning day of blue skies and little or no wind and the five Highland centres all opened the most terrain they'd had open all year.
The best snow cover was in the west with
Glencoe
almost fully open and
Nevis Range
opening more than half of their runs. Since then it has been a mixture of rain/sleet and snow showers and strong winds but the picture remains much better than at any point since mid-December.
Eastern Europe
A cold and snowy week in Eastern Europe with ski areas in most nations reporting 30-60cm accumulations in successive snowfalls over the past week. Temperatures have barely climbed above freezing in most ski resorts in the region and typically been 5 to 15 degrees below in the mountains.
In Bulgaria,
Borovets
reports a very healthy 175 - 210cm (6-7 feet) base but all resorts in the country are posting decent base depths and looking good for spring skiing.
North America
Canada
There's been snowfall across Canada over the past week, from coast to coast, and the country's deepest snowpacks – approaching 3 metres/10 feet, have built upon the country's Pacific and Atlantic coasts.
It's been stormy weather at times too, with gale-force winds in both the Northeast and the West, particularly at the end of last week and into the weekend when 20-40cm accumulations were reported. It's been more settled, and actually dry in the West, since the weekend with skiers and boarders enjoying the fresh snow cover.
USA
Some great snowfalls in Western North America over the past few days and in fact still dumping down as we post this report.
Ski areas in California which had hardly seen any fresh snow for several months (since a huge dump at the end of December in fact) reported up to 18 inches (45cm) in the first 24 hours of the storm.
The snow fell over mountains across the West though; with the Rockies further inland reporting several feet of snow too, again the best in most cases for several months.
The East has not had such a snowy week and was actually hit by near-record warm temperatures just before the weekend with gales and torrential rain - along with snowmelt - causing flooding at some areas in states like Vermont.
In better news, temperatures shot back below freezing almost as fast as they'd shot up, allowing snowmaking to resume and there was some natural snowfall too, so many areas reopened faster than might have been hoped. The start of the new week was dry, a little warm again, but temperatures have since dropped away and snowfall is forecast for the weekend.