J2Ski Snow Report 1st September 2021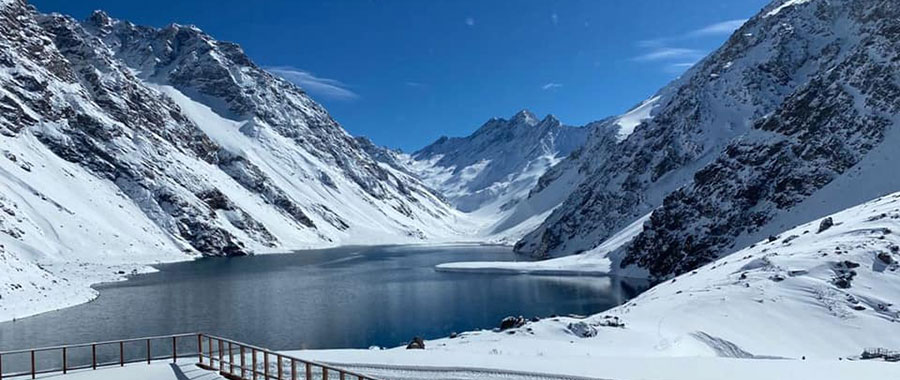 The snow returned to Portillo, Chile this week
Heavy snow in The Andes, warm glaciers in Europe...
The mountains are waiting for us... be patient, stay safe and follow your local advice and rules on travel.
The Snow Headlines - 1st September
- Fresh snowfall in late summer reported up high in the Alps and the Rockies.
- With African and US ski areas closing in August, resorts only open on 3 continents.
- Long-awaited snowfall hits the Andes, South American conditions now best of the season.
- Summer ski areas close earlier than expected in Austria, France, Norway and US due to heat.
- Australia and New Zealand hit by August lockdowns as Delta variant spreads.
- Only 4 areas open in Europe at the start of September.
August saw mixed fortunes across the southern hemisphere; with long-awaited (and heavy) snowfall in South America, the natural end to the 2021 season in southern Africa, and most ski areas in Australia and New Zealand ending the month closed due to lockdown.
In North America the 20-21 ski season finally ended a little earlier than expected, while in Europe half of the glacier ski areas that should have been open were shut down instead due to the summer heat.
September sees the start of autumn in the northern hemisphere and of spring in the southern. The last week of summer/winter saw snowfall for both hemispheres; the first fresh snow on high peaks in the Alps and the Rockies and more significant snowfalls for the final weeks of the season in Australia, New Zealand and the Andes. There was even snowfall reported in the Tatra mountains of Slovakia.
But due to lockdowns and the impact of a warm summer in the Alps and a dry one in the Andes we start September with only 30-40 ski areas open in six countries on three continents worldwide. That's about a third of what we'd expect without a global pandemic and climate change to contend with. Hopefully, we'll be closer to normal by the latter half of the month.

Dustings on the mountain tops, for now...
Re-publication :- our Snow Report Summary, being the text above this line, is free to re-publish, but must be clearly credited to www.J2ski.com with text including "J2Ski Snow Report" linked to this page - thank you.
The Alps
September is typically the month when glacier ski areas start to open for the upcoming season. That happened as normal a year ago before everything ground to a halt, except in Switzerland where they opened in late October. Fingers crossed no hiccups this autumn.
Four glaciers are
currently
open for snowsports in the Alps and they (as well as currently closed areas) have been posting pictures of fresh snowfall, albeit quite light so far, up high in the final weeks of August.
Currently, it's Passo Stelvio in Italy,
Hintertux
in Austria and the glaciers above
Saas-Fee
and
Zermatt
that are open. Snow levels on each have been declining since mid-spring but the thaw appears to be stabilising and hopefully, the numbers will begin climbing again any day now.
Italy's
Val Senales
is the first confirmed to open in the middle of the month with Austria's
Pitztal
and
Kaunertal
glaciers targeting the weekend after. The Molltal glacier should be re-opening as well. Two more Austrian glaciers, the
Stubai
and Solden are hoping for September openings, they say, but haven't fixed on a date yet.
No French glaciers and no more Swiss ones are set to open until October.
Northern Europe
Alas, warm weather in Scandinavia this summer led to "the fastest ever thawing" of snow cover on glacial ice at Norway's three summer ski centres leading them to close early.
One of them, the Galdhøpiggen Sommerskisenter - which usually stays open to the start of November - hopes to re-open as the weather cools in September. Ski areas in Lapland,
Levi
and
Ruka
, are also getting excited about their upcoming opening, using snow 'farmed' from last season to create a few runs each, but that's not until October 8th.
North America
There's nowhere open in North America for skiing at the start of September.
Timberline on Mount Hood in Oregon usually aims to keep its 'permanent snowfield' open to the start of the month and the long Labor Day holiday weekend (this year September 4-6) but this year it was beaten by the summer heat. In fact, the heat has been quite an issue with forest fires across much of the west of the continent all summer.
As we start September several ski areas close to
Lake Tahoe
in California have had to evacuate due to a huge forest fire in the region. One resort, Sierra at Tahoe, has already had the fire burn through but seems to have largely survived, partly by pumping water out of its snowmaking cannons. Ski resorts all over the region have closed and asked people to stay away from Tahoe and summer operations at many well-known ski areas across the West have been suspended from time to time due to poor air quality resulting from smoke in the air.
In better news though, there has been some late summer snow to get spirits up and there are the first opening dates announced. Resorts like Sunshine,
Snowbird
and most centres in Colorado published late-August snow (dusting) pics online.
Vail Resorts, the continent's largest multi-resort operator, has said it hopes it won't need to limit ticket sales in the early season (to Epic pass holders) due to increased space. Jackson Hole has also said the same on running lifts back at capacity, including their cable car.
As to where will open first;
Keystone
has said it aims to open as early as possible in October.
Arapahoe Basin
,
Wolf Creek
and a few others are usually also contenders. Up in Canada Alberta's
Nakiska
has opened in late October before, as has Sunshine. We're not expecting any lifts turning in September but you never know.
Asia
There are currently no areas known to be open in Asia. Ski areas can open from late September or early October in China and Japan. Chinese ski areas are likely to want to claim first in the country to open in the 2022 Beijing Winter Olympics season.
Southern Hemisphere
The start of September means the start of spring in the southern hemisphere and therefore the final weeks of the ski season.
In fact, the season is already over in southern Africa where the Afriski centre in Lesotho ended its 2021 season on schedule on the last Sunday of august with a dusting of fresh snowfall.
Whether it is already the end of the ski season for most ski areas in Australia and New Zealand is not yet known. Rising cases of the delta variant in both countries closed the recently opened travel bubble between them and led the two main Australian ski states of New South Wales and
Victoria
to announce new lockdowns, which are ongoing as we start September, until at least the 10th in the case of NSW.
Only the small ski areas on the southerly island of Tasmania remain open.
New Zealand is in lockdown although moving from level 4 to level 3 at the start of the month. It needs to be down to level 2 for resorts to reopen and there's no date for that yet.
Ski centres in both countries say they're prepared to reopen when lockdowns ease, but there's frustration as both have their best snow conditions of the season, and fear that allowed re-opening will be too late to be viable.
In South America, the snow has finally arrived in the last 10 days of August after a largely snowless winter which led some areas to close again as cover got too thin, whilst several had still not been able to open at all.