Login
To Create or Answer a Topic
J2Ski Snow Report - April 13th 2017
Spring skiing continuing for The Alps, with some fresh expected, and the first snows for the southern hemisphere.
This is our final weekly round-up for the winter; after Easter we'll be reverting to a monthly summary until the snows come again to the North.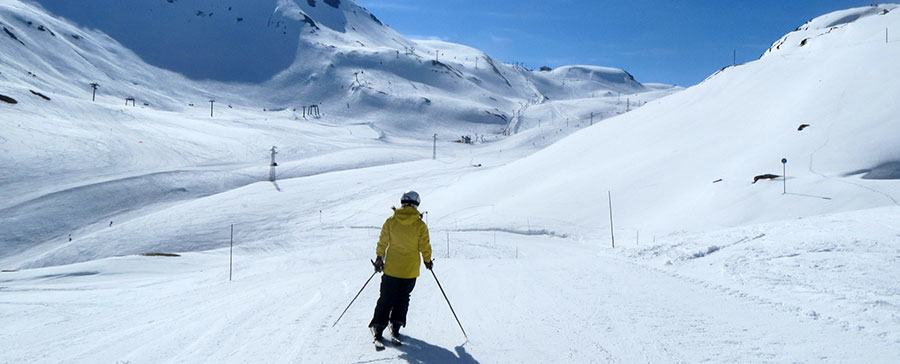 Spring skiing, Val d'Isere, France this week
Top 100 Snowiest Ski Areas Worldwide
This Week's Snow Headlines
- 15-20cm of snow two months before the 2017 season starts in Australia and New Zealand.
- Around 20% of ski areas now closed for season with more than 50% due to close after up-coming Easter Sunday weekend.
- Up to 70cm of fresh snow in California, Colorado and Utah.
- 10cm of fresh snow in Romania.
- 50cm of fresh snow this week at Whistler.
- Winter conditions in Norway, with up to 25cm of fresh snow.
You know that the season is starting to wind down when more snow is reported falling in Australia and New Zealand than in the Alps! But to be fair that is exceptional for early April - unusual weather in the southern hemisphere brought 15-20cm of snow to the slopes of ski areas in Australasia last Sunday/Monday. It was short-lived, of course, and staff at the resorts were questioning if they'd ever had such sizable snowfalls in what is still early autumn there.
In the Alps it has been April weather as we might expect it with warm temperatures and mostly sunny days so classic spring skiing on higher slopes with hard snow first thing, good conditions from mid-morning to early afternoon and then slush. Lower resorts have more challenging conditions with little snow left and many have closed or will close after the coming Easter weekend. There is more snow in the forecast, at altitude, and a return to cooler conditions looks likely after Easter however.
Across the Atlantic there have been still more big snowfalls on the western side of the continent as there have been almost non-stop since late November last year.
In the Forecast
Significantly cooler weather (for April), with some heavy precipitation, is now forecast next week. The heaviest falls are expected for Austria and eastern Switzerland, and snow should be falling by Easter Sunday with quantities building through the first half of next week.
To the West of the Alps (France and western Switzerland), temperatures will be higher and precipitation lower - but still enough to freshen things up from 2,000m and above.
The Pyrenees *may* also get some decent Easter snow, although the forecast models at present look much less certain about that, and temperatures will likely be high enough to confine any new snow to upper slopes.
As always at this time of year; do check local conditions and resort opening times directly before travelling!
Going Skiing? Please upload a Photo Snow Report!
If you're in the mountains, please show us the snow! Check
Snow Reports from Ski Resorts
for a quick and easy way to upload pictures, straight from your phone.
Re-publication :- our Snow Report Summary, being the text above this line, is free to re-publish, but must be clearly credited to www.J2ski.com with text including "J2Ski Snow Report" linked to this page - thank you.
The Alps
Austria
About half of Austria's ski areas have now closed, a higher proportion (marginally) than the other leading ski nations, but it will have more ski areas open by mid-May than any other European country. There's just been a few inches of fresh snow reported on the country's higher slopes in the last few days of last week. The country's glaciers have the deepest snow at around 2m deep, elsewhere it is thawing and the bases are thinning – down to zero in many resorts at the base of the slopes. Zell am Ziller has the least snow up top with only 35cm at the top of its slopes.
France
Most French ski areas remain open though many will close at the end of the day on Sunday afternoon coming up. There's been little or no fresh snow; only Bonneval and neighbouring Val Cenis on the Italian border claimed 10cm of snow a week ago and the spring thaw is well underway. Many of the bigger French areas do have large parts of their ski areas open above 2000m though and the snow at this altitude is staying good through the day even when temperatures reach double figures. Of course it is getting soft by mid-afternoon but as we approach mid-April, that's just normal. Bonneval also has the deepest base in France at 50-290cm, but bases are fairly good for the time of year at most other French areas too. Val d'Isere, for example has a 60-160cm base and is looking good to operate through to May 1st.
Italy
About a quarter of Italy's ski resorts, mostly in the Dolomites, have now closed for the season. Cortina, which reported 30cm of fresh snow last week, will stay open through to May 1st however. Mostly though its spring melt down time across Italy with few ski areas reporting more than 30cm of snow left on lower slopes, most zero. Up top
Macugnaga
has the deepest remaining base at 2.4m/eight feet, and la Thuile the second deepest at 2.1m/seven feet but most Italian areas have a metre or less of snow left on upper runs and will be closing after this weekend.
Switzerland
Most Swiss areas are still open and there were a few inches of fresh snow across the country towards the end of last week. As is normal for this time of year there are few resorts with any snow left at the base of the runs. Of those that do,
Verbier
reports 10cm lying, Saas Fee 15cm. Up top though Swiss resorts continue to claim some of the deepest bases in Europe with 4.5m/15 feet at
Gstaad
and 3.3m (11 feet) at Andermatt. Most other Swiss resorts have 1-2m of snow up top, plenty for the last week or two of winter 2016-17.
Pyrenees
Ski areas in the Pyrenees are in great shape for the final weeks of the season and even reported another few inches (5cm) of snow last week. Bases in Andorra are 40-140cm in resort and 130-230cm up top. Of course its spring freeze-thaw skiing but definitely a good end to the season here.
Scandinavia
Unlike the rest of Europe, the majority of Scandinavian ski areas endeavour to stay open to late April and often into May as, in theory, the thaw arrives later. In fact bases here are little changed on last week (60-120cm / 2-4 feet) and in some cases (again unlike the rest of Europe) are actually deeper as there has been more fresh snow in Norway, with 25cm of fresh snow in Voss.
Scotland
Scottish ski areas remain closed for snowsports due to lack of snow cover.
Eastern Europe
The thaw is well underway in Eastern Europe and lots of ski areas have closed for the season but there has also been 20cm of fresh snow reported in Romania at Poiana Brasov at the end of last week. Bulgarian slopes are looking tired, particularly the lower runs.
Pamporovo
is down to a 20-40cm base.
North America
Canada
Canadian ski areas have started closing with Silver Star and Red Mountain in BC amongst the first to call it a day on winter 16-17. But the snow is still falling and bases remain good across the country. Most resorts have at least 1.5m/5 feet on upper slopes with Whistler now posting the deepest base at nearly 3.6m (12 feet). It's open to mid-May, as is Sunshine near
Banff
(223cm base) and Lake Louise (160-240cm base) to the start of May. Most other Canadian ski areas will close after this weekend or next.
USA
A full on return to winter in Western USA with 70cm of new snow at Mammoth in California and
Alyeska
in Alaska – the most reported at any resorts in the world this week.
Snowbird
and
Solitude
in Utah reported more than 50cm and Breckenridge and Winter Park more than 40cm. Many resorts in the area are reporting conditions as 'powder' which is pretty good for mid-April. So some of the best conditions in the world at present are to be found in the Rockies and mountains further west, but many resorts will close this weekend despite the great conditions so you need to move fast. But plenty of US resorts do stay open in to May and beyond including Arapahoe Basin in Colorado, Snowbird in Utah and Mammoth and Squaw Valley in California.
The Admin Man