J2Ski Snow Report September 21st 2023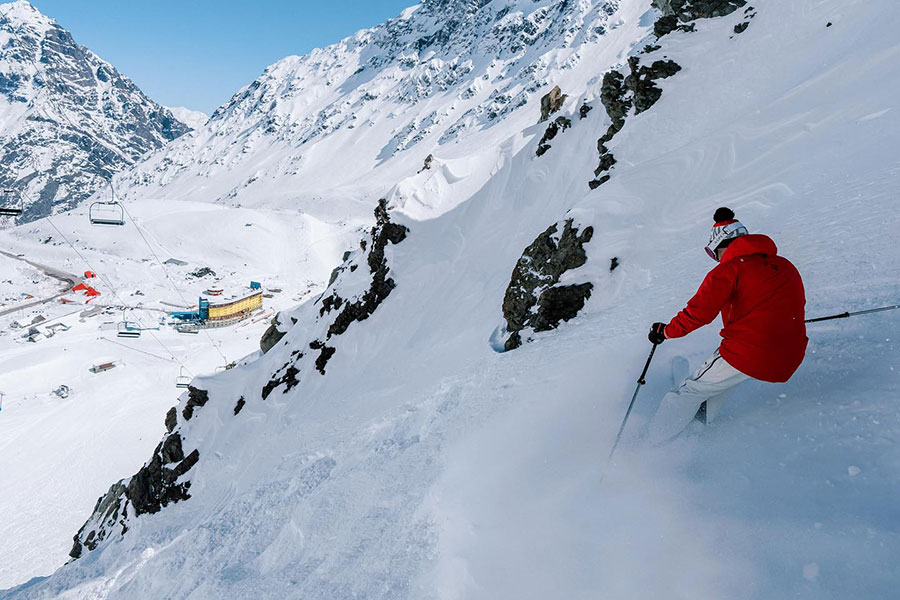 Portillo, Chile, has had yet more snow this week...
Snow in South America, and some early snow showers in Europe.
The Snow Headlines - September 21st
- Austria's
Pitztal
Glacier expected to open for the season this weekend.
- Chile's
Portillo
reports 1.6m of snowfall from storm, and access road reopens.
- Fresh snowfall on high slopes in Colorado.
- All but one Australian ski area close early for the season.
- Italy's Passo Stelvio glacier closes (again) due to warm temperatures.
- Mt Ruapehu announces season will last to October 24th - latest in southern hem.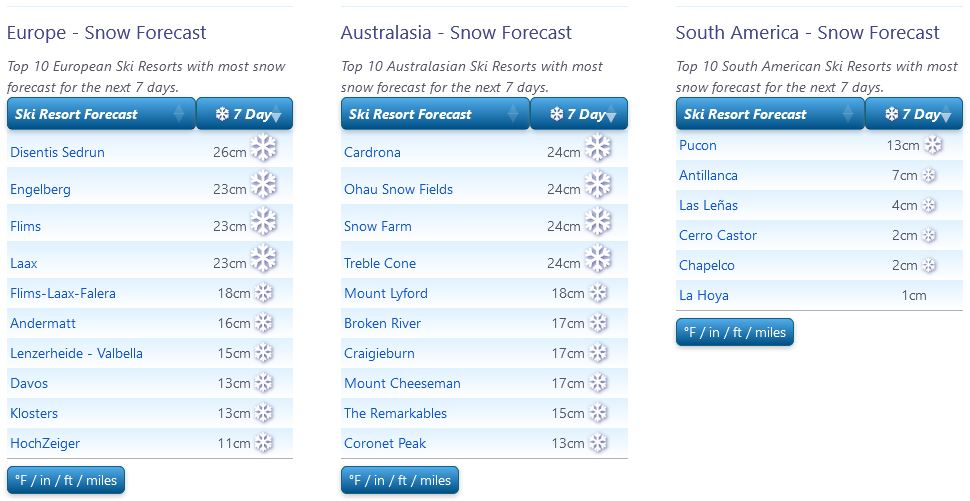 Snow forecasts; they are a changing...
Re-publication :- our Snow Report Summary, being the text above this line, is free to re-publish, but must be clearly credited to www.J2ski.com with text including "J2Ski Snow Report" linked to this page - thank you.
World Overview
The southern hemisphere's 2023 season is winding down with the usual mix of some resorts closing earlier than forecast due to warm weather, as has happened in Australia, and others announcing extended seasons to mid-October, as has happened in the Andes.
For New Zealand, the main weather factor this past week has been strong winds closing slopes, but otherwise, it's still fairly wintery and most centres remain open.
In the northern hemisphere, it is mostly about anticipation for the start of the 23-24 season with four more glacier resorts in the Alps due to open by the end of this month. Some glacier centres that are supposed to be open are now temporarily closed due to warmth at high altitudes earlier in September. It has got colder again with snow flurries up high.
In North America, snowmaking is expected to start in a little over a week's time, with centres hoping to open as early as possible in Colorado. There's been more fresh natural snowfall there in the past week but lower daytime temperatures need to be seen.
Southern Hemisphere
Australia
The battle against the warmer-than-average late season has been lost by four more areas;
Falls Creek
,
Mount Buller
,
Hotham
and
Thredbo
, joining already closed
Mount Baw Baw
and
Selwyn
Resort after the weekend.
Closure was expected for Mt Buller but for the others, it comes two weeks earlier than planned.
Falls Creek was the latest to close, on Wednesday, meaning
Perisher
is the only centre still open, albeit with reduced terrain and difficult conditions due to the warm spring temperatures. It announced on Thursday that its last day will be next Monday 25th, a week earlier than planned and the end of Australia's 2023 season.
New Zealand
Temperatures are warming in New Zealand but here most areas remain open, or trying to be, the major issue of the last seven days again being very strong winds which have led to lost ski days as lifts and runs have closed for safety reasons.
Most centres are hoping to make it to October with
Mount Hutt
on the South Island and
Mount Ruapehu
on the North aiming to stay open to the 15th and 24th of next month respectively, meaning they'd be among the last in the southern hemisphere to close for the 2023 season.
Wintery conditions are forecast for the next few days with snow showers and continuing very low overnight temperatures (-10C possible) and daytime highs only getting a few degrees above freezing.
Argentina
Winter is continuing in the Andes with some big snowfalls over the past week, particularly up to last weekend.
Most of Argentina's areas are open for another week or two with the largest in South America, Catedral, announcing it will stay open to mid-October. It continues to offer the most terrain open in the world at present, with around 70km of slopes (60% of its terrain).
Las Leñas in Patagonia to the south has a similar percentage of its terrain open and some of the deepest snow in the world at present, still around 2 metres deep on its upper runs. Conditions have been a little warmer and drier in recent days so it appears spring may finally be here.
Chile
Chile's ski areas continue to see some of the best conditions of the season in the final month of winter, with some big storm totals over the past few weeks. Portillo put a number on theirs up to last weekend – 1.6 metres or just over five feet.
The past few days have been quieter in the north but snow is falling again at ski areas like Nevados de Chillan further south and conditions are expected to remain changeable with temperatures typically in the -5 to +5C range over the coming week too.
Europe
Alps
We are at the point in the year when the number of ski areas open in the northern hemisphere starts to grow as high glacier resorts begin opening for their seasons.
First up is due to be the Pitztal Glacier in Austria's Tirol this coming Saturday and three more areas (the
Kitzsteinhorn
above
Kaprun
, the
Kaunertal
glacier and Solden's glacier - ahead of it staging the first World Cup races of the 23-24 season in just a month's time) on the final weekend of the month.
The good news is that after a fortnight of above-average temperatures which saw highs in double figures on glaciers in the afternoon and overnight lows remaining above freezing, things have cooled a good deal in recent days and snow flurries have returned to give fresh cover.
It's a bit late for Italy's Passo Stelvio unfortunately, which has temporarily closed until there's a significant improvement.
With Cervinia's access to the glacier skiing above it and
Zermatt
itself also closed at present, it means there's no skiing in Italy right now.
What is open, just about, is the year-round
Hintertux
glacier – although it's reporting a super thin, icy base and just a few kilometres of slopes open. The picture at Saas Fee and Zermatt looks brighter, both with around 12km of slopes open and around 2 metre bases, although Saas Fee has noted their's dropping considerably over the past few weeks.
Scandinavia
Norway's
Galdhøpiggen
summer ski area, Scandinavia's highest, should be open but has been closed for a few weeks as more wintery weather is awaited. It's looking promising for reopening later this week.
Meanwhile we're a fortnight off the start of the season in Finnish Lapland where
Levi
and
Ruka
are prepping their huge piles of snow saved through summer after stockpiling last winter. They'll be spread back out to create a few kilometres of runs at each from October 6th.
North America
There's been fresh snowfall on high slopes in the Colorado Rockies for the second time in a week, with
Arapahoe Basin
, Aspen,
Keystone
and Loveland among those posting images of white peaks again.
Wednesday saw reports of widespread snowfall on high slopes in western Canada and the north western US. Overnight lows have been at or below freezing but daytime highs continue to get 5-10 degrees above so most snow that falls doesn't hang around.
Things are getting cooler though and several of the aforementioned ski areas hope to begin snowmaking in a week or so with a view to start their 23-24 seasons in around a month's time.