J2Ski Snow Report September 14th 2023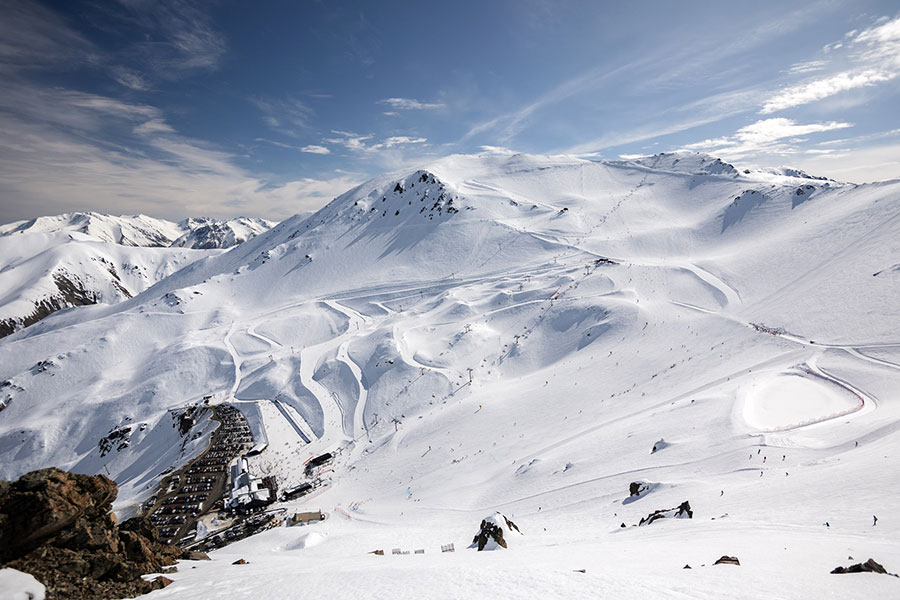 Mount Hutt, New Zealand, on a less-windy day this week...
Yet more snow in South America, and a late season freshen-up for Oz.
The Snow Headlines - September 14th
- Australian ski areas see end-of-season snowfall.
- Temperatures drop and snow falls high in the Alps after another warm spell.
- More big snowfalls in the Andes as season end nears, up to 60cm in 48 hours.
- New Zealand's ski areas have good spring snow, but issues with gales.
- Argentina's largest ski area extends season to mid-October.
- First snow on Colorado's high peaks for 23-24 pre-season.
-
Portillo
in Chile's season-to-date snowfall total passes 6 metres (20 feet).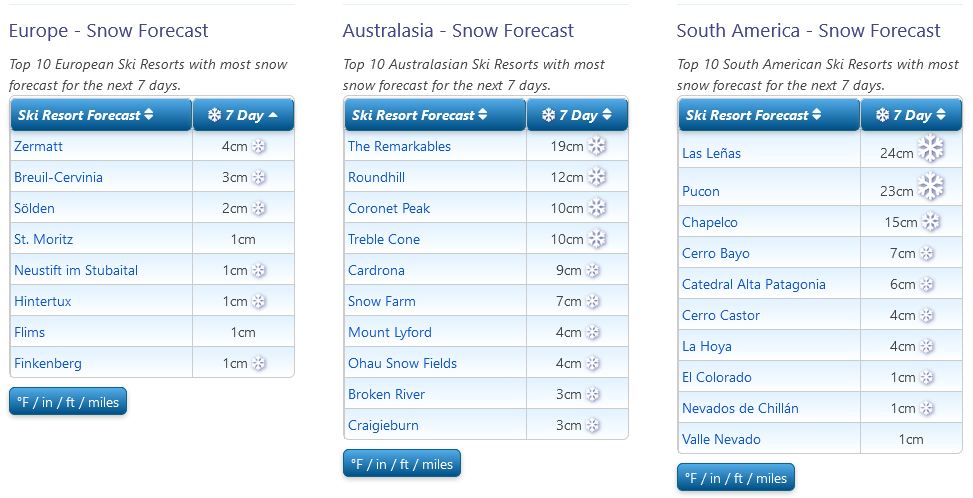 See where the snow is forecast to fall next...
Re-publication :- our Snow Report Summary, being the text above this line, is free to re-publish, but must be clearly credited to www.J2ski.com with text including "J2Ski Snow Report" linked to this page - thank you.
World Overview
We're in to 'autumn proper' next week in the northern hemisphere as the astronomical measure of the season catches up with the meteorological version.
The signs that winter is on its way are fairly promising again with temperatures dropping in Europe and North America, albeit following warmer-than-average weather up high again in the Alps last week.
Colorado saw its first covering of snow on high slopes on Monday. In Europe more glacier ski areas are due to start their 23-24 seasons from the weekend after next, so we're very close now.
For the southern hemisphere, it is, of course, springtime that's here, but ironically it seems to be more wintery than it was for much of actual winter in the Andes and New Zealand.
There's been another half metre of snow in Chile and even Australia, where centres have been battling above-average temperatures for months. The season end is still arriving fast though with most ski areas set to close over the next three weekends.
Southern Hemisphere
Australia
There was good news for Australia's beleaguered ski centres in the final days of last week with up to 28cm of snowfall (that's almost a foot) reported, giving a great boost to cover for one of the final weekends of the season there.
Mount Buller said that as a result, it will be staying open longer than planned, to this coming Sunday, September 17th. After that, it's joining
Selwyn
Resort and Mt Baw Baw in closing its 2023 season. It, like other Aussie areas, has greatly cut back on its open terrain.
Perisher, which is one of the Australian areas aiming to stay open to the start of October and the only one reporting more than a metre of snow depth still on its upper slopes has about 24km/15 miles of runs available.
Mount
Hotham
, also aiming to stay open to October 1st, notes it only really has beginner and intermediate runs still open. It could be a stretch as after the weekend cold snap it's now getting back well into double-digit plus temperatures by the afternoons although overnight lows continue to drop back below freezing.
New Zealand
New Zealand's ski areas are certainly enjoying a much better latter half of the season than the first half.
Unlike ski areas in Australia or many in the Andes, almost all of its centres are not only still open but most have at least 90% of their terrain open, several 100% - the highest percentages anywhere of the 2023 season.
But it has been warming a bit and the first smaller club field areas have announced their seasons are over or ending soon.
Snow depths are generally pretty good with
Mount Hutt
on the south island and
Turoa
on the north posting the two deepest bases at present in the world at around 215cm and 245cm respectively. Much of the past week has been cold with snow showers, the only real negative has been strong winds at times closing centres temporarily. Temperatures staying low but looking drier into the weekend.
Argentina
It looks like a good final few weeks of the season in Argentina with base depths the best they've been all season and some centres reporting more terrain open now than they've had all winter.
Catedral near
Bariloche
continues to post the most terrain open at present in the country/world with about 50 miles of runs skiable. On Thursday it announced it was extending its season to stay open for another month, to October 15th.
Las Lenas has the country's deepest snow with nearly 2 metres lying on its higher runs and more in the mountains above, famed for their freeriding. Another metre was reported to have fallen on Sunday-Monday.
Chile
It has been a great week in Chile with plenty more snowfall, even as spring arrives.
Portillo posted the most, more than half a metre going into the weekend and further snow showers since, only now is the sun returning. It's posting one of the three deepest snow depths in the world at present and says it has gone through the six-metre mark for snowfall so far this season, a pretty healthy number.
Most Chilean ski areas remain open and have been reporting powder conditions over the last few days. Some, in fact, got too much snow too fast with La parva warning of high avalanche danger after 40cm fell in just a few hours on Monday, destabilising the snow pack.
Europe
Alps
The same four ski areas remain open in the Alps, and thankfully conditions are getting colder again after a few weeks of warm, sunny weather, even at very high altitudes as was the case in July and August, following the end of summer temperature dip and snowfall now a fortnight back.
Saas Fee and
Zermatt
in Switzerland appear to be in the best shape with about 12km of slopes open each and the snow lying two metres deep on their glaciers, the deepest by far in Europe. Temperatures have been dropping back below freezing overnight over the last few days and there have even been snow flurries.
Access to Zermatt's glacier ski slopes from Cervinia, just over the Italian border, officially ended last weekend, but is due to recommence in mid-October and from then on remain open year-round.
What's open is much more limited and bases much thinner (3-4km of runs and 20-30cm depths) at Italy's Passo Stelvio and Astria's
Hintertux
glaciers.
Four more Austrian ski areas are still aiming to open the weekend after next or the final weekend of the month which will double the numbers open by the end of the month if conditions allow. The
Pitztal
Glacier is up next then
Kaunertal
,
Kitzsteinhorn
and Solden aim to join on the final Saturday of the month.
Scandinavia
Alas, warmer temperatures last weekend led the only area currently open in Scandinavia, the Galdhopiggen glacier in Norway, to temporarily close. It's cooler and even snowing there again now though. Its season lasts through to early November.
We're less than three weeks away from opening day for
Ruka
and
Levi
in Lapland, Finland, which have begun preparations to roll out the vast piles of snow saved from last season back out to create new runs for the autumn from October 6th.
North America
After the dustings of snowfall on high slopes last week in Oregon and Utah in the US and in Alberta, Canada, around
Banff
, temperatures have stayed fairly cool in the mountains of the west, getting below freezing overnight above around 10,000 feet/3,000 meters in fact.
Ski areas in Colorado posted images of their first snow coverings of the season on high slopes at the start of the week at
Breckenridge
, Copper,
Keystone
and
Arapahoe Basin
.
Snowmaking is expected to get underway up high in Colorado in just over a fortnight's time with some of the same resorts that saw the snow this week aiming to open in the latter half of next month if conditions allow.
Ski areas in the Midwest have similar target opening dates if temperatures drop low enough for early autumn/fall snowmaking.