J2Ski Snow Report May 18th 2023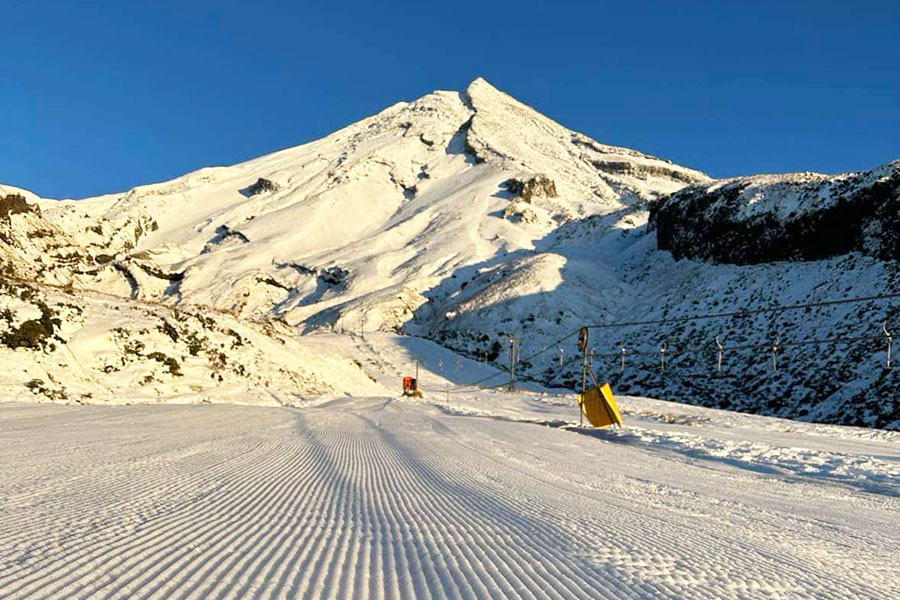 Manganui, New Zealand, got snow and opened for last weekend...
Southern hemisphere season kicks off early (if briefly).
The Snow Headlines - 18th May
- Southern Hemisphere's 2023 ski season starts early after snowfall in New Zealand.
- Norway's glacier ski areas open for 2023 season with world's deepest reported snowpacks.
-
Breckenridge
closing for the season this Sunday.
- Slovakia's Jasna staying open through May.
- "Mid-winter" conditions in mid-May in Colorado, up to a foot of fresh snow.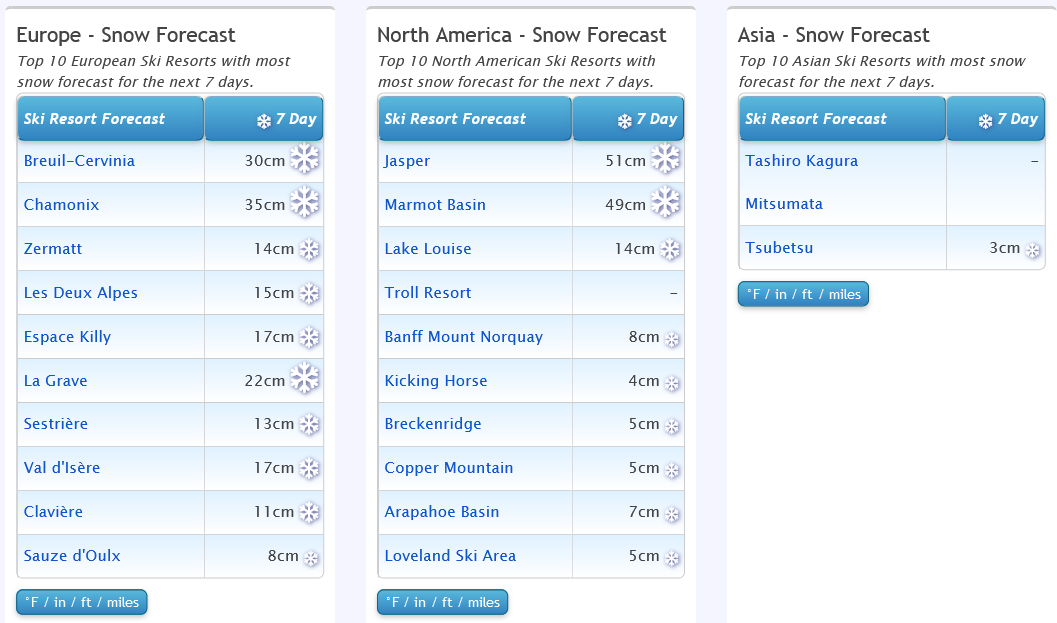 Snow on the high mountains still...
Re-publication :- our Snow Report Summary, being the text above this line, is free to re-publish, but must be clearly credited to www.J2ski.com with text including "J2Ski Snow Report" linked to this page - thank you.
World Overview
The big news of the last seven days was the southern hemisphere's 2023 season starting earlier than planned when up to 40cm of snowfall was reported in New Zealand. The club-run
Manganui
ski area was the first to open, from Friday through to Sunday.
Australian ski areas have also reported colder weather and lighter snowfall to end this week.
Meanwhile, the season continues to wind down in the northern hemisphere but there were still more than 30 ski areas open across Europe, Asia and North America and it has kept snowing too. On Europe's glaciers conditions are colder and generally better than in the hot spring of 2022 and in the US, the four Colorado ski areas still open last weekend saw "midwinter conditions" with up to 13" of snowfall in 24 hours reported last weekend.
Europe
Alps
After the big snowfalls reported on Alpine glaciers a week ago, conditions continue to be mostly cold up high, with more, albeit lighter, snow showers keeping things fresh. It continues to be a much colder and snowier picture on glaciers than in spring 2022.
Altogether seven glacier ski areas are still open, five of them in Austria, although two of these,
Kaunertal
and the
Stubai
, plan to close after the coming weekend.
For the
Kitzsteinhorn
above
Kaprun
and Mölltal glaciers, there's another week, to Sunday May 28th and
Hintertux
is open year round.
Also open are Les 2 Alpes in France and
Zermatt
, which is now the only ski area still open in Switzerland after Crans Montana closed at the weekend.
There's nowhere currently open in Italy but Passo Stelvio should open for its 2023 summer ski season the weekend after next.
Scandinavia
We're into the final fortnight of the 2023 season at Riksgransen, Sweden's most northerly ski area, 200km north of the Arctic Circle and where it's now 24-hour daylight at its northerly latitude. Skiing and boarding beneath the Midnight Sun are offered on Thursday and Sunday evenings between 10 pm and 1 am.
In Norway all three glaciers at summer-ski areas, Stryn, Fonna and Galhopiggen, are now open for the 2023 season. They're reporting snow depths of up to 10 metres, immediately the world's deepest snowpack for summer 2023, overtaking California's Mammoth after six months of it having top spot, so that's hopefully good news for being able to keep open through the warmer summer months this year.
Eastern Europe
Slovenia's Kanin ski area continues to re-open high terrain at weekends, mostly for team training, but this weekend is expected to be the last for 2023.
Less expected is Slovakia's largest ski area of Jasna, which to be fair had been posting a decent upper slope depth all winter, announcing its plans to stay open through May.
North America
Canada
It's the final weekend of the season coming up in Canada with the three areas still open gearing up for their final turns.
Whistler Blackcomb
has reported that operating for its final planned week is touch and go due to warm weather causing snowpack instability and high avalanche danger.
There are similar issues for still-open Sunshine near
Banff
, although here there's no talk of a shutdown of the slopes.
Finally, Summit St Sauveur in Quebec has one snowy slope expected to be open for the final weekend of the season.
USA
The US continues to have more ski areas open than any other country, using the snowpack built up through the winter. Many are now just open weekends (Friday to Sunday) and limited hours (typically 8 am to 2 pm) though.
The main snow news of the last week came from Colorado where Breckenridge,
Winter Park
and
Arapahoe Basin
remain open and there was lots of fresh snowfall last Friday.
Further north Utah's Brighton,
Snowbird
and
Solitude
areas are also still going strong and
Sundance
reopened at the weekend, although just for last weekend, 5 weeks after it had ended its season, partly to celebrate the deep snow still lying.
The Snowbowl in Arizona to the south is also still open.
Out west in California, it's been much warmer but Mammoth and The Palisades are still posting North America's deepest bases and planning to stay open to July although
Kirkwood
has now closed its season.
Further north Oregon's Mt Bachelor and
Timberline
are still open, the latter opening its Palmer permanent snowfield for its summer ski season this week. Crystal Mountain up in Washington State is also still going.
Despite the recent snowfall though, Breckenridge announced earlier this week that it has decided to end its season at the end of the day on Sunday.
Killington is now the only ski area still open in the Eastern US, with an ever thinner base on its Superstar spring bumps run, but cold weather forecast to end the week with snow possible on the highest peaks in the region.
Southern Hemisphere
Australia
After a decent dump of snowfall a fortnight ago Australian ski areas have seen drier and milder temperatures until the past 36 hours. The temperature has now dropped down to -5C with snow showers overnight and snowmaking systems (and in some cases all-weather snowmaking systems) have been in action - with the official season start date now three weeks away.
New Zealand
Snow arrived in New Zealand just as our report last week was being published and up to 40cm was reported over the next 24 hours.
The season is due to start there early next month, but the club-run Manganui snowfield decided to open early, running its lifts from Friday to Sunday before determining the cover was no longer adequate. This was the first lift-accessed skiing in the southern hemisphere open for 2023.
Andes
Most ski areas in Argentina and Chile begin opening in mid-June so we're still 4 weeks or so away, although early openings are not unheard of if the snow arrives early. So far the forecast is fairly promising with some pre-season snowfalls, low overnight temperatures and daytime highs getting down towards freezing too.
Southern Africa
Afriski in Lesotho and Tiffindell in South Africa have traditionally been among the first to open each winter in the southern hemisphere, often at the end of May.
This year the weather looks to be playing ball for the essential snowmaking base build-up with overnight lows well below freezing and even some natural snow forecast, but unfortunately neither area is currently planning to open for skiing at all this season, according to local media.