J2Ski Snow Report March 30th 2023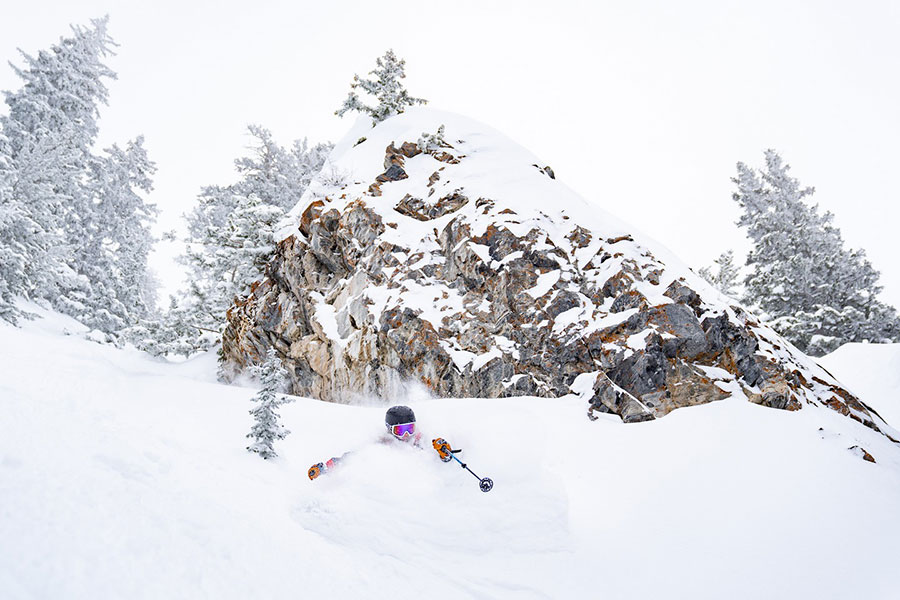 Alta, Utah, USA, where it's been deep...
It hasn't stopped snowing in America!
The Snow Headlines - 30th March
- The Palisades is latest Californian ski area to announce it's staying open into July.
- Some ski areas in the Pyrenees still 100% open as region battles early spring thaw.
- World's deepest base passes 8 metres for first time in several years.
- The deepest snow in the Rockies passes 5 metres.
- Mammoth passes most ever snowfall total in its history - 695 inches.
-
St Johann in Tirol
ends season early due to conditions.
- Tremblant extends season by a week after posting record season snowfall total.
-
Winter Park
extends season indefinitely - so long as the snow lasts on Mary Jane.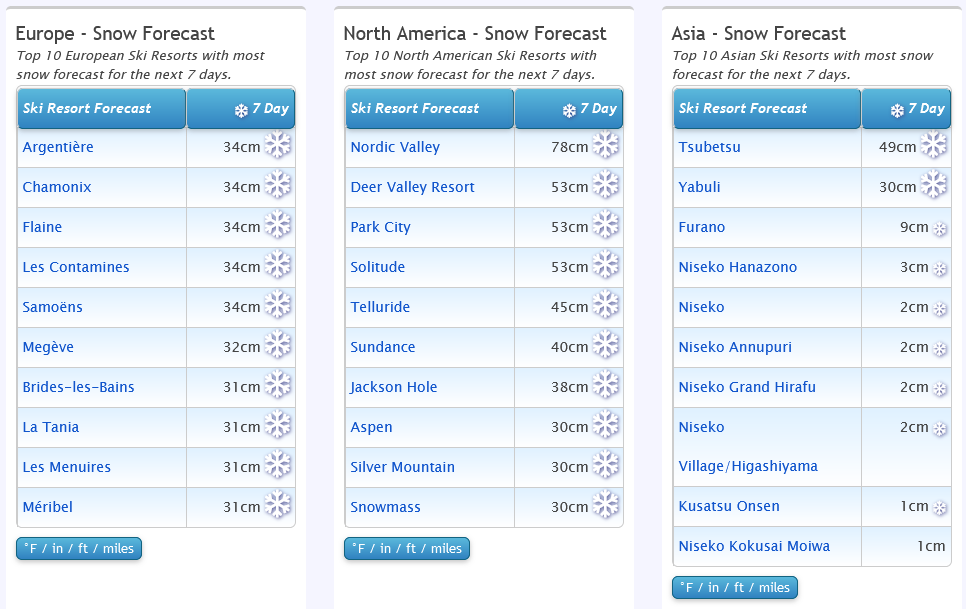 See where it's going to snow...
Re-publication :- our Snow Report Summary, being the text above this line, is free to re-publish, but must be clearly credited to www.J2ski.com with text including "J2Ski Snow Report" linked to this page - thank you.
World Overview
It's been a surprisingly wintery week in the Alps as we near the start of April and the Easter holidays.
At the big resorts with higher slopes things are looking better than we might have hoped during the warm weeks of March, thanks to a dip in temperatures and plenty of snowfall. They are posting the most fresh snow and best conditions with most of those posting the biggest numbers located in the North-western Alps.
The past week has also seen some big-name lower-elevation ski areas further east call it a day on their 22-23 seasons - earlier than expected as they can no longer sustain enough snow cover.
Elsewhere in Europe, Scandinavian slopes remain in good shape – cool and snowy there, but Scottish centres have very little left open. The Pyrenees are also suffering, not getting the cold and snow of further north, but warm sunny weather instead and it is a mixed picture for Eastern Europe with some cold and snow at times mixed with warm temperature spikes.
Over in North America, the huge amount of snowfall all season in the west continues with more records set (Mammoth and Tremblant among areas saying they've had more snowfall this winter than any other) and more areas extending their seasons later into spring or even summer.
Europe
Austria
A growing number of lower-lying Austrian ski areas are already closed for the season or are closing this weekend.
After the weekend snowfalls on higher slopes, however, the focus is now on the country's higher altitude resorts with a reputation for spring snow quality and quantity like Obergurgl,
Obertauern
and
Ischgl
as well as the glacier centres. In that latter category, Solden continues to post Austria's deepest snowpack and the Molltal glacier has announced it will stay open at least to the end of May.
Among the lower areas, St Johann in Tirol announced suddenly on Saturday that it was forced to end its season early, last Sunday, due to the deteriorating conditions of rain and warmth. It's one of the biggest name casualties so far.
France
It began snowing in the French Alps at the start of the weekend after around 10 days of mostly dry weather. The snow initially fell as rain below around 2000m, which was bad news for already thin snow cover at lower levels. The snowfall intensified and got heavier on Sunday however, giving a much-improved picture as temperatures dropped down to the valley floor.
The snow has continued falling and temperatures have stayed cool all week.
Tignes became the first ski area in Europe to reach a 4m base at the weekend and other big French areas like
Avoriaz
,
La Plagne
,
Flaine
and
Les Arcs
have reached 3m bases, putting them in the top 10 deepest in Europe too.
Italy
Italian ski areas have seen snowfall right across the country, but with the heavier falls along the French and Swiss borders in the west, which is also the region with the deepest snowpack.
The same issues with thawing and rain at low elevations have been factors here, but against that there's been a good top-up for high-altitude slopes and resorts like Cervinia and Sestriere which still have most of their terrain open.
So the Easter advice for Italy, as in most of Europe, is to aim high.
Switzerland
Temperatures dropped in the Swiss Alps down to freezing at the valley floor at the start of this week, with rain at low levels turning to snowfall. Up high it has been snowing, on and off, for several days, further improving conditions.
Big winners included Saas Fee, now posting one of the deepest bases in Europe at over three metres, as well as Crans Montana, Murren and
Laax
which all have snow lying more than two metres deep. The 4 Valleys currently report 75% of the region still open, the largest single area currently skiable in Switzerland.
Scandinavia
Conditions remain good across Scandinavia where most of the major ski centres have another month of the season left, report temperatures still close to freezing, have all or most of their slopes open and even have some fresh snowfall to ski or board on.
Base depths have reached three metres in western Norway.
Sweden's
Åre
, with the most terrain in the region, unsurprisingly has the most runs open, about 80km or 90% of its slopes. Norway's
Trysil
has 70km but that's 100% of its area.
Pyrenees
The areas in the Pyrenees continue to battle the spring thaw which has closed many small to mid-sized areas in the region already and is cutting the amount of terrain still open at bigger resorts like Baqueira Beret and
Grandvalira
(Pas de la Casa and
Soldeu
).
Spain's
Masella
reports it is still 100% open, crediting its north-facing slopes as particularly good news in warm spring conditions. Skiing is still possible over the resort's full vertical from the summit of the Tosa to the Pla de Masella, albeit with the best up high.
Scotland
Another week of good news and bad for Highland ski centres. Unfortunately, there's no real sign of any being able to open properly but temperatures did drop, overnight especially, at the weekend and start of this week bringing more snow up high. Cairngorm continues to offer some natural terrain and
Glencoe
also provides chairlift access to small areas, up high, but really it's ski touring stuff.
Glenshee is still maintaining several short runs thanks to its all-weather snowmaking machine.
The Lecht
plans to reopen nursery slopes over the coming Easter holiday weeks using its all-weather snowmaking machines.
So in summary, some easy slopes at the base of the centres for beginners and then some more challenging stuff up high at a few centres.
Eastern Europe
The big-name ski areas of Eastern Europe are all still in business and at the southern end in the Balkans have actually had cooler weather, on the whole, than the southwestern side of the continent. Bulgarian areas have seen some snow up high and have around 50-60% of their slopes still open.
Slovakia's Jasna is posting the most impressive numbers for the start of April with a base of nearly 2 metres up high and 100% of its slopes still reported open.
North America
Canada
Conditions remain pretty good across Canada with plenty more fresh snowfall reported in Alberta and BC over the past few days.
The season is winding down in many areas with resorts due to close over the next three weekends, although some spring ski centres like
Marmot Basin
, Sunshine and Whistler are looking good for their usual season into May.
On the East Coast, there have been more temperature fluctuations with rain at lower levels but the bigger centres like Tremblant still have 50-60% of their slopes open. Tremblant reports it has now had more snowfall in a season than ever before, extending its season by a week to April 23rd as a result.
USA
There doesn't seem to be an end to winter in sight in Western North America, even though many ski areas there will be ending their seasons over the coming three weekends.
More areas are announcing they'll stay open longer into spring or even summer with The Palisades joining Mammoth in California in saying they'll stay open into July.
Mammoth say they've now had nearly 700" of snowfall this season, more than any other before.
There were more huge snowfalls this week on the West Coast and in the Rockies where the Utah resorts of
Alta
and
Snowbird
unusually called an 'Interlodge' during the skiing day. This requires everyone to get off the ski slopes and into a building with roads in and out also closed. The emergency state ended about 7 pm by which time several feet more snow had fallen in 12 hours.
Things are more springlike in the East though with ski areas in New England reporting some snowfall but also rising temperatures and periods of rain for some lower slopes, so there's more of a "final weeks of the season" feel here.