J2Ski Snow Report 22nd September 2022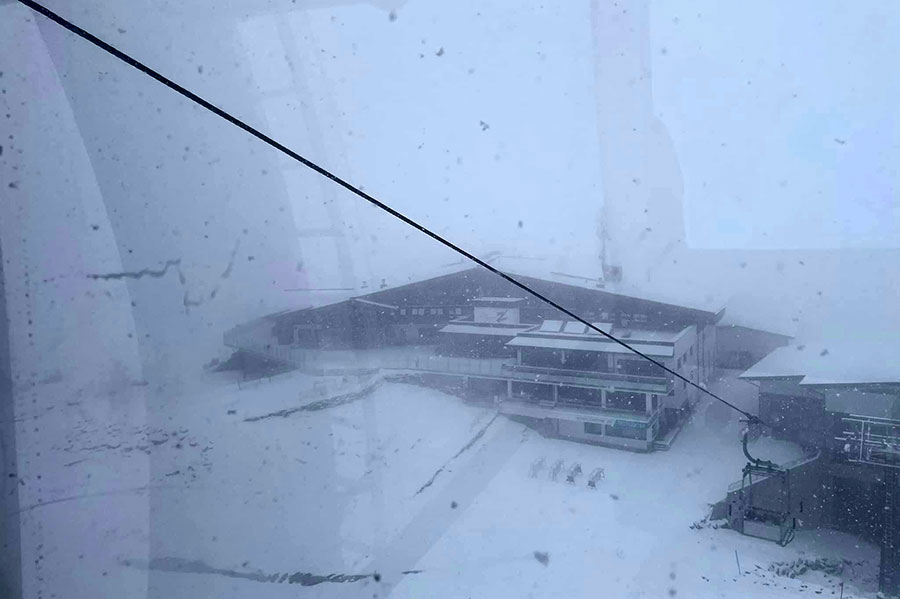 Hintertux, Austria, has snow and is open...
More early snow, and glacier openings, for Europe!
The Snow Headlines - 22nd September
- Fresh snowfall in Colorado.
-
Zermatt
re-opens.
- Two Italian glacier centres open, one to start 22-23, the other resuming its summer 2022 run.
- Heavy spring snowfalls in Australia bolster cover for the season's final weeks there.
- Norway's
Galdhøpiggen
summer ski centre re-opens taking Europe's open resort count to five.
- Several leading ski areas in South America including
Portillo
in Chile end their 2022 seasons.
- More Austrian glaciers plan to open for the season over the next seven days.
- First snowfalls of the Autumn reported in the Dolomites and Tatra mountains.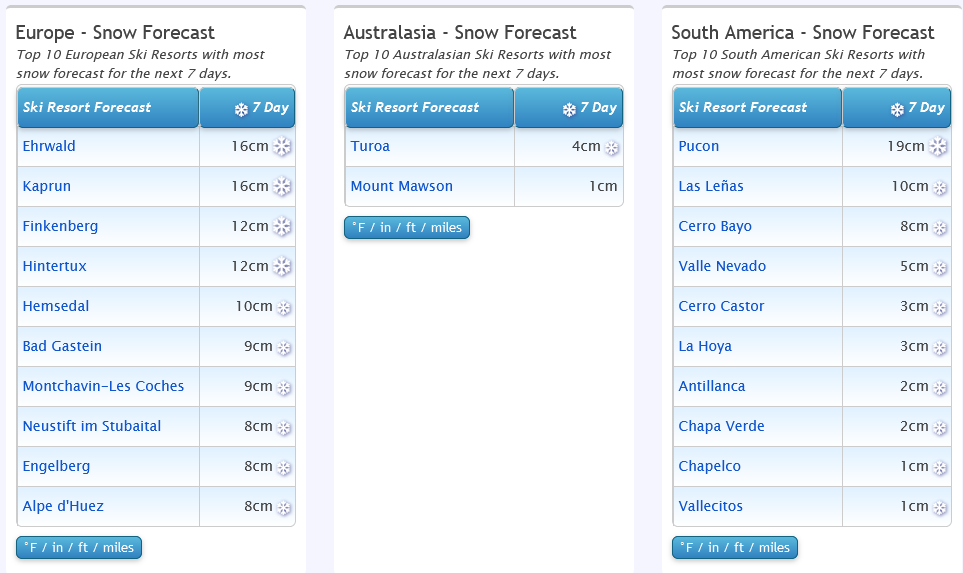 A little snow around the world...
Re-publication :- our Snow Report Summary, being the text above this line, is free to re-publish, but must be clearly credited to www.J2ski.com with text including "J2Ski Snow Report" linked to this page - thank you.
World Overview
It is now officially autumn by both the meteorological and astronomical measures in the northern hemisphere, and spring in the southern. We've seen mountains turn white in Europe and North America over the last seven days to drive home that point.
The season wind-down in the Andes has continued to gather pace with several big name resorts, including Chile's Portillo, joining the list of those that have closed so far, and Nevados de Chillan saying it will close this weekend, while other big names like Argentina's Las Lenas have a week or two more of their seasons to run.
In the northern hemisphere, things are finally moving a little in Europe with a second glacier opening in the Alps and one that had temporarily closed in Scandinavia re-opening to skiers at the weekend, then two more temporarily closed summer ski areas re-opening on Tuesday this week. Several more Alpine resorts say they plan to open in the next week.
The weekend snowfall on high slopes in the Alps (as well as the first cover of the autumn for the Dolomites and Tatras) definitely improved spirits but although some areas reported 20-30cm up high it's not yet that much and concerns remain over the viability of season-starting world cup races planned for Les 2 Alpes, Cervinia-Zermatt and Solden in just four weeks' time. Each could do with a big snow dump asap.
In North America, anticipation is up in Colorado after most ski areas there got a healthy dusting of snowfall at the end of last week on higher slopes too.
Australia
It has been a good week for Australian ski areas, other than a little rain going into last weekend. Since then there's been a spring snow dump to give a boost for the final week or two of the 2022 ski season down under, which has been one of the best in years for most resorts.
Ski areas posted up to half a metre of fresh snow lying by Sunday morning, although at the same time their snowpacks have dropped on a week ago, as when it is not snowing, it has been thawing, with daytime highs hitting double figures. It was cooler after the snowstorms though and conditions are very good for so late in the season with 1.5m (five feet) average upper slope depths and most still having 90% or more of their terrain open.
Hotham
,
Thredbo
,
Perisher
and
Falls Creek
are all in good shape.
New Zealand
It's been one of the more 'stable' weather weeks of the season to date in New Zealand with predominantly light winds, and some snow showers but also plenty of sunshine and not much wind. Ski areas have been reporting good grooming conditions and temperatures dipping below freezing overnight but climbing to high single figures above zero Celsius by mid-afternoon, then dropping away again.
The snowpack for resorts on the South Island remains good with resorts like
Cardrona
, Mt Hutt,
The Remarkables
,
Coronet Peak
and
Treble Cone
posting 1.2m (four feet) or more lying on upper slopes which should be plenty to see them through the season's final weeks. On the North Island,
Whakapapa
and
Turoa
which tend to stay open the latest into October in the southern hemisphere are still struggling to build significant bases this winter but it's an improving picture with more terrain opening this week after snowfall there.
South America
The season continues to wind down in the Andes with most of Argentina and Chile's resorts expected to close over the next two weeks.
One of the big-name resorts, Chile's Portillo already did, last Sunday, but Argentina's Las Lenas plans to stay open one more week and the continent's largest resort by uplift, Catedral, until the second weekend of October. It has though closed a lot of terrain in the last seven days and no longer has the most slopes open in the world, that title passed back to Australia's Perisher this week.
Europe
Ski areas in the Alps got a big boost on Saturday when there was a thin coating of snow on slopes above about 1500m altitude over a wide area – from the French Alps in the west to the Eastern Dolomites. By Sunday snow totals on some glaciers on the Eastern side of the Alps had reached 30cm and the snowfall extended to the dolomites in the south and Tatras in the north.
Italy's
Val Senales
had already announced it would open for its 22-23 season last Friday, finally ending more than a month when
Hintertux
was the only area open in Europe (and the whole northern hemisphere ...excluding dry slopes and snowdomes). The snowfall led to two 'temporarily closed' areas, Europe's highest slope on the glacier above Zermatt and the popular team training slopes of Passo Stelvio announcing they'd re-open from Tuesday (20th).
The Galdhopiggen glacier in Norway has also re-opened (if only to booked teams so far) taking us from 1 to 5 areas open since last week. Hoorah! The snowfall was not a lot and was short-lived with most areas back to sunshine since Saturday afternoon but it is cooler and getting below freezing up high most nights.
More glaciers plan to open in the coming week or so including Solden this weekend and
Stubai
,
Kaunertal
and
Pitztal
the weekend after.
North America
There was plenty of excitement in Western North America at the end of last week as a second September snowfall in the Colorado Rockies brought more snow cover to higher slopes in the state than the previous dusting. Loveland is among several areas hoping to turn on their snowmaking machinery in the next week with the aim, like
Arapahoe Basin
and
Keystone
, of opening for the season next month.
California, which is in a multi-year drought and has had another long hot summer, posted its first storm bringing much-needed rain at lower levels and some snow to higher ski slopes too.