J2Ski Snow Report 3rd February 2022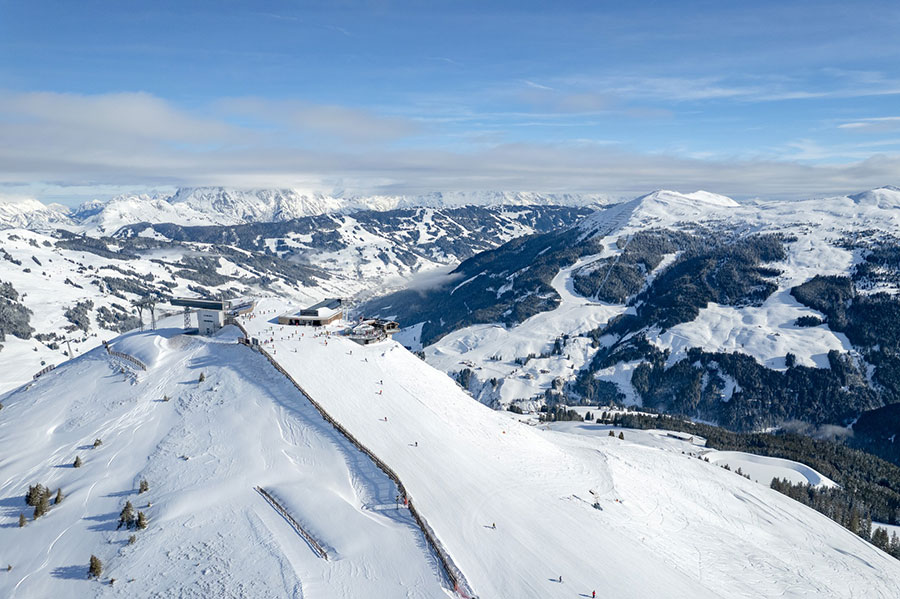 Saalbach, Austria, got a lot of snow this week...
Snow for Austria, Scandinavia and USA...
The Snow Headlines - 3rd February
- Snow "Cyclone Bomb" hits North-eastern North America.
- Major snowfall for North-eastern Europe - up to 50cm (20") in 24 hours in Austria.
- Ski areas in Japan near 5-metre base and pass 10-metre season-to-date snowfall totals.
- Successive powder days kick off February in parts of Scandinavia.
- Up to 30cm (a foot) of fresh snowfall reported in Bulgaria.
- Snow again at last in Scotland after "dry January".
- 8 Years after "Tropical Olympics" Russia's
Rosa Khutor
First in Europe to post 4m Base.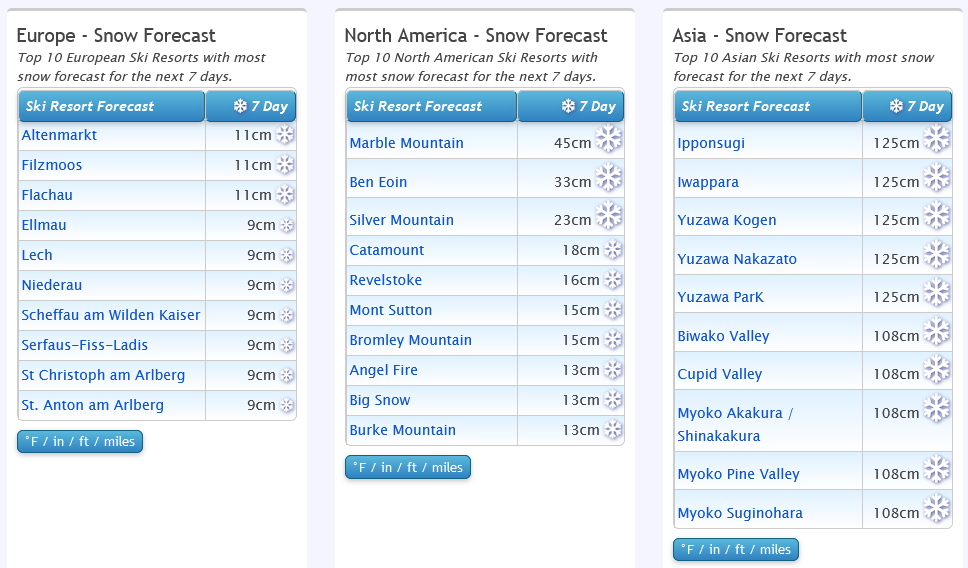 Japan leading the forecasts, but there's more following for Europe...
Re-publication :- our Snow Report Summary, being the text above this line, is free to re-publish, but must be clearly credited to www.J2ski.com with text including "J2Ski Snow Report" linked to this page - thank you.
World Overview
Europe
There's been a second week of snowfall in North-eastern Europe, this time heavier and spreading over a wider area.
Austria has again been the main beneficiary but the snow clouds have extended further west into Switzerland, south into Italy and north into the Tatra mountains than last week. Bulgaria and the Balkans reported about a foot of midweek snow.
In fact, the snowfall is spreading across much of Europe after the largely dry January, Scotland's mountains have finally turned white again and some of the biggest dumps of the past few days have been reported up in Scandinavia with a series of powder days there.
The snowfall has been enough to briefly close some resorts in Austria over the past few days due to avalanche danger and other logistical issues. As a result of all the snowfall Austrian areas are now the first in the Alps to post upper slope snow depths past the 3m mark, although the continent's deepest snow is on its eastern borders above
Sochi
on the Black Sea coast where Rosa Khutor says they now have over 4 metres lying.
North America

Another week when most of the snowfall action has been on the eastern side of the continent with the Northeast staying very cold and another major weekend snowstorm bringing several feet of fresh snowfall to the most fortunate ski areas, half that to the majority.
Over in the west, it has been another week with little or no fresh snowfall and temperatures often a little warmer than we might like especially down near mountain bases. That said the big falls of December continue to mean that ski areas can open pretty much all their terrain, so long as they have staff to run the lifts. Most are enjoying the slopes in the sunshine, but there's not much powder to be found off the groomed trails, and first thing some of those trails are icy. That's not an issue in the east though where the snow is the best it has been all season.
Europe
Austria
Austria has enjoyed a snowy few days and it's the second week in a row here with the country seeing much more fresh snowfall than their neighbours to the west and south.
The snowfall in Austria appears to be the most significant since before Christmas with some areas reporting half-metre accumulations at the weekend, others the same amounts on Tuesday and Wednesday, so in other words, it has been a very snowy week. Base depths are finally on the rise as a result which is good news for late-season cover and indeed summer 2022 skiing on glaciers.
In the short term though the snow caused many areas to limit terrain open midweek and some, including the
Stubai
, to close completely, in its case due to avalanche danger on its access road. The country's Loser ski area has become the first in the Alps to report a 3m (10 foot) base this winter, on upper slopes, thanks to the snowfall.
France
There was some snowfall in the Northern French Alps on Wednesday but not so much as further east, typical accumulations were 10-20cm, a good refresh.
Further south, ski areas reported little or no fresh snowfall, just the usual full sunshine that has marked much of 2022 to date.
As with elsewhere in Europe though big December snowfalls mean that most of the country's ski slopes remain open and there's been good news in the French battle with the pandemic with restrictions eased a little in recent days and even an announcement that the famed French ski resort discotheques may re-open from the middle of this month.
The 3 Valleys continue to have the most terrain open, unsurprisingly being the world's biggest ski area with 95% of their terrain currently skiable.
Italy
There's been snowfall across most Italian mountains over the past few days and for some areas, that's really the first time that's happened this year.
The heaviest falls have been across the north of the country with Cervinia reporting over 50cm (20 inches) on higher slopes.
Most of these areas had also seen some snowfall over the previous week but this time there's was some snow further south too with the Dolomites getting several inches on Wednesday having had very little if any, snowfall for nearly two months now. So, a very welcome refresh there although everything, pretty much, had been open anyway.
Switzerland
Swiss ski centres have also been reporting some good snowfalls over the past few days although
Andermatt
and
Engelberg
are yet to move to the top of Europe's snow depth table as they usually do.
Reports of up to 60cm (two feet) of snowfall since Tuesday have come in from several resorts, particularly on the eastern side of the country, including
Davos
. Further west the 4 Valleys has the largest skiable area open in the country at present with about 90% of its 400km+ of runs currently open.
Scandinavia
As with the Alps, so with Scandinavia, the ski areas of Norway famed for their heavy snowfalls are finally seeing that snow. Bjorli, which had been reporting the region's deepest base at 110cm a week ago is now up at nearly 150cm (five feet) and another small but frequently snowy centre, Roldal, is also reporting deep powder.
Fresh snow too, if not on the same scale, at well-known areas like
Hemsedal
and Are and a chilly -30C reported up in Lapland at
Ruka
. Daylight hours are rapidly increasing there too from a standing start when the sun reappeared after a few weeks below the horizon a month ago.
Pyrenees
The Pyrenees continue to hang on to their title of having the deepest snowpack in Europe – which has been the case pretty much all season since early December when most of Western Europe was dumped on, but the French Pyrenees more than anywhere else.
There's been very little snowfall over the two months since however and the past week has been little different, once again largely sunny and temperatures a little warmer than wanted – some ski areas seeing +5C to +10C even on higher slopes. But all that December snow means everywhere remains almost fully open, with over 150km of slopes skiable at the biggest areas like Andorra's
Grandvalira
and Baqueira Beret in Spain.
Scotland
Scottish hills have finally turned white again after having returned to their summertime greeny-brown hue as all the natural snow melted away in January.
There have been snow showers, at last, this week with
Glencoe
in the West looking particularly white again. So far it's not enough to reopen the main slopes and in any case, there have been exceptionally strong wind blasts from successive storms. It's also difficult to predict how fast the cover will be able to build as we still have +10C weather spikes in the forecast as conditions fluctuate between cold and snowy and warm and dry days, but at least there's a chance of improvement now.
In the meantime, the five centres continue to operate small slope areas at their bases thanks to all-weather snowmaking machines.
Eastern Europe

It has been a snowy few days in Eastern Europe with centres down in Bulgaria posting up to 40cm (more than a foot) of fresh snowfall since Tuesday.
It's also been snowing further north in the Czech and Slovak Republics as well as Poland. As well as fresh pow, Jasna, the northern region's largest centre, has extended lift opening hours to 4 pm for the start of February so it can be enjoyed for longer.
North America

Canada
Ski areas in Alberta and BC have been excitedly reporting 15-30cm of fresh snowfall over the past few days ending a rather warm and dry spell over recent weeks.
In the east, it has continued to be very cold and there has been more light to moderate snowfalls in Quebec and
Ontario
so it's an ever-improving picture there with all resorts fully open.
Tremblant currently has the deepest snow and most runs open in the east, Whistler the most terrain open in North America over on the west.
USA
The big snow news in the US this past week was the 'cyclone bomb' storm which brought up to two feet to the country's East Coast. This caused major disruption in cities but was of course welcomed by ski areas in the region. They had a poor start to the season back before Christmas but have been gaining ground since 2022 got underway and are now beginning to have decent snow coverage from top to bottom and most now finally have all their terrain open.
Over in the West, the poor Fall conditions were followed by huge snowfalls in the latter half of December so they've had everything open, in most cases, since then, but there have been few snowfalls in 2022 here and the sunshine and warm temperatures at the mountain base have led to base depths actually dropping a little through January rather than growing as they normally would. But they're still the deepest on the continent and whilst there's nothing much skiable off the groomers, and the groomers are icy in the mornings, pretty much everything is open.