J2Ski Snow Report 13th February 2020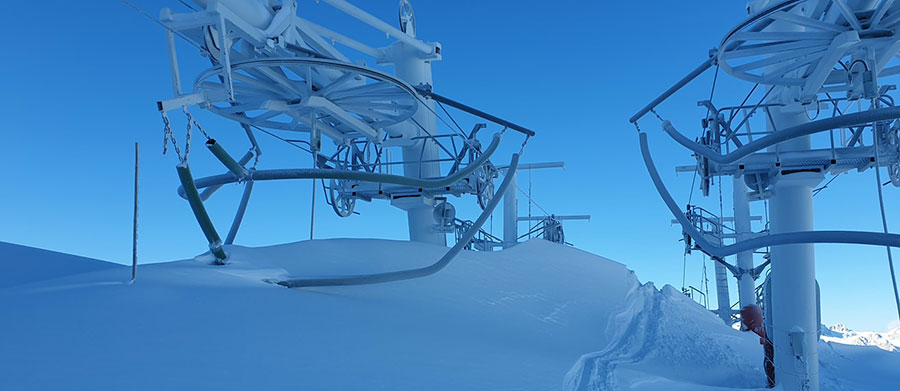 They're busy with the shovels in Val d'Isere this morning...
Big snows and strong winds this week.
The Snow Headlines - 13th February
- Storm closes slopes, and a few ski areas, at start of week.
- Huge snowfalls in US Rockies - up to five feet (1.5m) of powder.
- Up to 90cm (three feet) of fresh snow reported in the Alps.
- Most terrain of the season so far open in Scotland.
- Best conditions of the season so far in Bulgaria.
- Best conditions of the season so far in Quebec.
The big weather news this week has been Storm Ciara (Sabine in German-speaking countries) which has been battering Western Europe for much of the past week. The good news is that it has brought plenty more snow; the bad news for those in the Alps (and indeed Scotland) is that the storm force winds accompanying that snowfall have closed high runs and lifts in many resorts, and some areas have been closed completely for several days.
The storm began to pass from Wednesday, but the snowfall has not really stopped other than a lull on Wednesday. The northern Alps expect more on Thursday/Friday, then a clear weekend before the snow returns at the start of next week.
Elsewhere in Europe; it has stayed mostly dry and a little warm in the Pyrenees and much of the southern Alps, but has been snowy in most other areas. Eastern European areas, Scandinavian and Scottish centres have all had some of their best snowfalls of the season so far in the last few days.
Across the Atlantic, the big news is probably the heavy weekend snowfall in Colorado and Utah but it has stayed very snowy in the northwest corner of the continent and there's been more snow in the East, including some of the best snow of winter so far in Quebec.
In the Alpine Forecast
Enjoy the rollercoaster! After more snow today and tomorrow, it's looking clear and mild for the weekend, with more snow and cold coming in early next week.

Snow, sun, snow for Switzerland and most of the Alpine area.
Re-publication :- our Snow Report Summary, being the text above this line, is free to re-publish, but must be clearly credited to www.J2ski.com with text including "J2Ski Snow Report" linked to this page - thank you.
EUROPEAN ALPS
Austria
Austrian ski areas posted the biggest snowfalls in the Alps from Storm Sabine (as it was named there) after strong winds closed slopes and some high glacier areas like the Dachstein and
Stubai
completely for a day or two.
Most areas reported 20-40cm of snowfall but the
Zillertal
Arena ski area and the
Arlberg
at
Stuben
both reported 5cm (over three feet) of snowfall, most of it arriving on Tuesday before skies started to clear from Wednesday on. The snowfall was right down to the valley too with the cold temperatures that have sometimes been lacking this winter.
France
Snowfalls in the French Alps did not quite measure up to the volumes expected in forecasts at the weekend with the biggest reported around 30cm (a foot) on Monday/Tuesday. The country's ski centres did get the strong winds though and many had higher runs closed at the start of this week because of them, with several, including
Avoriaz
, closing completely for a time.
The snowfall has pushed the deepest base in the country through the three metres/ten feet mark with
La Plagne
up to 310cm up top with about half that snow depth on lower runs.
Italy
Not a lot of change to report in Italy's snow conditions with a bit of a repeat of the previous two snowstorms – that is snow for resorts along the country's northern and north-western frontiers with France and Switzerland, but not much of note elsewhere.
The strong winds have been a factor here too though with two of the biggest areas –
Dolomiti Superski
and Via Lattea (The milky Way) amongst those seeing quite a lot of lift and piste closure early in the week as a result. But otherwise little change from the past fortnight in that everywhere is pretty much fully open, thanks to earlier snowfalls, at least for the main destination resorts.
After some light snowfall on the western side of the country again to end this week it does look like, after a clear weekend, we could see heavy snowfall across Italy to start next week.
Switzerland
Swiss ski areas were also impacted by Ciara/Sabine with many areas closing more exposed terrain. Now the winds have largely eased they're opening again, although there's snowy and sometimes windy weather on the way again.
Snowfalls so far have not quite added up to expectations at the start of the week but still, most areas have had 20-40cm of fresh. Elm, in the east of the country, says it has had a metre of snowfall this week, way more than any other Swiss resort.
Andermatt
continues to post the deepest base in Switzerland and Europe but it has dropped 10cm despite getting 10cm of snowfall, to four metres. That's actually down 30cm on a fortnight ago. More heavy snowfall is expected to end this week, heaviest in the west, then a clear weekend, and then heavy snowfall again on Monday and Tuesday for much of the country.
Scandinavia
Scandinavia is a really mixed picture this season. Much of Norway, at least central and northern Norway, has been reporting consistent snowfall all winter and the past week has been no different with
Voss
reporting another 1.5 metres (five feet) of snow, more than anywhere in the alps. It has snowed here almost constantly since Christmas.
This week has been snowy over a wider area though with much of the region turning colder and getting good snowfall – which has not been the case in more southerly areas around
Oslo
and
Stockholm
or further south, which have reported their warmest ever winter and little snow until now.
Pyrenees
The Pyrenees appear to have largely escaped the excesses of Storm Ciara and have indeed had a fairly quiet February so far compared to much of the rest of Europe. After the heavy snowfall at the end of January which bolstered base depths after a dry six weeks before then, it has been back to mostly dry, sunny weather, sometimes a bit too warm for comfort, but with so much snow lying, thawing is not much of a problem.
All major areas in the region remain fully open, Andorra's
Grandvalira
(Pas de la Casa and
Soldeu
el Tarter), the biggest, reporting a 50-140cm base and 207km of 210km of piste open this week.
Scotland
It's the best few days of the season so far in Scotland after storm Ciara deposited lots of snow on the country's slopes. Prior to this most of the five centres were closed for up to four days from Saturday to Tuesday as the storm raged with winds far too strong for lifts to operate safely. Things started to return to normal on Wednesday although access roads needed to be cleared of snow first at most of the centres.
Currently around 30 runs are open across Scotland, more than half of them at
Glencoe
. We are still some way from centres being fully open (other than Glencoe), but this is the best Scotland has had this season so far. More snow is in the forecast and temperatures should stay low so hopefully, further, improvement is likely.
Eastern Europe
Eastern European ski areas too are, on the whole, in the best shape they've been all season so far too. Storm Ciara/Sabine impacted the Tatra Mountains in the Northeast bringing strong winds and some additional snowfall to the Czech and Slovak Republics as well as Poland and there's been more snowfall in Bulgaria as well where ski areas like
Pamporovo
and
Borovets
had been suffering previously from limited cover.
Now they are looking quite wintry at last, and
Bansko
reported heavy snowfall on Wednesday.
North America
Canada
Canada's deepest snow is on the Western side of the country, and many areas here saw more healthy snowfall, with some getting several feet into the weekend -
Fernie
opened its famed Polar Peak chair for the first time this season.
The bigger news is probably in the East, where this season it has often been warm and wet instead of cold and snowy, and there have now been some good snowfalls too with 20-40cm, the best snowfalls of winter so far for most, widely reported. This has transformed conditions for the better and most of the region's medium to large ski areas are now, finally, fully open.
USA
The biggest snowfalls the US last week were once again in the far northwest with Alpental in Washington state currently the only ski area in the world with a 5 metre plus base (it has measured 503cm on its upper runs) after getting another 1.8m (six feet) of snow in the past week.
Ski areas in the Rockies came close over the weekend with resorts in Colorado and Utah reporting up to 1.5 metres (Five feet) of snowfall in 72 hours. That caused operational difficulties, road closures, slope closures and avalanches at various times in various places, oh and a huge lift queue at
Vail
when all but one access lift closed.
Fun in the waist-deep powder ensued once it could be accessed! The East is also looking good after more snowfall here, at least in more northerly states (rain further south again, unfortunately). But ski areas in states like Vermont and Maine are in their best shape of the season so far.
Enjoy your half-term if you're heading out, until next week...