J2Ski Snow Report 9th January 2020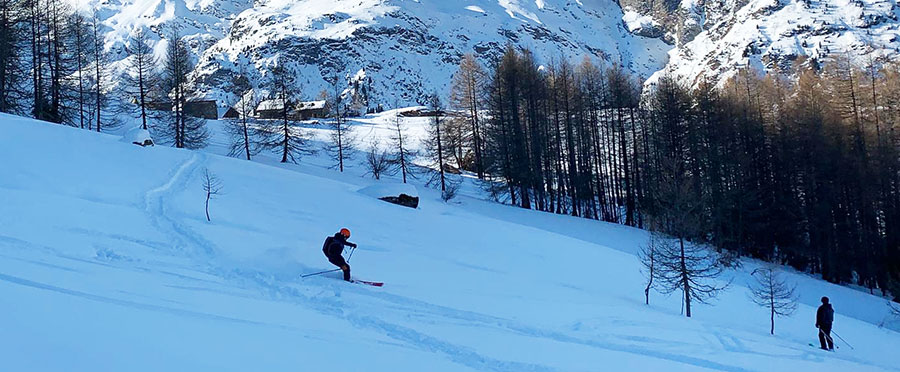 Finding fresh in the shade, Snoworks Ski Courses in Ste.Foy, photo (c) Bryan Hogg.
Great snow cover in Europe, fresh stuff for America and Japan.
The Snow Headlines - 9th January
- Sunny skies across much of Europe.
- Heavy snow in western North America (up to 1.6 metres in last 7 days).
- A metre of snowfall transforms the season at
Whistler Blackcomb
.
- Biggest snowfalls in Europe this week reported in Scandinavia.
It has been a second largely sunny week in the Alps, Dolomites and Pyrenees.
For most people out on the slopes during the busy New Year week and much quieter current week, this has been a good thing. Almost everywhere is fully open, thanks to good snowfalls pre-Christmas.
There is less powder left to be found, of course, and in some places - especially lower elevation areas in Austria, Germany and down in the Pyrenees - it has got a bit too warm, with rain reported at times (but some snow high up).
What snow there has been has mostly been reported up in Scandinavia and in north-eastern Europe in the Tatra mountains. Scotland continues to have a bad time of it with temperatures reaching 14C in the country on Tuesday and strong gales. But the centres there are still operating thanks to their all-weather snow-making.
In North America, the big snowfalls forecast for the northwest have delivered with resorts posting up to 1.6 metres of snow in the past 7 days. Whistler, which had been suffering badly from a warm-wet season start was a big winner getting more than a metre of snowfall up high. There was snow for the Rockies and East coast too.
In the Alpine Forecast
The week ahead currently looks like more of the same, with the high pressure system prevailing, although there should be a little snow for many areas to start the weekend.

Snow for Japan this week...
Re-publication :- our Snow Report Summary, being the text above this line, is free to re-publish, but must be clearly credited to www.J2ski.com with text including "J2Ski Snow Report" linked to this page - thank you.
EUROPEAN ALPS
Austria
A generally dry and sunny week in Austria but with some snowfall higher up (20cm reported by Solden), but also, unfortunately, rain at times down in the valleys.
This time last year the northwest of the country had come to a standstill as a three-week-long mega-snowstorm buried resorts metres deep, leading some to be completely evacuated due to the avalanche risk. The ski areas are probably happier this January to have pretty much all their terrain open (we're talking the main international destinations, not the small low-level areas that are having a harder time getting snow cover) thanks to the good snowfalls in November and December.
A return to colder, snowier weather would no doubt be welcome - particularly at lower altitude resorts - but there's no real sign of that beyond a little snowfall to end the week in places.
France
French slopes are in great condition as we move further into January. Almost all of the country's destination resorts are fully open with excellent conditions on the piste. Here too it has been mostly sunny for a fortnight now but it does look like there'll be a little fresh snow on Friday/Saturday – 3 to 6cm for most ski areas – but hopefully a bit of a refresh.
Off-piste options are getting more limited now for powder hunters.
Snow numbers remain good for French slopes above 1500 metres altitude, with most having at least a metre lying and some reaching three metres (up high) earlier this week, although settling seems to have reduced the stats slightly since.
Bonneval sur Arc, over the back from Val d'Isere, for example, reported 3m at the start of this week – and is now at 2.9 metres (the country's deepest).
Italy
There's no snow to report from the past week in Italy and it has instead been largely sunny skies. This suits most Italian ski resorts which say they do the best business when conditions are like this; bad weather associated with heavy snowfall is less popular.
There's no real change in snow depths or terrain open (pretty much everything), with the deepest base in the country (and equal with Switzerland's
Andermatt
in Europe and the world), 4 metres for the
Presena
glacier.
There's little change in the forecast, perhaps a few snowflakes in the far West of the country along the French border on Friday but that's it for now.
Switzerland
Swiss slopes too have been largely sunny over the past week. As in France, the deepest snow depth reported, at Andermatt, has actually gone down a little from a week ago from around 4.2 metres to 4 metres, still the deepest in the world (jointly with Italy's Presena glacier) but it appears the warm, weather is having some effect – unusually for early January.
Most Swiss ski areas have lots of snow on the ground, from those November and December snowfalls, and all runs open.
Scandinavia
Ski resorts on Norway's western side again posted some of the biggest snowfalls in Europe over the past week. The snow is still falling here too whilst the sun shines on most of the rest of Europe, Vos has had 30cm of snowfall in the past few days alone, although it's the less well-known resort of Bjorli in Eastern Norway that has topped Scandinavia's snowfall table this week with 75cm (2.45 feet) in the past seven days.
Pyrenees
The Pyrenees too, have had another dry, mostly sunny week. Bases here are not as deep as the Alps, as there was less pre-Christmas snowfall, but most have adequate snow cover and the bigger resorts like Spain's Baqueira Beret and Andorra's
Grandvalira
(
Soldeu
and Pas de la Casa) have almost all their runs open – about 160km and 210km respectively, despite reports that in Grandvalira's case there's only a 30-75cm base. It's deeper at Baqueira.
Scotland
Alas, yet another challenging week for the heroes trying to keep Scotland's ski industry alive
[editor's note - can you tell where our snow reporter lives? :lol: ]
when mother nature continually refuses to play ball. This week's obstacles to running a ski area when the slopes were already bare included 14C temperatures and 75mph winds.
It was winds rather than warmth that closed areas mid-week as whilst there's no natural snow the all-weather snow-making machines can keep pumping out flake ice. Each area has snow for beginners; whilst at
Glenshee
, with one of the larger machines, there are a couple of short ski runs maintained on the heather too, others offer small terrain parks and sledging slopes.
Eastern Europe
Ski areas in northern Eastern Europe have reported the biggest snowfalls in Europe, south of Scandinavia at least, this past week. Slovakia's leading resort Jasna was one of the big winners with around 50cm of fresh.
Down in Bulgaria, it has not been snowy but it has stayed mostly colder allowing resorts to open more terrain following snow-making efforts.
Bansko
has created its long snow road down across green and brown countryside from the ski area to the resort.
North America
Canada
There have been some huge snowfalls in Western Canada with Whistler reporting more than a metre of snow in the past week – almost half as much as it had had all season up to now. The new snow has improved things considerably with around half of the continent's biggest ski area now open, but the freezing level is still well above resort level so the best snow is up high.
Inland in British Columbia and over in Alberta, it has been dumping too, but here it has been snowy all winter anyway so it's just powder on powder. In the East, they've had similar problems to coastal BC with little snow and warm temperatures in November and December but here too it's now an improving picture with sub-zero temperatures, fresh snowfall and snow guns blasting.
USA
There have been some big snowfalls in the US over the past week, especially in the Northwest (which still needed it after its warm, wet autumn) where famously-snowy (usually!) Mt Baker bounced back with 1.6 metres (over five feet) of snowfall and as a result, now has the deepest snowbase in the US (it's usual position) with over three metres lying.
Elsewhere, in the West, the biggest falls were reported in northern California, Utah and Wyoming where Jackson Hole has had more than a metre more snow this week, continuing a good season so far.
Over in the East, it has been more consistently snowy this week with resorts in Vermont reporting up to 40cm, of snowfall in the past three days, so it's a fast-improving picture here too.