J2Ski Snow Report 31st October 2019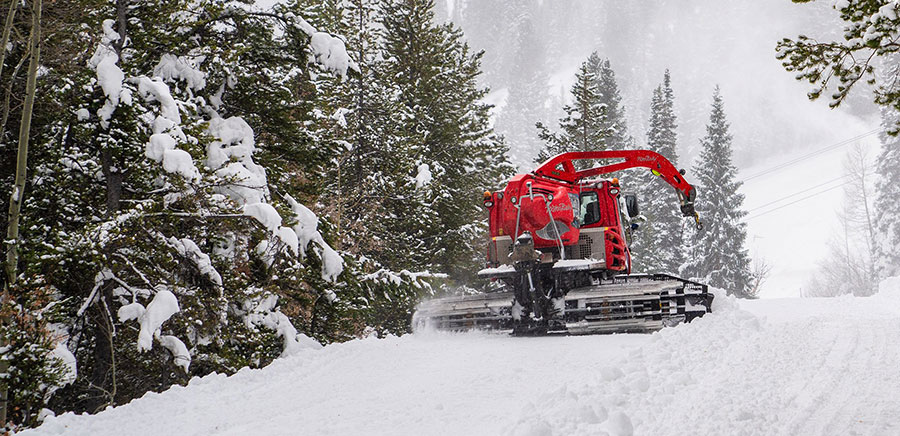 Prepping for the weekend, picture courtesy of Winter Park...
The cold arrives, with new snow in The Alps and more in Colorado.
The Snow Headlines - 31st October
- Several Colorado reports record October snowfall ahead of opening.
- 2019/2020 World Cup ski tour underway.
- Scandinavia looking snowy.
- Canada and Japan's 2019-20 ski seasons get started.
- Fresh snowfall in the Pyrenees.
- Four more Colorado ski areas to open early for the season this weekend.
Winter and the full ski season edge closer, with temperatures dipping, days shortening and snow falling (as well as snow guns firing) in most of the mountainous regions of the northern hemisphere.
The number of ski areas with their lifts spinning for 19-20 passed 20 last week and should exceed 30 this coming weekend; with Norway and the USA both seeing at least three areas opening (four in the US including
Winter Park
in Colorado) and more new openings in Switzerland (
Verbier
- at weekends through November) and Canada (Banff's Mt Norquay and
Lake Louise
).
The snowiest conditions to date look to be in the Rockies, where a number of resorts have posted their snowiest Octobers ever (1.5 metres/5 feet at soon-to-open
Steamboat
) and parts of Scandinavia, but there was fresh snow down to the valley floor in Austria on Wednesday.
As usual, it's not perfect everywhere. We're getting slightly mixed-message from the Alps where some resorts say it's great, others, including
Andermatt
, Les 2 Alpes and (still undecided)
Laax
all delaying opening as there's too little snow as yet.
They've also been wringing their hands on North America's East coast where the usual October openings thanks to snow-making have been thwarted by warm weather.
The northern hemisphere's summer ski areas Passo Stelvio, Italy and Galdhopiggen (in Norway) that have both been open since last spring closed last weekend or will close this weekend respectively.
In the southern hemisphere just two ski areas remain open, in Chile and New Zealand, and will be down to just one, opening weekends only in November in New Zealand, as of next week.
In the Alpine Forecast

Snow coming for the French Alps this week...
It's currently very cold in the East (of the Alps), and snowing, but temperatures will moderate to seasonal averages over the weekend before some heavy snow early next week.
Further West, and to the North of the Alps, significant snowfall (down to mid-mountain at least) is forecast for the next week.
Re-publication :- our Snow Report Summary, being the text above this line, is free to re-publish, but must be clearly credited to www.J2ski.com with text including "J2Ski Snow Report" linked to this page - thank you.
EUROPEAN ALPS
Austria
Excitement has been building in Austria over the past 48 hours as there's been snow down to the valley floor in many areas for the first time this Autumn.
Nine ski areas are currently open, mostly in Tirol and mostly, but not all, glaciers, with the biggest chunks of terrain (20-30km) available at the
Stubai
,
Hintertux
and Solden glaciers.
The latter staged the first World Cup Alpine ski races of 2019-20 at the weekend, which in the case of the men's race was the first time for three years after bad weather cancelled the past two. However, it was the women's race that grabbed the headlines with an unexpected win for a new 17-year-old New Zealand racer. She is just back home now in New Zealand to complete her schooling this week we're told.
There are no new openings expected in Austria over the coming week but the already-open-for-cross-country-skiers Dachstein Glacier will open its alpine slopes this weekend.
France
Ski conditions on the Grande Motte may be limited but were described as "excellent" after a little fresh snow last week. There's currently no other area open in France or any expected to be for nearly four weeks until
Val Thorens
opens on 23rd/24th November.
Les 2 Alpes, which had hoped to open its glacier for a preview snowsports week this week, has decided not to.
Italy
Italy's Passo Stelvio summer ski area ended its six-month 2019 run last weekend but was immediately replaced by Cervinia opening up for winter 2019-20 there.
The only other Italian area currently open is the
Val Senales
glacier where 4km of trails are skiable.
Switzerland
A mixed picture in Switzerland with Verbier announcing it will be open weekends in November but Andermatt saying it is delaying its planned early opening of its Gemstock slopes due to inadequate snow cover up high.
Laax had already postponed opening last weekend and there's no sign yet it will open this weekend.
Four Swiss areas are open already –
Saas-Fee
,
Engelberg
,
Zermatt
and the
Diavolezza
glacier in the Engadin Valley, sometimes referred to as the third
St. Moritz
ski area although it is some distance away.
Scandinavia
Norway's winter is due to get going this weekend with Beitostølen planning to open. At the same time, as mentioned in our intro, the country's remaining still-open-for-2019-summer ski area, Galdhopiggen, will end its 2019 operations on Sunday.
Elsewhere
Ruka
and
Levi
remain open in Finland as well as Idfre Fjall and Kåbdalis in Sweden (the latter opening last weekend).
Pyrenees
After snowy weather last week which saw the tops of the Pyrenees turn white and top-to-bottom coverage at
Sierra Nevada
in southern Spain, the weather has warmed a little with dry sunny days. However, it has not got too warm on the mountain tops which have stayed white. More pre-season snowfall is possible early next week.
Scotland
It has been another cold week on Scottish hills with the tops of the country's mountains staying white for a second week and frosts each morning. More ski areas have been testing their all-weather snow-making systems with Cairngorm running their TechnoAlpin SnowFactory machine this week after it proved temperamental and didn't work for much of last winter. There's a possible blip this weekend with warmer temperatures and rain forecast but temperatures should dip again next week.
Eastern Europe
There's nowhere known to be open in Eastern Europe as yet. Temperatures are around freezing on mountain tops in the Balkans however and we're forecasting 15cm of snowfall up high at
Bansko
by the weekend with rain at lower elevations.
North America
Canada
Canada's ski season got underway last weekend with
Nakiska
opening a couple of miles of piste made up of machine-made and natural snowfall. It was their earliest ever opening and although now closed midweek they'll be re-opening at the weekend too.
Next to open will be Mt Norquay, Banff's local hill, on Friday, November 1st. It reports plenty of natural snow cover already, topped up with machine snow too.
It's larger neighbour Sunshine plans to open a week later on the 8th.
Stop Press - We've just heard that Lake Louise should open this weekend.
So far nowhere in the East has been able to open as it has been too warm for snow-making. Another warm weekend is forecast but it should get cooler next week.
USA
The race to open more ski areas is well underway in the US where two more areas opened in the west of the country last weekend and the first ski resort in the Midwest joined them on Tuesday.
That means five areas have opened and as many again look set to open over the next few days too.
As usual for this time of year, the early-openers are using either cold weather for snow-making in order to open – as has been the case for Mt Rose by
Lake Tahoe
in Nevada and the first to open in the Midwest,
Wild Mountain
in Minnesota, with several others in the region following suit this weekend.
Resorts opening in Colorado, including Loveland last weekend, joining
Arapahoe Basin
and
Keystone
, have been able to do so thanks mostly to early natural snowfall. Four more ski areas in the state; Eldora, Monarch, Winter Park and
Wolf Creek
, plan to open over the next few days.
For Monarch, the opening is the earliest in 50 years and three weeks earlier than planned. Steamboat, one of the big names opening early next month, has had more than 1.5 metres of October snowfall, almost half-as-much again as their previous record total for the month.
Elsewhere, Brighton has been teasing a "big announcement" on Friday with pictures of deep fresh snowfall there so it's not yet known if they'll open too, the first in Utah.
Some East Coast resorts that had aimed to open in October, like
Killington
and
Sunday River
, look like they may open in the next week too, having been thwarted by unusually warm temperatures slowing their snow-making this month. It's got colder now though.
Southern Hemisphere
The 2019 season is almost over in the Southern hemisphere with the last resort that was still open daily,
Turoa
in New Zealand, calling it a day on Sunday. Corralco in Chile is reported to be still open though, with some fresh snowfall on Tuesday, but this coming weekend will be their last of the season too.
However, Turoa's neighbouring resort on Mt Ruapehu,
Whakapapa
, will re-open one lift for weekends in November, if the weather is good, for more snowsport in the final month of the southern hemisphere's meteorological spring. The snow is still more than 2.5 metres deep there.
Until next week, enjoy the webcams!