J2Ski Snow Report 1st June 2019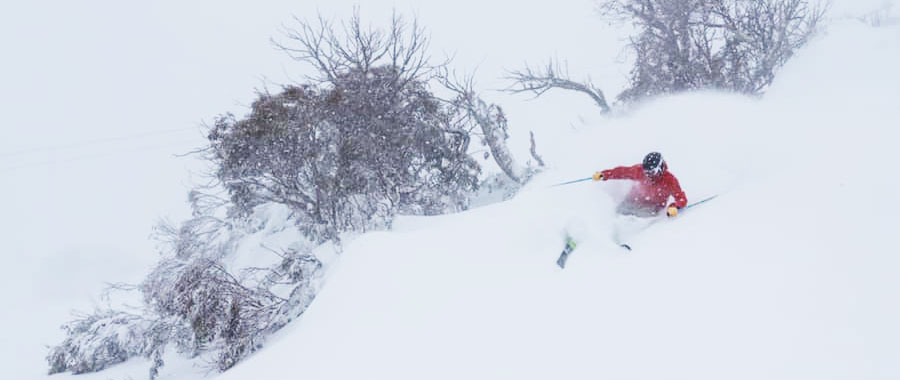 Perisher, Australia, got Pow this week!
Welcome to our guide to where to ski this June!
This Week's Snow Headlines - 1st June 2019
- Southern Hemisphere 2019 ski season due to kick-off Saturday June 1st.
- Summer-ski glaciers opening for 2019 in The Alps and North America.
- World's deepest snow at the start of June lying in Austria.
- Norwegian summer ski areas closed by blizzards on last day of May.
- Seven US resorts open at start of June (the same as for all of Europe).
- Riksgransen to open for midsummer skiing for first time in two years.
- Mammoth to extend ski season in to August for third time in its history.
- Ski slopes still open at Gassan in Japan.
June 2019 (the start of meteorological summer in the northern hemisphere and winter in the southern) is starting on something of a high in many areas of the world.
Heavy snowfall in the final days and weeks of May has meant ski areas still open in the northern hemisphere have been enjoying late spring powder days and their bases are holding steady, whilst in the southern hemisphere resorts have been opening early to kick off the 2019 season there in style.
In Europe the number of ski areas open drops to its annual low point, in single figures, in late May but should be back into double figures early in June as glacier areas re-open for summer skiing. Bases are looking good so far at most glacier centres and they've generally gone up rather than down in May with some getting more than a metre of snowfall in the past month.
Over in North America it's a similar snowy story. A number of resorts keep extending their seasons, now in to June, and one has announced plans to now stay open through to August.
South of the equator, Australia has seen big pre-season snowfalls in the last week leading three to open early.
Selwyn
Snowfields claimed the title of first to open in the southern hemisphere this year on May 30th.
It's been snowing hard too in the Andes, South America and to a lesser extent in New Zealand (where the first resorts open from June 1st) and in Southern Africa where ski areas start opening next week.
In the Alpine Forecast
Generally warm, with perhaps a little high altitude snow toward the end of next week.

More snowfall expected
, but please note that many ski areas are not yet open.
Re-publication :- our Snow Report Summary, being the text above this line, is free to re-publish, but must be clearly credited to www.J2ski.com with text including "J2Ski Snow Report" linked to this page - thank you.
EUROPEAN ALPS
As we enter June only four ski areas are open in the Alps – year-round
Zermatt
in Switzerland along with three Austrian glaciers – the
Stubai
,
Kitzsteinhorn
and
Hintertux
. All four are in great shape after lots of fresh snowfall right through to the end of May. The snow is still lying more than 20 feet (6 metres) deep on the Stubai and is deep on the other glaciers too.
Austria
The Kitzsteinhorn is scheduled to close after more than 8 months operation after the first weekend in June and the Stubai a week later leaving only Hintertux open in the middle of the month. However the Molltal glacier, which only closed in May (after a 10.5 month season), will re-open for its next long season on June 20th and the Kitzsteinhorn will also re-open for summer skiing for the last weekend of the month so Austria should be back up to three areas open by the beginning of July.
France
In France, Val d'Isere has announced that its 2019 summer ski season will run for five weeks from 8th June, 2019, conditions permitting. The resort is one of three French areas that still offer summer skiing and boarding, down from around eight in the 1990s. It usually opens several weeks before the other two centres, Les 2 Alpes and
Tignes
(which opens on the 22nd), which have much larger ski areas.
Summer skiing and boarding at Val d'Isere takes place on the resort's Pisaillas. The resort runs the Cascade chairlift and Montets T bar between 7am to midday daily serving the Ok, Verte and Diébold runs.
Italy
Passo Stelvio, which operates a five month season from May to November had been due to open at the end of May but has postponed, at least until June 7th, due to late May snow causing issues clearing the pass road it is accessed by, with an increased avalanche risk too.
Cervinia is due to open on 29th June for its season providing access to the Plateau Rosa ski area.
Switzerland
Zermatt will be the only ski area open in Switzerland until Saas Fee re-opens in July.
Northern Europe
All three Norwegian summer ski centres are open in June with Stryn the last to open on May 29th. It was closed again on the 31st by blizzard conditions so it's a fresh snow start to June here and at Galdhopiggen and Fonna which are all posting amongst the deepest bases in the world at 5-7 metres.
Meanwhile in Sweden the 'spring skiing capital' of Riksgransen ended its season a few weeks ago but will re-open for midsummer. After failing to open for midsummer last year due to lack of snow, this year the resort says things are looking good and it will open for four nights around June 21st.
North America
2018-19 has been the season that keeps giving, for at least some resorts, in the US, with more than half-a-dozen still open as we enter June, believed to be a record in recent years at least.
The longer seasons have been boosted by plenty of May snowfall, again in some cases the most May snow ever recorded. That's the case at Mammoth in California which now says it will be open to June for only the third time in its history after getting more than 70cm of snowfall last month.
Squaw Valley
is also still open in the golden state and will be until at least July.
In Colorado,
Arapahoe Basin
and
Breckenridge
are both open at weekends, it has been snowy here too. Both areas keep extending their seasons which, at the time of writing include the first two weekends of June for Breck and the first four for A Basin, but it's quite likely these will be extended.
Elsewhere
Killington
has made it in to June with the snow piled high on its superstar trail, now a white ribbon down a green hillside. It will close on Sunday 2nd though.
Snowbird
in Utah is open weekends to mid-June (so far, it may extend) and
Timberline
in Oregon is also still open.
America's only summer ski area, Beartooth Basin on the Montana/Wyoming border (formerly Red Lodge summer camp) was due to open in late May but has delayed opening to June 8th so far – due to maintenance and official certification issues. There's also been heavy snow here at the end of May.
Asia
Japan's Gassan summer-ski destination remains open in to June (and usually aims for June), but whilst we were reporting it had the deepest base in the world at 9.5 metres a month ago, that figure has more than halved to 4.5 metres at the start of June, so it's thawing fast and that July target may be in question. There have also been some lift operating problems although these have been overcome. Temperatures are reported to have hit +15C.
Southern Hemisphere
Australia
It's a great start to the 2019 ski season in Australia. The resorts hadn't originally planned to open until June 8th, the start of a long weekend in the country, most of which takes the following Monday off as a holiday to celebrate the Queen's Birthday.
They often open that weekend with no snow on the ground but this year is very different with a huge snowstorm bringing 50-70cm of snow to the country's ski slopes in the last week of May. As a result Selwyn snowfields,
Perisher
and Mt Buller have all opened early (this weekend), with Selwyn the first in the southern hemisphere and it and Buller running their lifts free of charge in celebration.
The rest of the country's areas plan to open on schedule in a week's time and fortunately there's more snow forecast in the first week of June.
New Zealand
So far New Zealand has not quite got off to a start to the season like Australia. It did get colder and start snowing in the final days of May, with
Treble Cone
reporting 50cm of snow fall on its upper slopes on the 31st itself, but so far the cover isn't really there. That's not a huge problem yet though as most areas hadn't planned to open until at least the 7th (Mt Hutt) or 8th and many not until mid or late June.
Whakapapa did open a nursery slope and sledging area on the 1st and would have been the first to open in the southern hemisphere if not pipped by the Australian areas mentioned above.
Cardrona
had planned to open runs too but doesn't quite have enough snow yet so opened with 'snow play' instead.
Chile
Conditions in the Andes are similar to New Zealand with the snow starting to build up from late May snowfall but not really enough yet for anywhere to open. The bigger Chilean resorts like
Portillo
and
Valle Nevado
don't plan to open until later in the month but smaller centres will probably open sooner if conditions continue to improve.
Argentina
It's a similar story to Chile in Argentina, although ski areas here have perhaps had slightly heavier snowfall, if posted images are anything to go by. Las Lenas, one of the country's biggest resorts, has had some of the heaviest pre-season snowfalls and has targeted Saturday, June 8th as opening day for their 2019 season.
Africa
South Africa
South Africa's Tiffindell has had several snow coverings during the latter half of May, although subsequent warmer weather has thawed this away. Usually reliant on snowmaking, it's due to open for the season in the second week of June.
Lesotho
Afriski in Lesotho, the mountain kingdom's only ski area, has also had several natural snowfalls but has additionally unveiled a fleet of new snow-making cannons. The slopes were turned white with these for a test run on May 30th and the centre plans to open for 2019 next Thursday, June 6th.