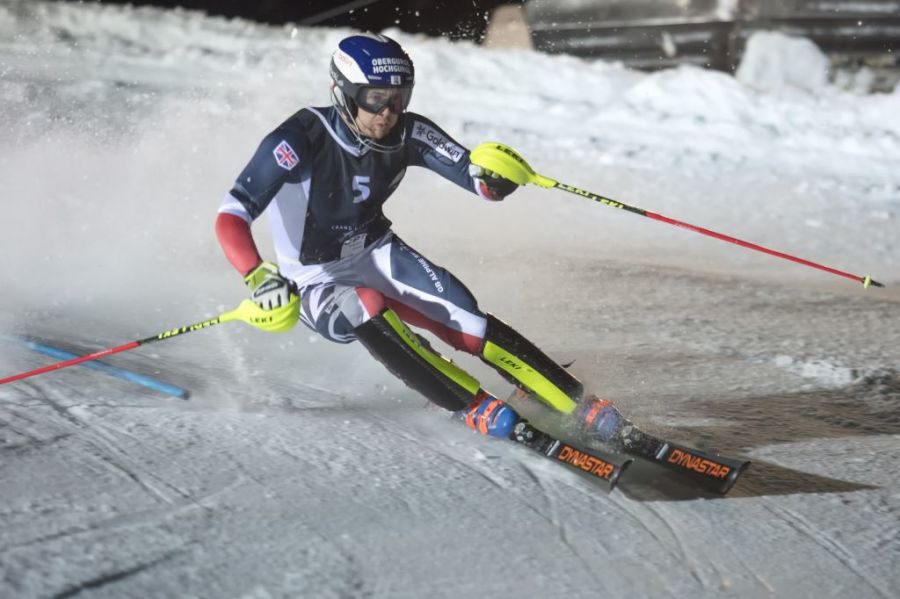 The British team has been announced for next season with three racers selected to compete at World Cup level and eleven more at Europa Cup level.
Last season saw another World Cup podium for slalom skier Dave Ryding, now 32, the sole male member of the World Cup squad.
Charlie Guest and Alex Tilley are the other two members of Britain's world Cup trio, who, along with Europa Cup squad member Laurie Taylor, helped GB to a 2018 Olympic top five in the team event and last season delivered a top 10 result at the World Championships.
Ryding produced GB Alpine's outstanding result of 2018/19 when he earned a World Cup podium on New Years' Day in
Oslo
, while Guest became GB's first-ever female alpine skier to win a Europa Cup race in March.
Newcomers to the Europa Cup squad include US-based Alex Barounos and Reece Bell along with speed specialist Roy-Alexander Steudle. Cara Brown, Iain Innes and Rob Poth – who all won races at the 2019 GB Alpine Championships – have also earned selection along with Billy Major and Zak Vinter.
Twenty-seven more athletes have been nominated to the GB Alpine FIS Squad and will be pressing for results to earn them places in the senior squads in seasons to come.
GB Alpine Director Paul Trayner said while 2019/20 is without an Olympics or World Championships, the season will play a vitally important role in the athletes' development towards those major events.
"The depth we're now showing in GB Alpine is great to see and the standards we expect from our athletes gets higher year after year," he said. "Dave Ryding became GB's most-decorated alpine skier at World Cup level last season, Charlie Guest won a Europa Cup race and was second in another, Charlie Raposo was on a Europa Cup podium too; these are really outstanding results and proves to a lot of those developing athletes in the FIS squad that anything is possible.
"We're striving to make those standout results come along even more consistently and we've got the coaches and support staff in place to assist these athletes achieve the best results they can."
The 2019/20 FIS alpine season kicks off in the southern hemisphere during the European summer before the World Cup season commences in Solden in October.
2019/20 GB ALPINE WORLD CUP SQUAD
Charlie Guest (25, Perth SCO), Dave Ryding (32, Lancashire ENG), Alex Tilley (25, Aberdeenshire SCO)
2019/20 GB ALPINE EUROPA CUP SQUAD
Alex Barounos (23, Colorado USA), Reece Bell (17,
Vail
USA), Cara Brown (25, London ENG), Jack Gower (24, West Sussex ENG), Iain Innes (21,
Edinburgh
SCO), Billy Major (22, Essex ENG), Robert Poth (21, Hertfordshire ENG), Charlie Raposo (23, London ENG), Roy-Alexander Steudle (25, Berkshire ENG), Laurie Taylor (23, Hampshire ENG), Zak Vinter (20,
Glasgow
SCO)
2019/20 GB ALPINE FIS SQUAD

Diaco Abrishami (17, London ENG), Jess Anderson (20 Hampshire ENG), Jack Beney (18, Vermont USA), Will Beney (20, Vermont USA), Abi Bruce (18, Surrey ENG), Thomas Butterworth (16, West Wales), Honor Clissold (21, North Yorkshire ENG), Jack Cunningham (17, Oxfordshire ENG), Daisi Daniels (16, Greater Manchester ENG), Jake Doyle (18, Villars-sur-Ollon SUI), Rory Fitzgerald (19, Trondheim NOR), Olivia Foster (18, Surrey ENG), Edouard Guigonnet (17, St Martin de Belleville FRA), Robert Holmes (16, Lancashire ENG), Tom Hudson (18, Suffolk ENG), Lois Jackson (17, Newcastle ENG), Leonidas Karavasili (19,
Montreux
SUI), Calum Langmuir (16, Aviemore SCO), Darcie Mead* (22, London ENG),
Victoria
Palla (18,
Zell am See
AUT), Charles Rankin (17, Midlothian SCO), Arie van Vuuren (21, Colorado USA), Max Vaughton* (20, Haute Savoie FRA), Owen Vinter (17, Glasgow SCO), Oliver Weeks (17, Warwickshire ENG), Angus Wills (20, London ENG), Sarah Woodward (17, Hampshire ENG)
* denotes currently injured