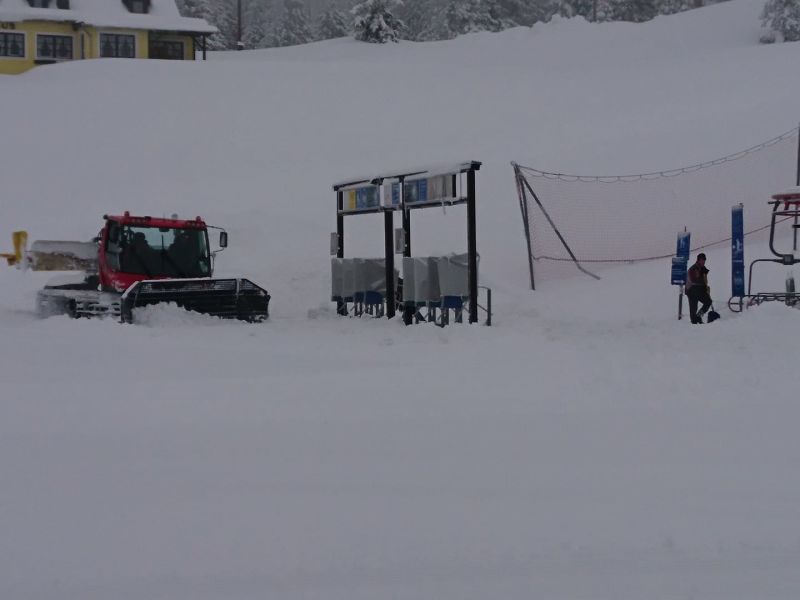 Three of the Austrian ski areas that were 'buried' by huge snowfalls during the first three weeks of January this year have announced plans to re-open their ski slopes this weekend – as there's still a lot of snow left.
One of the areas, Hochkar in Upper Austria (pictured above earlier today, prepping), made mainstream headlines around the world when town officials decided to evacuate it completely at the time due to the extreme avalanche danger. When teams were able to safely measure the snow depth again they reported it 6 metres (20 feet) deep. Apparently its still 70-130cm deep at the top and 5km of runs are to open.
Another, Turracher Höhe in Carinthia, did not make so many headlines but it did also get a huge snowfall. It's a similar story at the Zwieselalm ski area near
Annaberg
in Salzburgerland.
All three areas will run their lifts free of charge to access limited, higher terrain this Saturday 18th and Sunday 19th May. Each has limitations on what's available and at Hochkar and Zwieselalm it's important to note no ski rentals will be available. Some of the centres will only be open to lunchtime.
The current j2Ski forecast is for temperatures to be peaking at around +20C in the valley, perhaps 5-10C at the top of the mountain.
Normally at this time of year only glacier ski areas are open in the Alps are open. Two Austrian glaciers, Molltal and Kauneretal, closed last weekend but three:
Hintertux
, the
Stubai
and
Kitzsteinhorn
, remain open and Hintertux actually reported 30cm of fresh snow on Wednesday Morning, the Stubai 10cm.
All three of the areas opening this weekend have been closed for at least a month and the top lifts at all three are much lower than the lowest lifts used for summer skiing on the glaciers. Zwieselalm's highest lift reaches 1700 metres above sea level, Hochkar tops out at 1899m, and Turracher Höhe at 2200m.
Last year Val d'Isere re-opened non-glacier snow slopes for a few weeks at the start of June after France got huge snowfalls in early 2017, but there's no repeat of that "First time in 80 years" occurrence there this year.
It's currently unclear whether the centres will just be opening this weekend or staying open for more weekends later in to May.