J2Ski Snow Report 20th December 2018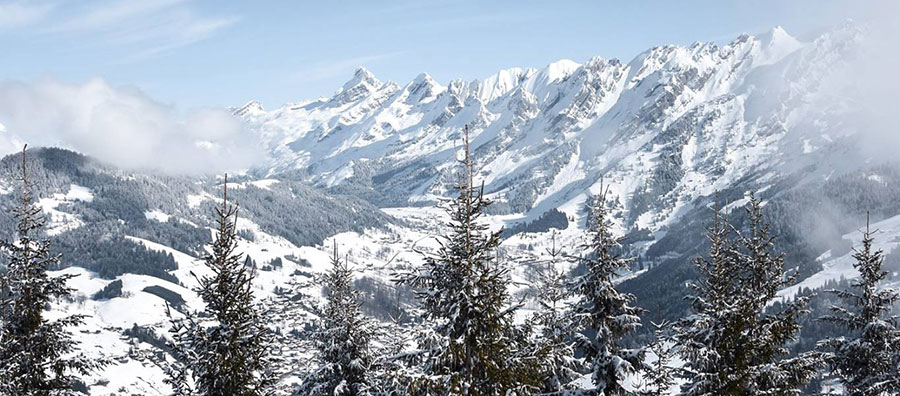 La Clusaz, France, fully open from this weekend...
Some big snowfalls reported, and good skiing for a fairly typical December so far.
This Week's Snow Headlines
- 7 Feet of Snowfall (2.1m) in 7 days at Whistler.
- World's deepest base reaches 4 metres in Switzerland.
- Snow expected from the weekend, for the Alps (and Whistler!).
With one of the busiest fortnights of the season almost upon us, the outlook for Christmas across 90% of the skiing world is pretty good and certainly one of the best of the past five years.
Most areas have seen fresh snow in the past few days and there's more in the forecast; the only real grumble is that it has been 'sticky' snow or even rain at lower elevations at times, but it is only mid-December so fairly normal. Up top, bases are building at most areas in the Alps and skiers are reporting both powder days and perfectly groomed corduroy.
In Europe it is the Alps that are looking particularly good, the Dolomites and Pyrenees have not had much fresh snow since November and whilst they're able to open a lot of terrain anyway, that's largely thanks to snow-making. That said, the French Pyrenees posted 7 day totals of 47cm on Wednesday, the biggest in Europe after a fairly quiet snowfall week across the continent compared to the previous fortnight. Eastern Europe has a bit of a divide with ski areas on the 'Alps' side in countries like Poland, Slovakia and Slovenia looking snowy, but further east cover a bit hit and miss.
Scotland got some snow at the weekend but temperatures got back to double figures midweek so there's no sign of any areas opening imminently, except for the small areas at
Glencoe
and
The Lecht
that have all-weather snow-making.
In North America the big news has been on-going huge snowfalls in the Pacific Northwest where ski areas have reported up to 8 feet of snow in 7 days, and there's more in the forecast. Although it has been warmer (wetter) at lower elevations. Other parts of Canada and the US have also been getting fresh snow, just not so much.
In the Alpine Forecast
Temperatures look like running a little above average (for late December!) into next week, but there are some significant snowfalls now in the forecast for a wide area. Heaviest falls look likely for the northern and western alps, where accumulations could exceed 50cm by Christmas Day.

See where it's expected to snow this week...
Re-publication :- our Snow Report Summary, being the text above this line, is free to re-publish, but must be clearly credited to www.J2ski.com with text including "J2Ski Snow Report" linked to this page - thank you.
EUROPEAN ALPS
Austria
The rate of snowfall has slowed a little in Austria this past week but it has still been coming down, more is forecast, and overall it's looking like a pretty good Christmas week this year with plenty of idyllic images of snowy chalets to be had across the country.
Solden still posts the deepest base in the country at 2.7m (9 feet) and it is looking like one of the higher, westerly areas that's set to benefit most from forecast snowfall over the coming week. It and resorts like St Anton,
Ehrwald
, Obergurgl and Lech should have another 40-50cm by this time next week whilst for most others it's more like 5-15cm.
France
The snow is falling in France again after a quiet few days (the biggest 7 day total was at
Cauterets
in the Pyrenees with 47cm reported). It's expected to keep falling over the next 72 hours with the biggest accumulations expected on Friday and Saturday at many resorts – some could add 50cm ahead of next week.
Currently
Serre Chevalier
in the southern French Alps has the deepest base in the country at 45-200cm (it's the first this winter to hit the 2 metre mark). Conditions are looking good pretty well everywhere now, with at least a metre of snow coverage on upper runs at most leading resorts and 100-155cm in
Tignes
-Val d'Isere for example – great coverage for Christmas week.
Italy
Italy remains a country divided with some fresh snow falling in the West – and more forecast there, but little or no snow in the Dolomites to the East, which have recently been hosting a whole swathe of World Cup racing in
Alta Badia
and
Val Gardena
. The mountains are white but coverage for skiing and boarding relies a good deal on the very impressive and extensive snow-making system.
In the
Aosta Valley
and other western areas it's a different story with some fresh snow last week and more falling with up to 60cm forecast by this time next week at resorts like
Courmayeur
and
La Thuile
.
Switzerland
Swiss resorts got the best of the snow in the Alps over the past week and it's looking promising here for the week ahead too. Most areas are expected to get another 10-20cm of snowfall and quite a few as much as 30-50cm with the western of the country likely to see the biggest snowfalls – again particularly this Friday and Saturday.
Verbier
, along with the
Portes du Soleil
and
Gstaad
regions, are amongst those likely to see at least 40cm of fresh snow.
Andermatt
still has the world's deepest reported snow base a 4 metres and Saas Fee the second deepest swiss base at 2.5m, with neighbouring
Zermatt
third on 2.25 metres.
Scandinavia
Nothing sensational to report in Scandinavian snowfall this week but some modest 5-10cm gains since the weekend at a few of the region's leading resorts like
Hemsedal
and
Trysil
in Norway and Idre Fjäll in Sweden. So far most have bases in the 30-60cm bracket and perhaps 20-30% of their terrain open, ready to move it up a gear for Christmas next week.
Pyrenees
It's difficult to say at this stage which way the start of the season will go in Andorra and the Pyrenees. There was a 10cm snow fall in the area at the weekend but not a lot more in the forecast and temperatures at base level hovering around freezing. Most of Andorra's ski areas do have at least half their terrain already open as Christmas week nears and bases are at around 40-50cm on upper runs – so, in short, it's looking OK but not brilliant.
Scotland
Scottish hills finally turned white again on Saturday when snow fell across a wide area. Subsequent warm temperatures and rain have spoilt this cover on lower slopes to some extent but the tops remain white at time of writing. However the only areas currently open are the small tracks at Glencoe and The Lecht created by the two areas' new all-weather snowmaking machines. There is no news as yet on the likelihood of a third machine at Cairngorm being switched on.
Eastern Europe
There's been more snowfall across Eastern Europe with 5-15cm reported. Conditions are gradually improving with bases at Bulgarian areas now up to 50 – 70cm, the deepest currently at
Pamporovo
. Other areas in Slovenia and the Czech and Slovak Republics have also reported good snowfalls and here resorts like Špindlerův Mlýn may see another foot (30cm) of snow by Sunday.
North America
Canada
Great conditions now across most of Canada with Whistler stealing the headlines after receiving seven feet (2.1m) of snow in seven days to Tuesday. There's no real sign of a slowdown in sight either with more 20-40cm daily accumulations forecast in to the weekend. The only issue is warmer weather still at lower elevations meaning not so much snow down below or at neighbouring, lower, ski hills in the region. Further inland though
Revelstoke
is being dumped on and there has been some snow, if not so much, in Eastern BC and in to Alberta. Ski areas over on the East in Quebec and Ontario are reporting great conditions too.
USA
Attention has again focused on the huge snowfalls in the Pacific Northwest of the US with Mt Baker reporting 8 feet (2.4m) of snow in 7 days up to Tuesday this week, and there's another 70cm forecast in the next 3 days, which would take the 10 day total past 3 metres/10 feet.
It is, however, continuing to snow in many parts of the country where they're still celebrating the snowy October and November that got the winter off to a great start here. Alta in Utah has had a foot of snow in the past week for example, so has
Jay Peak
in Vermont, and both have more than a metre of snow lying. The only 'blip' are occasional complaints of wet, sticky snow at lower elevations in California, Colorado and Utah. One small, southerly ski centre in the former, Mt Shasta, recently closed again because of the impact of this on its snow cover.