J2Ski Snow Report 7th December 2017

Les 2 Alpes opened last weekend, picture by Amandine LRX
It's cold, and (more) snow is coming!
This Week's Snow Headlines
- More than half of all ski resorts have now opened (some partial and/or weekends only).
- Dolomites and Pyrenees make efforts to open large areas of terrain ahead of public holidays.
- Fresh snowfall in Utah after previously slow start to the season.
- Scottish ski centres close again.
- Up to 55cm of fresh snow reported in Norway.
It's been a less dramatic week for snow in the northern hemisphere, but it's stayed cold.
In many areas the snow has kept falling, however, and some resorts in the Alps, Scandinavia and parts of North America have been posting powder alarms for 20cm snowfalls in 24 hours, but no new huge accumulations this week. The last big snowfalls in Europe were 50-80cm falls in the Pyrenees at the end of last week.
For the Alps though the fact that it has stayed cold and keeps snowing, if mostly only a bit, is good news as the main season creeps ever closer. There are big public holiday weekends coming up in Italy, Spain and Andorra so there's been a mass opening of terrain in the Dolomites and Pyrenees this week.
In North America most regions are in pretty good shape. Utah, which had been suffering from warm temperatures, saw some big snowfalls at the start of this week and its more usual powder conditions. Further south though, including Colorado, they're still waiting for a good, lasting snowfall.
In the Forecast - TRAVEL DISRUPTION!
Those "interesting possibilities" we alluded to in our last report are now firmly in the more reliable forecast timescale and The Alps are in line for some big snowfalls over the next 5 or 6 days, with low temperatures bringing snow to low altitudes.
Expected to be heaviest in the West, snow should be falling heavily across a wide area by tomorrow (Friday) evening and will fall to low levels through Saturday - likely causing issues for road and air travel.
We anticipate anything up to 30cm in that first band of snow, with the second band (Sunday evening into Monday) likely to be heavier still. A third band of snow should follow on Tuesday through Wednesday. It will vary considerably according to location, and winds will be a feature at altitude, but accumulations could exceed 1 metre in places.
BE CAREFUL OFF-PISTE!
Sadly we have already heard of the first avalanche casualties of the season, and some of the November snow is unstable and remains poorly-bonded. Take local advice (always) and make conservative route choices...
OPENING TIMES SUBJECT TO CHANGE!
Some of the early openings are partial and temporary, and may be weekends only - so check with the tourist office!
Always check local conditions and resort opening times directly before travelling!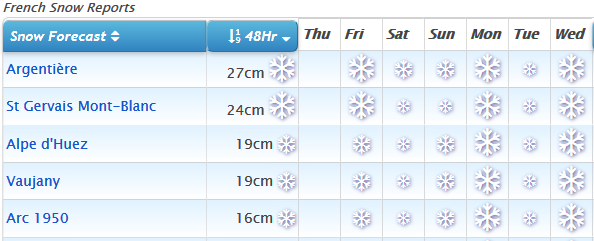 See when and where it's going to snow...
Re-publication :- our Snow Report Summary, being the text above this line, is free to re-publish, but must be clearly credited to www.J2ski.com with text including "J2Ski Snow Report" linked to this page - thank you.
EUROPEAN ALPS
Austria
It has been a snowy week at many Austrian resorts and about half of the country's total are now open, although a few still only at weekends. Many resorts have had significant snowfall – the biggest fall reported in the last few days 48cm on the
Kitzsteinhorn
glacier, but there's also been 20-30cm falls, often in just 24 hours, at lower elevation areas like
Mayrhofen
, Saalbach, Bad
Gastein
and
Alpbach
– albeit on their upper slopes. Base depths on glaciers are now mostly in the 2-3m bracket (7-10 feet) and even non-glacier resorts are posting healthy stats for early December – 180cm at Obergurgl, 150-170cm at
Obertauern
.
France
Conditions are definitely the best they've been in four years in early December for most resorts in the French Alps. Base depths at ski areas in the northern Alps are now past the metre mark on higher runs and 30-40cm more snow is expected at many areas towards the end of the week. Les 2 Alpes was one of those opening last Saturday 2nd December, with runs open down from 3,400m on the glacier to 2,100m in Les Crêtes area. The first skiers and snowboarders of the season were able to enjoy some fresh snow and test new equipment during Les 2 Alpes High Test Decathlon. 14 slopes and 17 ski lifts are now open every day there. New openings coming up this weekend include Le Grand Bornand which will have 28km of slopes open between 1750 and 950m. La Balme sector also opens at neighbouring La Clusaz this weekend.
Italy
It's a big week in Italy with early December public holidays in the country encouraging ski areas to open as much as they can as fast as they can. Fortunately mother nature seems to be playing ball and Dolomiti Superski is leading the charge with 844km of slopes and 367 ski lifts open as of Wednesday 6th December. Skiing is possible in all 12 sectors of the giant region and the Sella Ronda also opened for the season on Wednesday, initially with skiing only possible in an anti-clockwise direction, but they say, from Friday, it will be open in both directions. Altogether about half of all Italian ski areas are now open with bases at around 20-60cm on the Dolomites side and commonly 50-100cm in the Alps to the west. More snow is forecast for the coming week, heaviest at the end of the weekend.
Switzerland
About two thirds of Swiss ski areas are now open, more than any other of the big four Alpine ski nations. There's not been a huge amount of fresh snowfall, but conditions remain generally good with most areas seeing 5-10cm of fresh and low temperatures so the snow guns can keep firing.
Engelberg
, which has about 50km of runs open, is posting the deepest base in the Alps at 305cm. Currently there's a good deal of snow forecast in Switzerland on Friday and Saturday with 30-40cm of fresh snow expected to accumulate, most of it on Friday.
Eastern Europe
The snow has been getting deeper in Eastern Europe too with ski areas in Slovenia and the Slovak Republic reporting some 20-30cm falls in 24 hours. Some Bulgarian areas are also reported to have opened for the season at the weekend. More snowfalls of 20-40cm are expected here too towards the end of this week.
Scotland
A mixed picture on Scottish slopes. In the end four of the five Highland ski areas were able to open some terrain at the weekend getting an early start of winter 17-18. However a mild spell at the start of this week has made continued operations a challenge and
Glencoe
is not currently open for lift-assisted skiing other than on their dry slope whilst the Lecht. Cairngorm and
Glenshee
were just about able to operate a run or two. Next up is stormy weather but it's then supposed to be colder at the end of this week with more snow forecast so re-opening of terrain looks promising. For an added bit of interest the first of several all weather snow making machines, Snow Factories by Techno Alpin has arrived on site at Cairngorm so they should soon be able to make snow on a small area regardless.
Pyrenees
The Pyrenees have been rapidly ramping up operations ahead of the "double bank holiday" on the Spanish side of the mountains this coming weekend. So almost all centres are open and they're doing battle to offer the most terrain, helped by a snowy December so far. More than 75cm of snow fell last Friday and Saturday, and weather permitting Baqueira Beret aims to open 97 runs with a total of 137 skiable kilometres this weekend.
Currently towards the top of the mountains snow depths stand at more than one metre while lower down they are 65cm. Temperatures were down to -15º C on Sunday helping to maintain high quality powder snow. The two main ski areas in Andorra are also now open, as are most French Pyrenean resorts, many also reporting big snowfalls.
Cauterets
reported 50cm of fresh snow and expects another 30cm+ at the end of this week.
Scandinavia
Scandiavian ski centres, particularly resorts in Norway, have posted some of the biggest snowfalls in Europe this week. Bjorli in the north has had 55cm of snow in the past 72 hours for example. So conditions are generally good. There's 40-140cm lying at
Voss
for example and 35-65cm at
Hemsedal
– healthy stats especially for early December. The numbers are good in Finland too with
Ruka
topping the tables with 60-90cm (a very healthy stat for Lapland where not that much snow falls but what does fall rarely melts until the spring) and ski areas in Sweden are in good shape for the start of winter too.
North America
Canada
Conditions remain good in much of Canada although the rate of snowfall has slowed in the past few days with little new snow reported. Cypress Mountain in BC on the West Coast has the deepest base in the country at 2m, but is dealing with positive temperatures and sunny skies at present. It's a little colder in Whistler to the north with 148cm base. There are not many areas open in the East yet but quite a few will be opening in Quebec this weekend. The region's most popular area, Tremblant, has a 60cm base.
USA
An interesting weather mix in the US. The most snow in recent days has fallen in Utah, one of the states that had been suffering from warm and dry weather, leading to both powder days and great relief. Further south in Colorado there was snow too at some of the more northerly areas like Winter Park but many of the state's areas are still relying largely on snowmaking to open limited amounts of terrain. Temperatures have also rise in the Midwest where the season had got off to a strong start in November, although most remain open with fairly good snow depths thanks to that strong start. On the East Coast there's not been too much snow either but temperatures remain subzero and snow depths not bad for earl December,
Stowe
is posting 30-90cm for example. Washington State has also seen healthy snowfalls with the world's snowiest resorts, Mt Baker, receiving over three feet of snow in the past week.