J2Ski Snow Report - March 3rd 2016
Re-publication :- our Snow Report Summary, being the text up to "The Alps", is free to re-publish, but must be clearly credited to www.J2ski.com with text including "J2Ski Snow Report" linked to this page - thank you.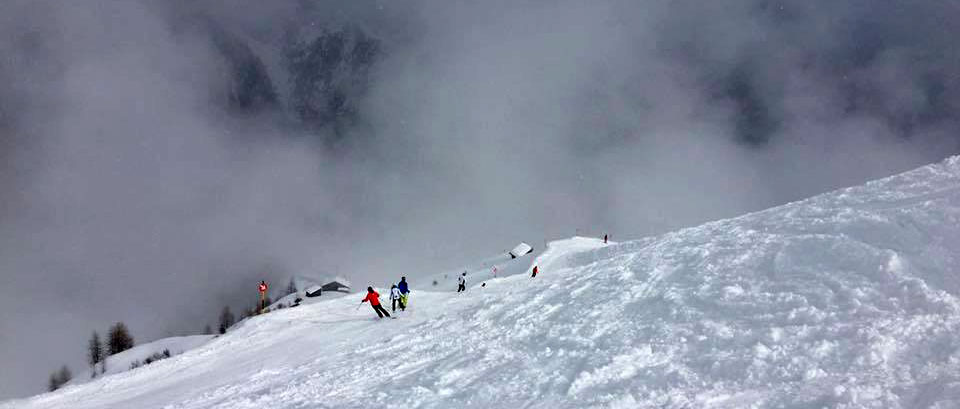 Fresh snow and a break in the clouds at Solden yesterday, picture by J2Skier Tony H
Oh look,
more
snow to report... and more in the forecast.
This Week's Snow Headlines
-
Alyeska
, Alaska season snowfall to date hits 17.5m, base depth passes 5m mark.
- Powder conditions across the Alps.
- Significant snowfall in Norway.
- A metre of snow for
Zermatt
.
- More huge snowfalls expected in Western North America this weekend.
-
Chamonix
Base depth approaches 5m mark on upper runs (and is today claimed as exceeding 6m!)
Last weekend saw some big snowfalls in the Alps and Pyrenees with a few resorts on the French / Italian border including
Monterosa
,
Pila
and Bonneval Sur Arc claiming up to 60cm (two feet) of snow in 24 hours. Most other areas got significant snowfall too, if perhaps not quite so much so fast.
The snow storms have abated midweek but are ramping up again for another snowy onslaught over the next 48 hours - now underway. Conditions are generally excellent across European ski slopes, probably the best they've been all winter.
The Pyrenees have had a good snowfall too, freshening up the slopes, as have Scandinavian areas and Scottish centres, even the Dolomites have been dumped on.
In North America it is, as it has been all season, a tale of two sides with more massive snowfalls coming in the West, but weather too warm and wet in the East. Actually even in parts of the west it has been too warm and wet with at least one area, Mountain High in southern California, forced to close as a result.
In The Alpine Forecast
It is currently snowing across much of The Alps, and that's forecast to continue through the weekend in many areas. Next week will start with some clearer days in much of the region but - again - we expect regular snowfalls across a wide area through next week. Temperatures should stay cold too, so snow should fall for all but the lowest ski areas.
Quantities are likely to be less in the West, and more in the East, than this week. We should see substantial snowfall in the French and Swiss Alps, the Dolomites and Eastern Austria this weekend.
With quiet slopes, now that half-term has ended, March is certainly looking like the month of the season so far; with next week likely to be particularly good.
With Easter falling at the end of the month, it's really looking rather good for late season skiing!
The Alps
Austria
There have been moderate snowfalls in Austria over the past seven days and if anything these are going to intensify in the coming few days with some areas expecting a metre or more of fresh snow. Most of the country's areas are reporting 'powder' conditions on and off the slopes with its highest centre, the
Pitztal
glacier, reporting the biggest accumulation in the past seven days – 50cm. It has the second deepest base in the country with 295cm with Solden the only Austrian resort to pass the 3m/10 foot upper base depth mark with a 309cm tally after another 25cm of snow this week. It is snowing again in Austria today (Thursday 3rd March) with up to 40cm of fresh cover overnight reported.
France
After a snowy weekend in France which saw accumulations typically of 20-30cm, although in some cases (Samoens and Chamonix) as much as 60 or 70cm, it looks set to turn very snowy again in the French Alps over the next few days. Conditions remain generally very good on French slopes although this season's mantra that the better conditions are up high continues to be the case with snow cover thin at resort level at traditional villages like Les Contamines, La Clusaz or
Morillon
but several metres deep on their upper runs. Purpose built centres like
Avoriaz
have snow over a metre deep at report level and are in great shape for the rest of the season. Some traditional resorts like Bonneval, which claimed 60cm of snow in 24 hours at the weekend are in good shape too with 1.5m (5 feet) in resort and double that up top. It is snowing hard again in France today (Thursday 3rd March) with reports of 20-30cm accumulations overnight.
Italy
Italy has really seen the best of the snow ion Europe this past week – and it's the first time we've been able to write that all season. Resorts from the Western Italian alps through to the Eastern Dolomites received up to 80cm of fresh snow, the majority 25-50cm, leaving powder conditions across the country. It's a big transformation for the Eastern side in particular which had had way below average snowfall figures for the season to date. This snowfall – which is continuing in to next week – won't change that but does help a lot for the remaining month or two of the season. The very biggest snowfalls were in the west of the country in the
Aosta Valley
and at resorts like Pila, Cervinia and Monterosa. But in the dolomites up to 50cm fell in the Fassa Valley and Alta Badia. More big falls are expected for the coming week.
Switzerland
Europe's highest resort Zermatt has reported the biggest snowfall of the past week, clocking up a metre of fresh powder. Neighbouring Saas Fee got 90cm/3 feet and
Andermatt
and St Moritz 50cm each – particularly good news for St Moritz which, despite its high elevation, has had a poor season for snowfall by its standards. Base depths are 50-90cm there now. Saas Fee has now joined
Engelberg
, which got a foot of fresh snow this week, with the deepest base depth in the country at 90cm. Most other resorts got 20-40cm of new snow. As with the rest of the Alps big snowfalls are forecast for the week ahead in Switzerland too.
Scandinavia
Quieter in much of Scandinavia this week with 10-30cm of fresh snow reported in Norway, although
Hemsedal
got 34cm of fresh powder in 24 hours up to yesterday morning. There as less than an inch of fresh snow up in Lapland where it has been mighty cold and Scandinavia's biggest resort, Are
Voss
still has by far the region's deepest base at 2.4m (eight feet)in Sweden, added 18cm/7 inches.
Pyrenees
Some quite large snowfalls on The Spanish side of the Pyrenees – up to 60cm/3 feet reported at La Molina this week, but nearer to 20cm in Andorra and on the French side of the mountains. Heavier snowfall – up to 60cm/two feet is expected there in the coming week. Base depths remain healthy and conditions good.
Eastern Europe
No fresh snow in Bulgaria and actually
Bansko
hasn't reported any in six weeks so the slopes are fairly hard packed there. They claim bases are holding out though and still have about a metre of cover on them. Some snow is forecast for the week ahead. Slightly better news further north with at least an inch or two of fresh snow reported in Romania, Slovakia, Slovenia.
Scotland
Scottish slopes continue the great conditions they've enjoyed for most of the past month now with consistently low temperatures , fresh snow and plenty of blue sky days. Storm Jake brought brief periods of closure but it also brought more fresh powder. Centres have been operating at capacity at weekends for most of the past month and reported their best half term holiday period for at last five seasons with over 80,000 skier days.

North America
Canada
The flood gates opened wide at last on snow in Eastern Canada this past week with Tremblant and Mont Ste Anne in Quebec both receiving around three feet (90cm) of snow, about as much as they'd had all winter until now. This has obviously transformed conditions in the East with both resorts hitting the 1m base mark. By contrast in the West it was a largely quiet week in terms of fresh snow again with around 10-25cm at most areas in BC where
Fernie
has the country's deepest base still at 3m/10 feet. However that's starting to change with some 20-30cm falls in BC overnight to Thursday 3rd March. Whistler got a foot of snow and a massive snowfall of up to six feet is expected there in the coming week as the next giant snowstorm hits the Pacific Coast.
USA
A real mix of conditions in the US with some areas on both East and West coasts closing because it's too warm and wet whilst some resorts in California, Washington State and Alaska are posting more big snowfalls and the world's deepest snowpacks and season-to-date snowfall figures. Alyeska in Alaska leads the way on both the latter two counts and is the first resort to break through the 5m base mark with 515cm now lying on its upper runs. Mammoth has the deepest snow south of the Canadian border on 420cm (nearly 14 feet) and after no fresh snow reported in the last seven days there expects to be hit by a mssive white deluge of up to 1.8m (six feet) of snow over the next few days. Other Californian resorts are expecting similar huge falls and the heavy snow is expected to continue across Western US states to areas in Colorado, Utah and Wyoming are also due to be dumped on big time.