Clavière
Ski Resort Guide
Clavière

,

Italy
Rated: 3/5 (from 6 ratings)
Ski Area Highlights
Recommended For
Expert Skiers, Intermediates, Beginners and Snowfall!
Total Piste Length

33km

21 miles

Highest Lift

2,300m

7,546ft

Resort Height

1,750m

5,741ft

Nearest Airports
Turin Caselle and Chambery
Save Money on Ski Hire

Save up to 50%
Free Snow Reports by e-Mail
Sign Up Here
Clavière
Italy's oldest resort has a border post at one end of the village and is a ten minute walk from Montgènevre, France. The resort is very relaxed, with friendly and hospitable residents and some lovely hotel bars. It is on the long and interesting Milky Way circuit.
Summary
The Italian ski resort of Clavière is in the Italian Alps at an altitude of 1,750m5,741ft, with 33km21 miles of marked runs.
Clavière is part of the Milky Way ski area with access to 933km580 miles of downhill skiing, with 598 marked pistes, served by a total of 175 ski lifts. In addition to the skiing in Clavière itself (33km21 miles of pisted ski runs), the appropriate ski Lift Pass will allow you to ski or snowboard in the other Milky Way ski resorts of Sansicario, Sauze d'Oulx, Sestrière and Montgenèvre.
The ski resort itself is at 1,750m5,741ft, so skiing or boarding back to the resort is usually possible. With ski lifts as high as 2,300m7,546ft, snow cover is generally reliable.
Snow and Weather
When will it snow in Clavière?
There is currently no significant snow in the 7-day forecast for Clavière.
See our long-range Snow Forecast for the latest update, or Join our Snow Mail Here
Snow this week
Snow Forecast by day for Clavière

| Thu | Fri | Sat | Sun | Mon | Tue | Wed |
| --- | --- | --- | --- | --- | --- | --- |
| | | | | | | |
| | | | | | | |
| | | | | | | |
| | | | | | | |
Ski Area Stats
Clavière Ski Area
Piste and Lift Stats
Black Pistes
Expert Trails

42

42km

26 miles

Red Pistes
Intermediate Runs

118

118km

73 miles

Blue Pistes
Easy Trails

54

54km

34 miles

Green Pistes
Beginner Runs

 7 

7km

4 miles

Downhill
Total Length

33km

21 miles

Cross Country
Total Length

10km

6 miles

Ski Lifts
Number of Lifts
12
The Milky Way Ski Area
Piste and Lift Stats
Black Pistes
Expert Trails

114

Red Pistes
Intermediate Runs

309

Blue Pistes
Easy Trails

142

Green Pistes
Beginner Runs

33

Downhill
Total Length

933km

580 miles

Ski Lifts
Number of Lifts
175
Altitudes
Clavière Ski Area Heights
Lift Heights and Resort Altitude
Highest Lift

2,300m

7,546ft

Lowest Piste

1,760m

5,774ft

Resort Altitude (Clavière)

1,750m

5,741ft

Max Vertical

550m

1,804ft
Ratings & Suitability
Ratings for Clavière

| | |
| --- | --- |
| Expert Skiers | |
| Intermediate Skiers | |
| Beginners | |
| Snowboarding | |
| Snow | |
| Apres-Ski | |
Clavière Overview
The Vialattea - known in English as The Milky Way - is an international skiing area consisting of five Piedmontese resorts, Sestriere, Sauze d'Oulx, Sansicario, Cesana, Claviere and Montgenevre in France. It is one of the world's largest ski-lift linked areas with more than 200 connected runs, for a total of 400km. The 90 lifts range from an altitude of 1350m in Cesana to 2800m at Mount Motta, a peak that gives a magnificent view of the surrounding mountains allowing skiers to appreciate the vastness and beauty of the area.
The region has staged the Alpine Ski World Championships in 1997, many World Cup Events and the XX Winter Olympic Games Torino 2006.
Vialattea is famed for its huge sunny, snowy expanses, panoramic runs that connect ancient and traditional villages with modern towns that provide all comforts and entertainment. The vastness and variety of the area will satisfy the most demanding skiers, thanks to long and difficult runs, as well as those that are approaching this world of skiing for the first time.
The major resorts on the circuit include the only French resort, and indeed a pioneer of skiing in France, Montgenèvre, which could be described as one of the original altitude ski resorts. The area, a few hundred metres from the Italian border, has been inhabited since prehistoric times and has seen trans-European travellers passing through for millennia, including famous names like Julius Ceasar, and Hannibal with his herd of elephants and, later on, Napoleon.
On the Italian side of the border is Claviere, Italy's oldest resort, which has a border post at one end of the village and is a ten minute walk from Montgènevre if you don't go by ski. The resort is very relaxed, with friendly and hospitable residents and some lovely hotel bars.
The circuit dips to its lowest point at the small traditional village of Cesana before climbing up to the rapidly expanding Sansicario, a modern, low-level and tasteful purpose-built complex. This hosted the biathlon events in the Olympics.
One of the world's pioneering ski areas, Sestrière was built by the Fiat car company in 1934. The mountain-top Possetto hotel first opened through the winter a decade earlier and more lifts and hotels opened before 1934. It was one of the earliest and still one of the highest purpose built ski stations.
Sitting on a sunny plateau, snow cover is guaranteed thanks to both altitude and one of the world's most extensive snow making operations. At the time of its creation it was one of the first resorts in the world with modern hotels and a ski lift system where it was possible to take a family on a relatively economic ski trip - the model copied by the French purpose built centres of thirty years later.
Although a very hi tec and modern ski centre, Sestrière is located in an area of great history and culture, dating back to neolithic sites, but rich in Roman and later remains.
The resort has a long history of ski racing from the first Kandahar contests of the 1930s through to the world Championships, nearly 100 international world contests have been staged. The list of great racers who have won here over the decades is astonishing and includes Jean-Claude Killy, Ingemar Stenmark, Pirmin Zurbriggen to name but a few. Alberto Tomba won his first ever World Cup race at Sestrière. The World Championship race runs on the Kandahar Slalom and Kandahar Banchetta are open for good recreational downhillers to enjoy.
During the Winter Olympics Torino 2006, Sestrière hosted some of the Alpine ski competitions.
Sauze d'Oulx is located on a high sunny 'balcony' in the Susa Valley, the resort is surrounded by larch forest above. The trails cut down through this natural amphitheatre have an excellent snow record.
Although Sauze still has a delightful ancient heart of stone buildings, narrow streets and a cobbled square with water fountain, as well as locals prepared to dress in traditional attire for ancient festivals, these are all somewhat swamped by the newer developments all around. Sauze d'Oulx has matured to some extent in recent years, and although the resort is still one of the liveliest ski centres in the world, the occasionally unpleasant 'rowdy' element has moved on. The resort hosted freestyle events at the 2006 Olympics.
Of course the Vialattea is also one of the few ski areas in the world where you can ski across an international border. Until recently it was necessary to ensure you had a passport on you when you crossed the border by ski lift, but the border guards at the top of Clavière's chairlifts appear to have moved on, thanks to the ending of travel restrictions within European Community countries in mainland Europe.
Notable Ski Runs
The longest possible descent in Clavière is 6km4 miles long and the most difficult run is the 'Kandahar Banchetta', which is 3km2 miles in length.
Skiing
Sestrière is the central point of a vast trail network which extends over to Sauze d'Oulx and in the other direction to Sansicario, Cesana and Claviere over to Montgenèvre. The network is also connected by gondola to the village of Pragelatio, a centre for Nordic events at the 2006 Olympics. In this immense area with more than 400km of runs there is something for everyone, from beginners to experts.
Sestrière's skiing has been well designed from the start. The vast snowy bowl, largely above the tree line, gave the planners a blank sheet to play with.
Beginners runs fan out above the ski school meeting point in the resort' centre. and a special lift tickets given relevant limited lift access for beginners only is also available. Experts have fewer trails just for them but heli-skiing is popular in the area. Runs in the Amphitaeatro bowl and the blacks at the top of Sises and Motta are also highly regarded.
Intermediates will enjoy Sestrières skiing the most, using the two main local areas of Banchetta and Sises. There are runs of all kinds from short steep moguls to long wide motorway cruisers. It's easy to get over to the pleasant wooded trails above neighbouring Sauze d'Oulx. The trails over to Montgenèvre can be tackled by intermediate skiers via blues and reds. It is an exciting trip as you have the feeling of travelling from village to village. A full day should be allowed and some sectors, notably around the village of Cesana may not have adequate snow cover except at the height of the season but lift and snowmaking improvements means these tricky areas are easier to avoid than they once were.
A run good skiers should not miss in Sestriere is Mount Sises (which also gives access to excellent off piste from the slopes of Valle Ripa and Vallone del Chisonetto). You reach the top (2600m) with the Cit Roc chairlift and then a ski-lift. The run is steep but wide in the highest part then flatter around the Mount Alpette and becoming once again quite vertical under the chair lift where the old ski lift once passed.
Sauze d'Oulx's ski area can be accessed from four different points around the village, all served by chair lifts and linked at resort level by a ski bus. As the resort is built on quite a steep hillside and all the lifts leave from the upper outskirts of the village, this bus is invaluable for many guests.
Beginners have a village level nursery slope at the base of the Clotes chair, but most teaching takes place at Sportina, a plateau area half way up the mountain from which many lifts radiate out and there are a number of short beginner drags. Sportina can be reached quickly by a quad chairlift.
Intermediates will get the most out of this great varied terrain and enjoy the feeling of travel over to the neighbouring areas. Reasonable intermediates can make the Milky Way link in reasonable snow conditions by skiing over to Sansicario, taking the (unskiable) chairlift link across the top of Cesana and then skiing on above Clavière, over the border to Montgenèvre in France. Remember to check ahead for piste conditions all the way over and leave early to be on the safe side.
Expert skiers in Sauze will find some fun off-piste amongst the larch woods of the lower slopes or up in the higher powder bowls. There are a variety of off piste routes which a guide can show you that descend 1300m from the top of Fratieve to the valley.
Montgenèvre's skiing marks the Western end of the Milky Way circuit; it's the only French resort on it. Skiing takes place on both sides of the main road that runs through the resort and over the pass into Italy. The area is most fun for intermediates who will enjoy the endless variety of trails above the treeline and then plunging down through the forest. Popular routes include the wide runs down from Les Angles at the top of the resort and the long red from Le Chavlet across the Valley.
Beginners have wide sunny slopes by the village and, because of the altitude, backed up with snowmaking, the convenience of village level nursery slopes is ensured throughout the season - unlike at many other famous but lower altitude resorts. The altitude also means that Montgenèvre can genuinely maintain a sunshine record that is the envy of many, but doesn't melt too much of the snow.
Intermediates have the whole Milky Way ahead of them. Experts may have to travel about to find a huge amount of challenging terrain, or venture off piste with a guide. Nonetheless there are seven marked black pistes at Montgenèvre alone. These are dotted all around the mountain, but the 'off the beaten track' Col de l'Alpet area on the 'back route' to Clavière 2430 metres is a favourite area for bumps. Heliskiing from Montgenèvre: 2 drop off points on the Italian peaks over 3000 metres.
In Sestriere its possibile to ski at night on the floodlit run where many ski champions have battled it out in World Cup competitions
There are a variety of pistes to suit all levels of skier ability, from Beginner to Expert.
Snowboarding
Snowboarding is a popular on the Via Lattea where fast new chairlifts have made moving around much easier. Sestriere has hosted Snowboard World Cups and Sauze d'Oulx has the party atmosphere.
There are four snowparks - one at each end of the circuit in Montgenevre, in Sestriere, in Sauze D'Oulx and Cesana San Sicario. Montgenèvre's dedicated snowboard park above the resort, fenced off from the main terrain and designed for maximum air and to enable the best acrobatics. The local terrain offers good and varied free riding.
Infrastructure
Ski Lift Capacity
The 12 ski lifts are able to uplift 90,000 skiers and snowboarders every hour.
Snow Making
Snow-making is available, on 40km25 miles of ski runs, with 250 snow cannons.
Season Dates
When is Clavière open?
We don't currently have confirmed season dates, but hope to soon.
Usual opening is early December, and usual closing is Mid April.
NOTE:- Ski area, lift and piste opening is subject to Current Snow Conditions.
COVID-19 / Coronavirus
We don't yet have specific details of the COVID-19 precautions being taken in Clavière, but they are likely to include most of the following :-
Face masks required on lifts, and in shops.
Social distancing in public areas.
Reduced lift capacity.
Extensive disinfection / sanitization.
French Ski Resort COVID-19 Measures describes further measures that may also be applied.
Visit the Clavière Tourist Office for the latest.
Talking about Clavière
Mentions in recent J2Ski News Items and Snow Reports from our users...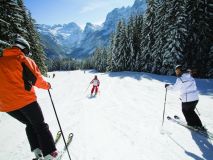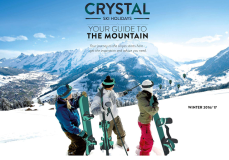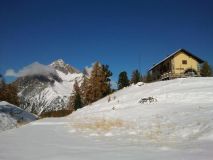 Aprés Ski
Claviere has a fairly limited apres ski scene with a handful of mostly hotel bars stretched along the main street.
It has stepped up tempo in recent years however with the Disco Pub Murphy's Igloo one of four dedicated bar-nightspots. You can also visit Ski Legends or brave the Gallo Cedrone's karaoke bar and check out The Gran Bouc's usually popular bar.
Other evening activities include the amusement arcade and, if it's cold enough, a natural ice rink.