J2Ski Snow Report July 2022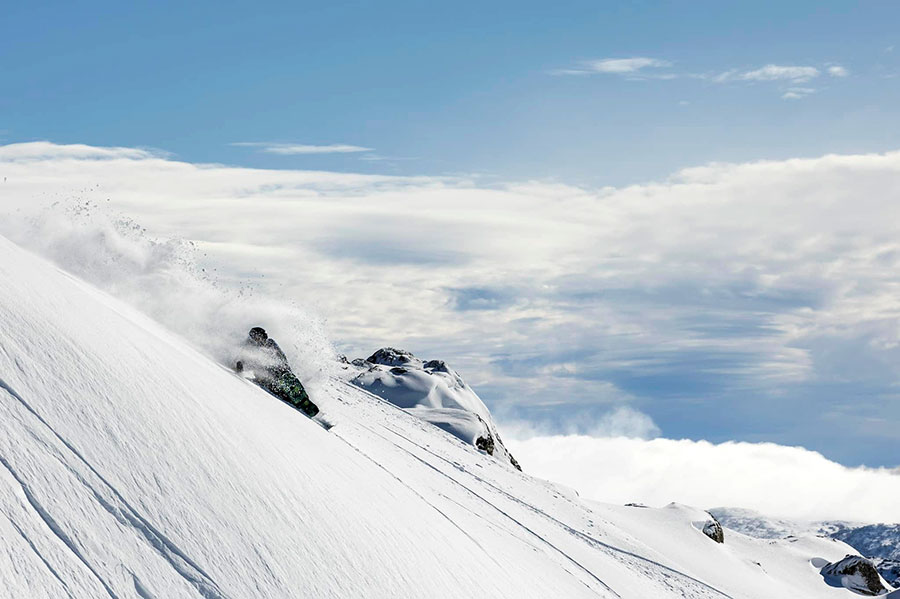 So that was Perisher, Australia, last week... not too shabby at all!
Great conditions in Australia!
The Snow Headlines - July 2022
- Molltal and Val d'Isere decide not to open for summer skiing due to poor conditions.
- Best start to winter for more than 20 years in Australia after big June snowfall.
- Canada's Sunshine ski area opens in July for first time since 1991.
- Norway's glacier areas say summer skiing 2022 good, thanks to 21-22 snowfall and cool June.
- Whistler re-opens Blackcomb glacier for summer skiing, for first time in three years.
- After a warm May a big snowstorm arrives with perfect timing for NZ's season start.
- Deepest base in the world for June is at Fonna in Norway at over 7 metres.
- Asia's 21-22 ski season ends in July with the last open area in Japan due to close.
We are now into full winter, or summer, depending on which half of the world you're looking at. Ski areas in the southern hemisphere are rapidly approaching the peak of the 2022 season and those in the northern hemisphere are heading for what will probably be the hottest days of summer (if they've not already occurred). With the summer solstice behind us in the northern hemisphere, the days are now getting a little shorter and we're on the downhill track to next winter.
June saw spectacular snowfalls first in the Andes, then Australia and finally New Zealand, with ski areas in each posting up to a metre accumulation. This was perfectly timed – pretty much - for the season starts with some Aussie areas opening early and deeming the start of winter 2022 the best in over 20 years.
In New Zealand, it was more relief after an unusually warm May and early June gave way to a major Antarctic snowstorm. Only in the Andes was the snowfall a bit early for some and accumulated levels had dropped before resorts opened later in the month.
But the main relief, besides the arrival of snowfall, across the southern hemisphere, was the return of international guests, in most cases for the first time in 3 years.
Back in the northern hemisphere, June was another hot month at times in the Alps and Val d'Isere caused a surprise when it announced it wasn't opening for summer skiing this year due to poor conditions. Neighbouring
Tignes
did open but warned conditions are so marginal it could close again at any time.
Further north in Scandinavia it's a better picture, apparently. There are ten centres (providing access to nine glaciers) open in Europe altogether.
Elsewhere there's one centre open each for July in Asia and North America. Japan's Gassan is expected to close for 2022 during July but
Timberline
in the US aims to stay open until September.
Actually in North America, three other areas are open as we start July, with two open just to those booked in summer ski camps and Sunshine near
Banff
re-opening for skiing in July – until this Sunday 3rd at least – for the first time in more than three decades.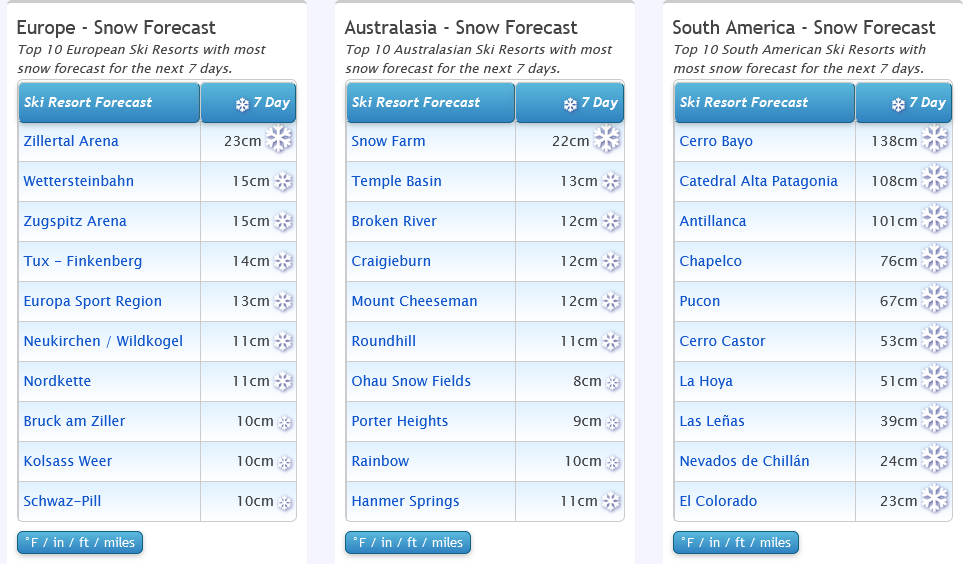 Incoming for South America...
Re-publication :- our Snow Report Summary, being the text above this line, is free to re-publish, but must be clearly credited to www.J2ski.com with text including "J2Ski Snow Report" linked to this page - thank you.
Southern Hemisphere

The vast majority of ski areas in South America are now open and perhaps the first point to note is that this is the first fairly-normal-starting season since 2019, with pandemic restrictions in the main ski nations of South America, Southern Africa, Australia and New Zealand eased enough to allow international arrivals, under certain circumstances, for the first winter in three years.
Restrictions are still in place and they vary.
In the Andes, there aren't many requirements in terms of vaccination but international arrivals must show on arrival at the border they have adequate funds and insurance to cover any eventuality, including medical evacuation, if unlucky enough to need it.
In Lesotho vaccinated skiers can enter but the unvaccinated still need a recent negative PCR test result at the border. That requirement has been dropped in the past few weeks for New Zealand but still, there are restrictions on which passport holders can enter. New Zealand was famously open through the pandemic years for new Zealanders and for much of that time ski areas could operate fairly normally, just without international staff or guests.
As to actual conditions, things have started well in most countries. Particularly notable is Australia where a huge pre-season snowfall led first to early openings at the start of June, then areas like
Falls Creek
being fully open earlier than ever before. June stayed mostly cold with more snowfall leading to some resorts claiming the best season-start in more than two decades.
New Zealand had a more challenging May and early June leading resorts to warn they might not open on time due to inadequate snow cover. Things changed dramatically when a huge storm got here too and instead resorts delayed opening due to blizzard conditions and three-metre-high drifting snow! Things have quietened down and most resorts opened over the past three weeks but there's been a battle to dig out and make terrain avalanche safe. All in all, though, another promising season start.
Across in South America, the Andes saw some good snowfalls in late May and early June but by the time resorts opened just after halfway through the month a lot of this had melted from lower slopes and the cover wasn't looking great. The good news is that more fronts moved in over the last week of June, bolstering cover here too. There's particular excitement for ski areas like
Portillo
in Chile, which opened a week early for the 2022 season after a 90cm snowfall, and Argentina's
Las Leñas
, which hadn't opened at all, or hardly at all, for the past two seasons.
You can also currently ski in Southern Africa at Afriski in Lesotho on about a 1km run, mostly created with machine-made snow, although the centre has had some decent natural snow dumps too, most recently over the final weekend of June.
South Africa's only resort Tiffindell says it will miss its third successive winter but hopes to re-open in 2023.
The Alps
The Alps saw some very hot weather in June, as in May, with temperatures at 3,000m reaching +10C, not great news for the glacial ice or the snow lying on top of it.
Six summer ski areas are open as we start the month though, with a further two that would normally be open deciding to give summer a miss in 2022.
Val d'Isère
announced it wouldn't offer summer skiing this year citing record warm temperatures at altitude in May, and lower than average snowfall last winter meaning a thinner base than usual was thawing fast. Of course, with typical irony, it was actually snowing on the first day it had been due to open last month.
Austria's Molltal glacier also decided not to open this summer, saying it will do in the autumn. Here it's not clear if the reasons are environmental or financial. Both have impacted its operations in recent summers.
So where IS still open this July? Well,
Hintertux
and the
Kitzsteinhorn
are the two Austrian choices. The Hintertux still has nearly two meres of snow lying and claims the largest amount of open terrain in the northern hemisphere at present, some 20km. The Kitzsteinhorn above
Kaprun
is entering the final month of its 10-month ski season and is expected to close on July 19th.
That's the same weekend that Switzerland's
Saas-Fee
should be opening for its 22-23 season, joining the year-round glacier slopes above
Zermatt
which can also be accessed through July from Cervinia.
The other Italian summer ski operation currently open is Passo Stelvio, a particularly popular choice with race teams.
Although Val d'Isère didn't open, Tignes did in mid-July, warning though that conditions were marginal and that it might be forced to close at any point. Skiers are warned not to buy a ski pass more than two days ahead and it has been closed several days already in its first 10 days of operation and is reporting only a 15cm base. It joins already-open Les 2 Alpes and both plan to stay open through July, hopefully.
Northern Europe

It's currently looking rather better for Norway's three glacier ski areas than it did a year ago when warm, windy weather led to rapid thawing and several centres closing very early. So far, touch wood, the Scandinavian centres are saying they got better winter for snowfall than further south in the Alps and that as a consequence they're hoping for a longer summer ski season this year.
The stats do seem to match up with most centres posting 2-3 metre bases, about double that for centres open in the Alps. Spring temperatures have also been cooler in the north.
The three centres are
Folgefonn
(Fonna), Stryn and Scandinavia's highest slopes on Galdhopiggen. Stryn says that its season will end on the 17th. Fonna is posting the deepest base of any open area in the world at present with the snow more than 7 metres thick on its upper slopes.
North America
There's only one ski area still open really in North America – the Palmer permanent snowfield at Timberline on Mount Hood in Oregon. Things weren't looking great for summer skiing in 2022 there at the end of winter, but a cold spring increased the base to 5 metres. It's now back down closer to three metres but that should still hopefully see it through July and, ideally, August.
Elsewhere the Blackcomb Glacier has reopened for summer skiing and boarding for the first time in three years but has changed the rules so that only those attending private camps can use it. The same is true at a terrain park maintained at
Copper Mountain
in Colorado.
On the final weekend of June, Sunshine ski area near Banff, which had only closed for 21-22 just over a month before in late May, announced it would re-open for six days to Sunday, July 3rd, conditions permitting. It's its first July opening since 1991, with the focus on being open for Canada's national day, July 1st. It says plenty of the nine metres of snowfall it received through last winter is still lying and its had fresh snowfall in the final week of June.
Asia
Japan's 'Gassan Glacier' sole summer ski centre which opens each April to July is open again and it is possible for tourists to enter the country once more, so long as they're part of organised groups. Gassan's base has dropped from over 8 metres when it opened 12 weeks ago to less than two now and it will probably close as usual in the next four weeks, especially with parts of Japan sweltering under the hottest temperatures in more than a century.