J2Ski Snow Report 31st March 2022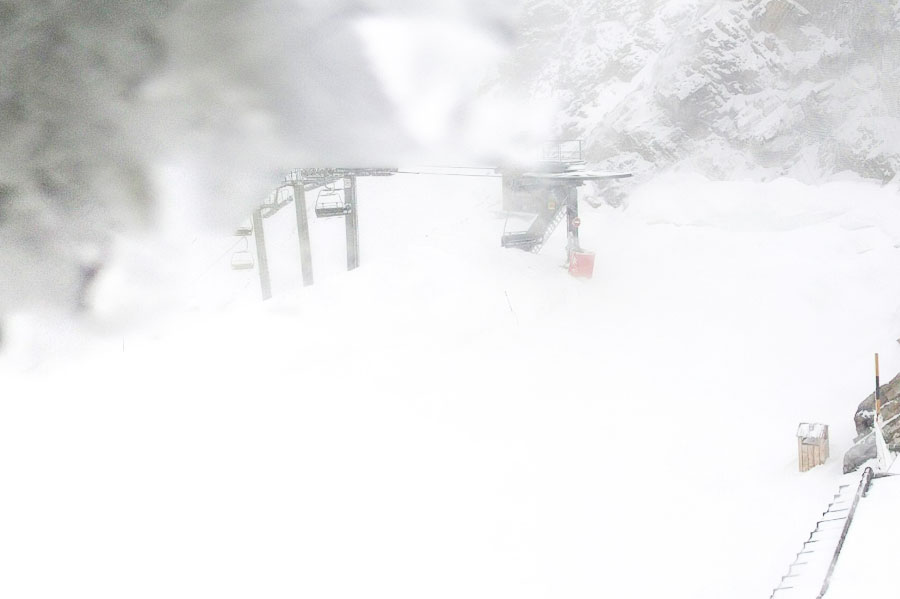 Snow-covered webcams are always a welcome sight... it's snowing in La Clusaz, France... right now!
Winter's back! For a while anyway...
The Snow Headlines - 31st March
- Temperatures drop back down below freezing down to the valley floors in the Alps.
- Significant snowfall in North-western North America to end March.
- Fresh snowfall underway in the Alps to start April.
- Some snowfall for Scotland, but unclear yet if enough for closed areas to re-open.
- Ski areas in Alberta report up to 50cm (20") of snowfall in the last 7 days.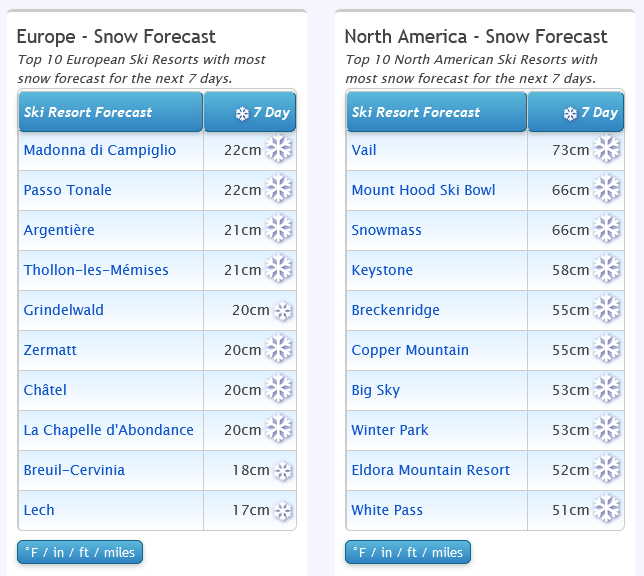 Snow all over the place...
Re-publication :- our Snow Report Summary, being the text above this line, is free to re-publish, but must be clearly credited to www.J2ski.com with text including "J2Ski Snow Report" linked to this page - thank you.
World Overview
Europe
There's a big change of weather as we enter April in the Alps with temperatures dropping and significant fresh snowfall expected over the next 72 hours for many areas – all potentially good news for Easter holiday skiers after the largely warm and dry March.
The snow is falling over a wider area too with Scottish slopes seeing snowfall, albeit a bit too late in the day for some centres that have already closed early for the season.
North America
Mixed messages from different parts of North America with ski areas around
Lake Tahoe
warning of thin, old snow cover in places, while further north in Alberta a foot (30cm) of fresh snowfall started the week with another similar fall midweek too.
To be fair even the resorts that were warning of thin cover in California saw six-inches of fresh snow on Tuesday so things may be looking up.
Otherwise, the continent is divided, as is normal at this time of year, between ski areas saying they're closing earlier than expected due to a poor winter/spring and those – most of which are the bigger, better-known areas, saying they'll stay open later than planned due to good late-season conditions.
Europe
Austria
A real change in the weather in Austria over the coming week with a return of winter.
Temperatures have already been dropping as we've reached the end of March and will be below freezing right down to resort level in most Austrian ski areas (and across the Alps) through the weekend and into next week. Quite a change after the warm, sunny and dry weeks that have dominated through most of March.
It's a little ironic as a swathe of the country's smaller ski areas will be closing after skiing on Sunday just as snow conditions are likely to be at the best they've been for a month, but that said many of the country's bigger areas will be staying open through the fortnight up to the Easter weekend and some like
Ischgl
, Solden and
Obertauern
are open to the start of May.
France
Colder and snowier weather moved into France on Wednesday and the snow that has started falling is expected to continue dumping into next week, the first of the pre-Easter holiday forecast.
With temperatures back around freezing point at resort level and way below in the mountains, it's the coldest and snowiest it has been for the best part of a month.
Most French resorts are open to Easter weekend and some of the big names like
Chamonix
,
Tignes
and
Val Thorens
through into May. Base depths are up to 2.5 metres and should start getting deeper for the first time in a month if these 30-60cm snow accumulations forecast over the next few days arrive as expected. We should be seeing some of the best conditions since February.
Italy
The forecast is looking increasingly snowy for Italy as well through the weekend with the warm, dry, sunny weather ending and temperatures set to plummet over the next few days.
Here too, snowfalls could be among the most significant of the season with 30-60cm (1-2 feet) expected in both the Alps and the Dolomites. Most of the ski areas in the country are expected to stay open through to Easter and some like Cervinia and Cortina into May.
Although the cover is fairly thin in most areas (1-2 feet), most ski areas in the Dolomites are fully open. The Cervinia-
Zermatt
ski area is currently reporting the largest area open in the country although that includes the skiing on the Swiss side above Zermatt.
Switzerland
After a mostly warm, dry and sunny March, temperatures have finally dipped in the Swiss Alps and snow has begun falling again and is expected to continue to do so at least through into next week.
Accumulations are generally going to be light to moderate (showers) with sunny spells in between but a heavier fall is expected towards the weekend and accumulations by the end of the weekend could be in the 30-60cm (1-2 feet) bracket up high, good news for Easter week skiers.
Some smaller Swiss centres have called it a day on the 21-22 season but all of the bigger centres remain open, most at least through to Easter.
Scandinavia
Scandinavia has stayed surprisingly settled this past week as the weather has turned more changeable across much of the rest of Europe. That said there have been snowfalls, including some of the biggest on the continent this week, with little Roldal reporting a 30cm accumulation.
It's looking good for the next month or so of the season in Finland, Norway and Sweden though with most centres staying open, longer daylight hours and temperatures staying close to freezing, preserving the snow quantity and quality longer than further south.
Pyrenees & Sierra Nevada
The Pyrenees have generally had colder temperatures and more snowfalls in March than the Alps and although the end of the month and the start of April is more of an even playing field, the Pyrenees are keeping up with a period of moderate snow showers interspersed by sunny spells.
Forecasting models predict accumulations over the five days up to Sunday could be as much as 50cm (20") for some resorts in the region with temperatures generally staying below freezing right down to the valley floors – unusual for early April.
Some smaller centres have already begun closing but the majority including all the larger resorts remain open, most to Easter.
Grandvalira
in Andorra, the largest, reports about 85% of its slopes open and an average base depth of a metre.
Europe's most southerly ski area,
Sierra Nevada
, posted an unusual maximum 5 on the scale of 5 off-piste avalanche danger warning at the start of the week, blaming the Saharan dust cloud for destabilising the snowpack.
Scotland
Scottish snow suffered badly from nearly a fortnight of warm, sunny weather in the latter half of March.
The Lecht
lost all its snow and is closed at present;
Glenshee
, likewise, announced they are closed for the season. With its funicular still out of action, Cairngorm said access to its remaining snow up the mountain involved a hike up to the snowline, and has closed outside weekends to preserve what's left.
Better conditions in the West where the remaining snow at the top of the slopes at
Nevis Range
can be reached by gondola then quad chairlift and
Glencoe
continues to have the most snow remaining with much of the terrain still open although with thin cover at the base.
The good news though is a dramatic change in the weather, back to sub-zero with the first fresh snowfall in weeks. This should improve conditions but it is not yet clear if it's going to be enough for any terrain to re-open with temperatures warming again, if not so warm as it has been, from the weekend.
Eastern Europe
Having been one of the coldest and snowiest parts of Europe for much of March, the weather is finally heading back towards seasonal norms in Eastern Europe with temperatures climbing back up towards +10C in valleys and above freezing on higher slopes too.
Despite the warmer weather though, a few light snow flurries are possible and indeed expected during colder periods, interspersed with sunny spells. Most areas are still open and particularly down in Bulgaria posting good bases thanks to all the March snow. Smaller centres have closed but the well-known resorts plan to stay open to Easter weekend.
North America

Canada
Some great late-March weather in Canada with significant snowfalls in the west and things remaining cold and snowy in the East.
Marmot Basin, up near
Jasper
in Alberta, has done particularly well, posting two 25cm (10 inch) accumulations in the past seven days. It's one of the centres open to the start of May, along with resorts like Sunshine near
Banff
to its south and
Whistler Blackcomb
, which just announced that its summer skiing in June and July will be back this year for the first time since 2019, although now only accessible to those who sign up for private camps.
Some of Canada's smaller ski areas have started closing and most of the better-known areas are planning to join them over the next few weekends up to Easter.
USA
Light to moderate snowfalls have been reported and welcomed across the USA from California to Vermont, giving a very helpful (and in some cases much needed) refresh of snow cover.
Slopes around Lake Tahoe and down in Mammoth further south reported-3-6 inches of snowfall midweek, and there was also snow for the Rockies and in New England where
Killington
, one of several centres there planning to stay open into May, announced it was still cold enough for it to keep snowmaking too.
As with most of the northern hemisphere, April marks the end of the ski season for more than 90% of US resorts with smaller centres already closed and most of the rest planning to window at Easter weekend in just over a fortnight or before.
The snow's forecast to keep coming, so look out for our update next week...