J2Ski Snow Report 26th November 2020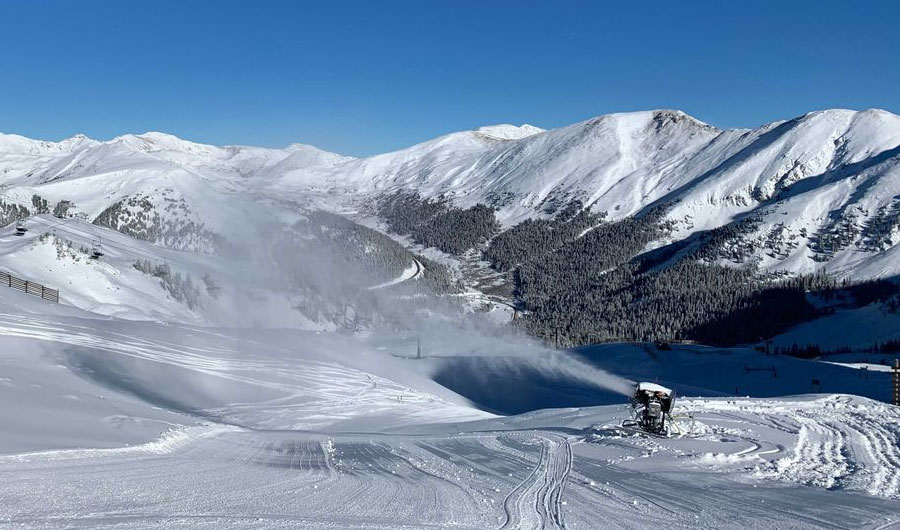 Arapahoe Basin, USA, getting ready for Thanksgiving skiing...
Doubts over Xmas skiing causing concern in the mountains.
The mountains are waiting for us... please stay safe and follow local advice on travel. We can't all go skiing just yet but we can dream!
The Snow Headlines - 26th November
- French President says ski areas in France may not open until January.
- Many ski areas open across the USA, but virus case increase sparks fears of closure.
- Winter is coming to Europe from this weekend (cold, but not much snow - for now).
-
Sierra Nevada
postpones opening and says unclear when it will be able to open.
- Predominantly dry weather in the Alps limits snow-cover on lower slopes.
- Heavy snowfall in Western Canada brings successive powder days for open areas.
Another roller coaster week is underway in the mountains, and as it often has been since last March, the talk is of the virus, not of the snow. That may actually be a hidden blessing, though no one really cares at this stage, as there's precious little snow about for much of Europe, below the good coverage on the glaciers, and if they weren't forced to close anyway by the virus we'd probably be getting nervous about the lack of snow!
The good news is a temperature drop and some snowfall is expected from the weekend.
The bad news is that we're currently waiting to see if ski areas in the EU and perhaps still-open Switzerland as well, will be open at all for Christmas and New Year. Several national and regional leaders are calling for an EU-wide plan to delay opening until January to avoid fuelling the pandemic.
Similar debates are playing out in North America although here restrictions are tending to be province by province in Canada and state by state in the US, rather than national. Infection rates are rising in North America whilst dipping now in much of Western Europe.
Restrictions are increasing in Canada and the US; with more stringent measures in places like Alberta excluding ski area operations. Dozens of ski areas have however opened in the past few days across the continent with more good snowfalls in the West and finally cold weather for snow-making and some natural snowfall too in the East.
In the Alpine Forecast
Cooler temperatures, but not much snow in the forecast as yet.

Some unusual names topping the forecast snowfall charts this week!
Re-publication :- our Snow Report Summary, being the text above this line, is free to re-publish, but must be clearly credited to www.J2ski.com with text including "J2Ski Snow Report" linked to this page - thank you.
Europe
Austria
Austria is nearing the end of its lockdown – which runs into the first week of December - but at time of writing, there's no news on what comes next for ski areas. There's talk of an EU-wide move to stop them re-opening until January but reports indicate this idea is less popular in Austria than in France and Italy and perhaps Germany. In any case, all Austrian ski areas are closed to the general skiing public for another week.
There have however been international competitions with World Cup Freestyle on the
Stubai
glacier last weekend and a delayed parallel slalom World Cup competition due in Zurs this coming weekend. The weather has continued mostly sunny, which means good conditions up on glaciers. Lower down the warm weather means slopes aren't very snowy yet, but colder temps are expected at the weekend.
France
France has been dominating ski world headlines over the past few days following the announcement by the country's President Macron that he thought it "impossible" that ski areas there would be able to open for Christmas/New Year. M.Macron's announcement came as some surprise to the ski areas, who were not expecting a decision until next week.
A final decision is promised in the next 10 days and the president is hoping for a united response from EU ski nations so that all countries have the same policy on opening.
Some ski resorts including
Alpe d'Huez
and
Morzine
have already said they plan to open for visitors over Christmas to enjoy the 'wide open spaces' even if ski lifts cannot open. If the country were not in lockdown
Val Thorens
would have opened for the season at the weekend and more would be doing so this coming weekend. The weather has been largely dry and sunny all week, although colder weather is expected from Sunday.
Italy
Italy remains in lockdown and at the present time, it's unclear if ski areas will be re-opening when the lockdown ends. The prime minister has advised Italians not to take their traditional Christmas ski break but has not yet talked about keeping ski areas closed after lockdown ends.
The weather has been largely clear and sunny and although mostly sub-zero on higher slopes, down in the valleys it has generally been well above freezing, so there's not much, if any, snow around at many areas even if they could open. Up high, conditions appear great though with snow accumulation from earlier in the autumn still lying. Several glaciers like Cervinia are open for professional team training and report excellent conditions.
Switzerland
Switzerland continues to buck the Alpine trend in terms of being open to skiers while the three other main ski nations are in their November lockdowns. All of the open areas continue to stress that virus prevention is paramount and in several cantons almost all facilities, including public restaurants, are closed, although hotels and hotel restaurants for guest use are open.
It has been a predominantly dry and sunny week again, with great conditions reported on glaciers for those willing and able to get on the slopes. 11 Swiss ski area were open at the weekend and another half-dozen or so including
Leukerbad
, St Moritz and
Adelboden
are expected to open this coming weekend.
Saas-Fee
has more than 50km (30 miles) of runs open at present, more than anywhere else in the world and
Zermatt
, with a 2.2 metre base on its glacier, is posting the deepest base in the world but now only by an inch or so over the nearest contender in the Western US.
Scandinavia
After a warm few weeks temperatures have been dropping down to seasonal normal in Scandinavia, there's been some natural snowfall, and snow-making systems have been firing up. Not many areas are open still, partly due to the warm spell, partly virus concerns, but a lot of the region's bigger areas are expected to open this coming weekend. A few, notably Finland's
Ruka
and
Levi
, have already been open for two months, with Levi hosting World Cup ski racing last weekend.
The pandemic appears to be impacting different countries in the region to differing degrees. Current reports indicate Finland and Norway are doing fairly well and that ski areas will generally be opening but with low expectations of much international travel. In Sweden however, concerns are higher.
Pyrenees
After the regular snowfalls in October, November has been a rather warmer month in the Pyrenees and the snowline has moved back up the slopes. It has now got colder again and after another sunny few days, snowfall is forecast in the latter half of the weekend.
The lack of snow cover and pandemic spread concerns are muting the start of the season here too. Andorra is aiming to open on December 19th. Baqueira Beret has gone for December 11th, later than usual.
Scotland
A cold weather front in Scotland over the weekend brought in the first significant snow showers of the autumn, turning hilltops white for more than 24 hours for the first time since last spring. Most areas have said they plan to open for the season from mid-December, only
Nevis Range
saying it didn't expect to until overall pandemic, as well as snow conditions, improve.
Glencoe got a little more specific than most, saying they plan to fire up their all-weather snow-making system and create a sledging run from 5th December and open for skiing from the 19th, or earlier.
Eastern Europe
After the dry and warm November, there's been some good news for Bulgaria with colder temperatures allowing snow-making systems to fire up and even a light dusting of natural snowfall for
Pamporovo
at the weekend.
There's not much snow there for now though and daytime temperatures are still hitting the 'warm' level down in resort so it's looking like we'll be some way into December before ski areas can open.
North America
Canada
Western Canada has seen some great snowfalls over the past week or two with Sunshine ski area near
Banff
posting about a metre of snowfall in total over 7 days up to the start of this week. More big-name resorts including
Big Sky
and
Sun Peaks
have opened in BC and its colder again in Quebec after a warm few weeks and snow-making is under way. Pandemic restrictions are increasing but Alberta announced on Tuesday that ski areas could stay open for the time being. Resorts continue to stress the need for everyone to abide by operating rules to stay safe and "save the season."
USA
There's been a big jump in the number of ski areas open across the US in the past week. This does normally happen this week anyway as resorts try to open to attract Thanksgiving crowds, this year that's a little different though as the surging pandemic cases mean resorts are strictly limiting skier numbers in order to maintain social distancing and are generally selling out of tickets anyway.
The number of areas open is growing by the day but most ski states now have at least one ski area open and the likes of California and Colorado are at or past half-a-dozen.
Conditions have been pretty good in the West with up to 20cm more snowfall reported in recent days at some areas in Colorado and snow depth of over two metres already in Idaho and Washington State in the Northwest. The season has got underway at half a dozen resorts in the North East too. It had been too warm for snow-making there until recently, but temperatures dropped at the weekend and there's even been a small amount of natural snowfall.
Killington
,
Sugarloaf
and
Sunday River
are among the open areas.