J2Ski Snow Report - April 20th 2017
Winter has returned to (parts of) Europe!
We know we said last week was the last weekly snow report of the season... but there have been some big snowfalls in Europe and this odd season has gone for one more roll of the dice, so we thought we'd let you know...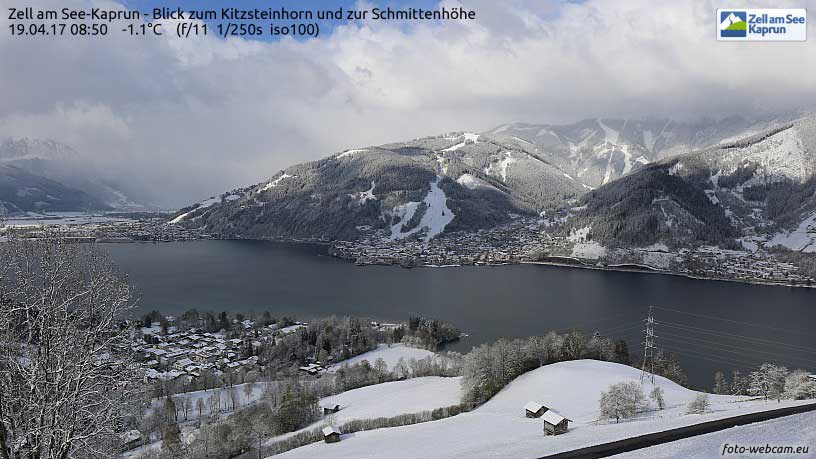 Snow came down to Zell-am-See this week
Top 100 Snowiest Ski Areas Worldwide
This Week's Snow Headlines
- 1.6m (over 5 feet) of snowfall reported in 72 hours by the Zugspitze glacier in Germany.
- Squaw Valley in California considering not closing this season.
- Up to 90cm (3 feet) of fresh snow at some still-open ski areas in Austria and Switzerland.
- Most ski asreas now closed in Eastern Europe but heavy snow in the Tatra mountains.
- More snowfall records broken in Western North America as heavy snow continues to fall.
- Record low Easter temperatures in Sweden.
Considering the 2016-17 ski season is now over for around three quarters of ski areas in the northern hemisphere (and of course is several months off starting in the southern) it seems ironic that there has been heavy snowfall this week in the central and eastern Alps.
With ski areas in parts of the Alps receiving much more snow, and down to lower levels, over Easter in mid-April than they did at Christmas and New Year, some seasoned ski season watchers are again suggesting that "winter is getting later" and that travel providers should consider planning accordingly. It is a similar scenario to how it has now been for the past three years.
The snow is not, however, falling everywhere - most ski areas in France, western Switzerland and Italy have not had any fresh snow worth reporting.
Across the Atlantic still-open ski areas in Western North America have seen more big snowfalls, breaking more seasonal records for snowfall volume and current snowpack depth at several centres. Squaw Valley, which already plans to stay open to July 4th, is considering remaining open right through to next season, its CEO has just said.
In the Forecast
Temperatures are forecast to moderate toward seasonal averages (they are currently well below for much of the Alpine region) over the next 5 to 7 days, although a further cold period may follow.
Eastern areas (Austria) look set to receive further new snow on Sunday, with another more substantial fall now looking likely in the early part of next week.
Mountains further west (northern French Alps, and Switzerland) may also join the party around mid-week with a 10C drop in temperature and the potential for snow from mid altitudes updwards.
Details are a little uncertain at this point, but those European ski areas still open - particularly in Austria - should have some great snow for their final week or two.
As always at this time of year; do check local conditions and resort opening times directly before travelling!
Going Skiing? Please upload a Photo Snow Report!
If you're in the mountains, please show us the snow! Check
Snow Reports from Ski Resorts
for a quick and easy way to upload pictures, straight from your phone.
Re-publication :- our Snow Report Summary, being the text above this line, is free to re-publish, but must be clearly credited to www.J2ski.com with text including "J2Ski Snow Report" linked to this page - thank you.
The Alps
Austria
A little under a third of Austria's leading ski areas remain open and they've been rewarded for their tenacity with some significant snowfalls since the weekend. Galtur, for example, over on the Swiss border has reported at least 20cm of fresh snow every day this week and is one of a group of Austrian, German and Swiss areas to now be reporting nearly a metre of snowfall this past week, transformed from soggy spring snow to mid-winter conditions. Lech and the
Silvretta
region have reported the most snow – around a metre each, with 90% of that falling since Sunday, but virtually all of Austria's resorts have had at least 20-40cm of snow, right down to low levels. Some Austrian resorts are open to the start of May with several of the country's glaciers including the
Stubai
and
Hintertux
open to June and beyond and they are amongst the beneficiaries receiving the fresh snow.
France
Around half of the ski areas in France remain open, though many of the remainder will close this weekend. Just a select few (Including
Chamonix
,
Tignes
, Val d'Isere and Val Thorens are due to stay open to the start of May after which, unlike the other three main Alpine ski nations, all French centres will close for 6 or 7 weeks until the summer ski season licks off in late June). The snowfall in the Alps has not really reached as far west as the French Alps and it has remained sunny (despite hopes of some snow at the weekend), as it has been for most of April; just the Chamonix Valley reporting 5cm of snow up top. So it is 'classic spring skiing' still – hard and icy first thing, great conditions for three or four hours, then sticky later on if you're above 1800m. Below that it's a bit of a non-starter.
Italy
About a quarter of Italian resorts are still operating but as with France, not much fresh snow to report and its mostly normal late-season freeze-thaw conditions at still-open centres.
Macugnaga
and Val Senales (in the closest parts of Italy to the snowy area where Austrian, German and Swiss ski areas are getting the snow) each reported 10cm of fresh snow on Monday/Tuesday but that was it. Most Italian areas will close this weekend or next. Cortina and Cervinia (Still with the deepest snow in the country, albeit now dipped below two metres at 1.9m) are amongst the few Italian centres planning to stay open to the start of May.
Switzerland
Around half of Swiss ski areas are still open and they've been rewarded by big snowfalls this week with most getting 30-60cm of fresh snow.
Engelberg
has reported the most new snow with over a metre in the past week, 85cm of that (just a few inches under three feet) in the last 72 hours. The country also still has the deepest bases in Europe, albeit down slightly on last week, with over 3.5m on upper slopes at
Andermatt
and over 4.5m on upper runs at
Gstaad
. A number of Swiss areas are open in to May (and
Zermatt
year round) and more snow is in the forecast, so a good end to April here.
Scotland
Scottish hills have had a dusting of fresh snow but not enough for anything to open. Although there have been optimistic posts showing how in around 2010 there was no snow in March but deep snow in late April, so far there's no sign that what some old hands believe is the worst season in Scotland for 35 years will make a dramatic late recovery. Cairngorm have announced plans to builds a dry slope in time for next winter if they get approval.
Pyrenees
All of the ski areas in Andorra have closed for the season but there are some centres open on the French and Spanish sides of the Pyrenees. It's fairly warm and there's been no fresh snow since the start of the month so we're clearly talking 'spring skiing' but the snow is still over 2m deep up top at
Cauterets
in France and over 1.5m deep at Baqueira Beret in Spain so there's plenty to slide about on for the final days of the season.
Scandinavia
It could be a good late burst to Scandinavia's ski season with parts of Sweden reporting record Easter lows at the weekend. Resorts here are typically open to the start of May and Norway's three glacier ski areas are starting to open (Fonna due to next weekend) to take up the slack. Bases are slowly thinning down to 40-80cm generally now and lonely
Geilo
reported fresh snow in Norway this week (8cm).
Storlien
in Sweden reported 20cm in 24 hours on Tuesday/Wednesday though.
Eastern Europe
Most ski areas in Eastern Europe are now closed for the season including most resorts in Bulgaria, Romania and Slovenia, but a few areas are still open and the Tatra mountains of the Czech and Slovak republics plus Poland are getting dumped on like the central and Eastern Alps. Štrbské Pleso in the Slovak republic is one still open and has reported 50cm of fresh snow this week so far.
North America
Canada
The vast majority of Canada's ski areas are now closed but those still open are enjoying more fresh snow. Whistler, which has a 3.7m base and is open to July (with a brief closure in late May) has had another 40cm of snow this week and Marmot Basin, Lake Louise and Sunshine 10-20cm. Conditions are of course best high up.
USA
Around two thirds of US resorts have closed including most on the East Coast although
Killington
and Sunday River remain open. There's been more snow in the West with Mammoth reporting 35cm of fresh snow and maintaining its 8m+ 'deepest base in the world' which it has had all year. Squaw Valley, with more than 6m of snow, is also open to July 4th and in fact its CEO has recently said that they're considering staying open all summer and autumn right through to the start of the 2017-18 season.