Our first Weekly Snow Report of November brings news of more resort openings (with some surprises!), but it's what's in the forecast that's really got our attention... winter is most certainly coming!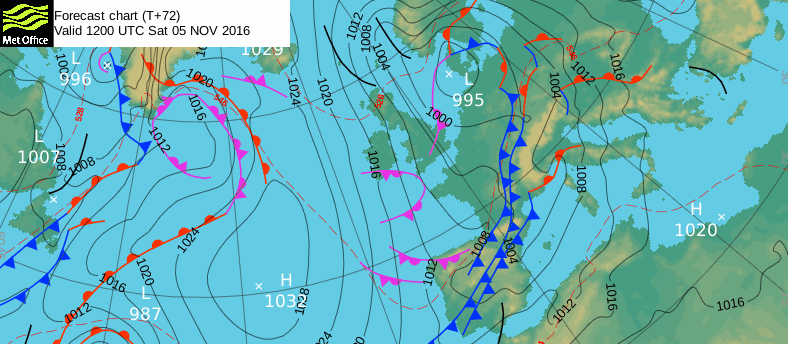 Met Office (UK) chart perfectly showing Saturday's Alpine weather front
This Week's Snow Headlines
-
Davos
unexpectedly opens three weeks early!
- Canadian ski season starting 3d November - earlier than expected.
- More areas aim to open in the US this coming weekend.
- Norwegian ski area opens with man-made snow, gets 20cm snowfall.
The main season is starting to take shape with more big name resorts beginning to join the glacier centres and early openers that had their lifts operating in October.
There's not been much fresh snow reported in central Europe over the past seven days but that is about to change with significant snow forecast in the Alps over the coming week. There has however been fresh snow up in Scandinavia with up to 25cm of fresh cover reported.
Across the Atlantic there has been good snowfall on both East and West Coasts with resorts reporting 30-50cm of fresh snow last weekend giving mid-winter conditions. Snow has also been falling in Asia on the Japanese Alps.
In the Southern Hemisphere the only resort still open, Mt Ruapehu, says its season will finally end this Sunday.
In the Forecast
All the forecast models are now indicating a cold November, but this weekend sees an exciting weather pattern develop. In broad terms, cold air moves South West from the North of Europe meeting warm and moist air pushing up from the South... and this promising mix will occur all along the main mountain ranges; The Alps, The Pyrenees and The Dolomites should all benefit. The snow line will be high in the South, but there are likely to be heavy localized falls of snow, with accumulations of more than one metre possible in places, and lighter snow across a wide area.
The change will feel spectacular in many mountain areas with today and tomorrow likely to be the best of warm and autumnal days, followed by sharp drops in temperature through the weekend as the snows arrive.
At present, the forecast models are all indicating a colder than average second week of November, with more snow to follow.
Of course (here we go being all cautious and spoiling the mood)
, it may all melt but it's a fine start to the month and the mountains are going to look spectacular by Monday!
Re-publication :- our Snow Report Summary, being the text above this line, is free to re-publish, but must be clearly credited to www.J2ski.com with text including "J2Ski Snow Report" linked to this page - thank you.
The Alps
Austria
Kitzbuhel has now opened full time since last weekend after its initial weekend-only opening 11 days ago. It, and the country's eight glacier areas, remain the only ski areas open in the country and that will be the case for another week or two yet, with Obergurgl scheduled as the next to open on the 16th/17th. There's been no fresh snow reported in the last week but bases are good at most glacier areas, with 50-140cm.
Hintertux
is currently looking particularly good with 37km of runs open, 16 lifts operating and its excellent terrain park operational.
France
It's back to just
Tignes
open in France after Les 2 Alpes ended its 10 day October opening last weekend, and that will be the situation for the next three weeks. Conditions could be better, but there's up to 50cm of hard packed snow at the summit and snow in the forecast.
Italy
Italy's summer ski stalwart Passo Stelvio is believed to have ended its 2016 season at the weekend but there remain three centres open in Italy thanks to Solda opening to join Cervinia and Val Senales which opened in October and September respectively. Cervinia reports the base depth at 95cm with its slopes linked over the border to
Zermatt
(reporting a 60cm base despite having higher slopes), and there's 35cm at Solda, 50cm at Val Senales.
Switzerland
More Swiss centres have opened in the past week so there are now six open areas to choose from, placing it second after Austria for the present. Davos
Klosters
has decided to open this weekend - three weeks earlier than its scheduled opening date - because of what it said were great conditions. Terrain at the top of the mountain was opened as well as a cross country loop the resort has been keen to promote as a successful project, attracting international racing stars.
Arosa
Lenzerheide also aimed to open some terrain at the weekend thank to creative snowmaking. The two resorts join already open Swiss glacier resorts including Saas Fee, Zermatt, the Diavoleza glacier near St Moritz and Glacier 3000 above
Les Diablerets
. Saas Fee has the deepest base on the country, and one of the deepest in the world at present, with 150cm/5 feet lying.
Conditions at all open areas should improve markedly with this weekends snow.
Scandinavia
After
Geilo
in Norway opened a month ago using snow stockpiled from last season spread out on one run, the resort of Bjorli decided to follow suit at the weekend, although in its case it used fresh snowmaking to open one run last weekend. Their decision was rewarded by a big natural snowfall which left the area blanketed in 20cm of fresh snow. The two open Norwegian areas are accompanied by
Ruka
in Finland which opened three weeks ago using stockpiled snow. Most areas in Scandinavia tend to open earlier than those in the Alps thanks to their typically lower Autumnal temperatures, so more areas are expected to open over the next few weeks.
North America
Canada
Western Canada's leading resorts - including Whistler and Sunshine - have been publishing pictures of deep snow cover and heavy snow storms in recent days, making them look very ready for opening. In fact Sunshine near
Banff
in Alberta has decided to open early on Wednesday 3rd November to claim that 'first to open in Canada' title. It says it has a 68cm base of all natural snow (no snowmaking there). Smaller Mt Norquay, even closer to Banff, was officially supposed to be the first in the country to open, this Friday, but on its site it says that has still not been decided and the webcam image is inconclusive – some slopes look white, others not. Other areas including Whistler and
Nakiska
seem likely to open very soon and Lake Louise will open the weekend after this (on the 11th).
USA
Things are looking good in the US with continued big snowfalls on both East and West Coasts.
Mammoth Mountain
in California reported one of the biggest falls with 18 inches (45cm) at the weekend. It is scheduled to open a week tomorrow. Currently it remains just Arapahoe Basin in Colorado and
Killington
in Vermont that are open, both with bases around the foot mark and just one or two trails open a piece. They should be joined this weekend by
Keystone
and possibly Loveland in Colorado, both due to open on Friday, with
Breckenridge
and Copper, the first of the country's big players, lined up to follow on the 11th.
Southern Hemisphere
It's the final week of the southern hemisphere's 2016 season, with just one ski area still open; Mt Ruapehu in New Zealand. It still has a 150cm (five foot) base and conditions look good for the last few days up to closing day, Sunday the 6th.