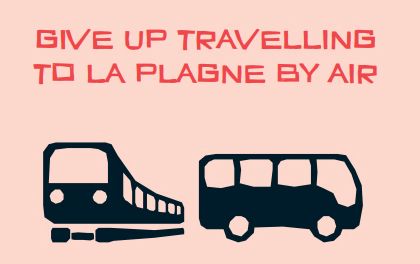 La Plagne
, one of the world's most popular ski resorts and thus generating hundreds of thousands of flight seats each winter as skiers fly to
Geneva
or
Chambery
to get to it, is making a concerted effort to promote low carbon travel to its ten village bases, particularly by rail or bus.
"La Plagne's very own online travel agency, La Plagne Resort, is now only proposing train or bus travel in its all-inclusive packages for long-distance journeys to the resort," a statement from la Plagne ahead of the23-24 ski season announced.
It also published data suggesting that while a rail journey from London would generated less than 4kg of CO2, the equivalent car trip would generate nearly 240kg or almost 60 times more, although it wasn't clear if this was per car or per person in the car and how efficient the example car was with the stats supplied by the Avenir Climatique website.
La Plagne notes that the French national rail service SNCF and Altibus (the bus link to the resort villages) will carry one pair of skis or a snowboard per passenger in addition to your main luggage.
On the Thalys train, "Skihost" staff wearing red jackets can help you get your luggage on and off the train. In addition to the usual luggage racks, there is additional space in two of the carriages. A secure area at the front of the train (not accessible during the journey) is also offered.
La Plagne was awarded the 'Zero Carbon Mountain' Award earlier this year at the Alpipro trade show, to reward the resort's commitment to the energy transition.
In concrete terms, three actions have been undertaken since 2021: the drafting of a Corporate Social Responsability report, the preparation of a destination carbon footprint measure and the launch of the process to obtain the Mountain Riders Association's Flocon Vert (green snowflake) label.