J2Ski Snow Report September 7th 2023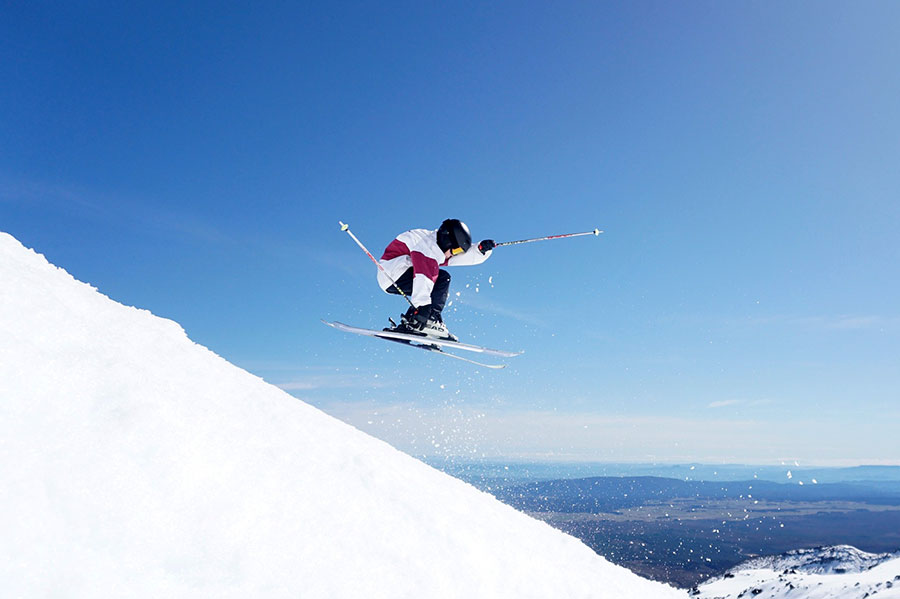 Mount Ruapehu, New Zealand, looking good...
More snow in South America, some forecast for NZ, warming in Oz.
The Snow Headlines - September 7th
- Australian areas hit by warm weather with several closing...
-
Portillo
announce powder alarm with 31cm of snowfall in 24 hours.
-
Zermatt
opens year-round beginners' snow park on Italian border.
- Snowfall in the Rockies for Utah, USA and Alberta, Canada.
- Another big snowfall in the Andes.
- Italy's
Passo Tonale
reopens for summer skiing after snowfall and temperature drop.
- Hail like snow coats Portugal's ski slope.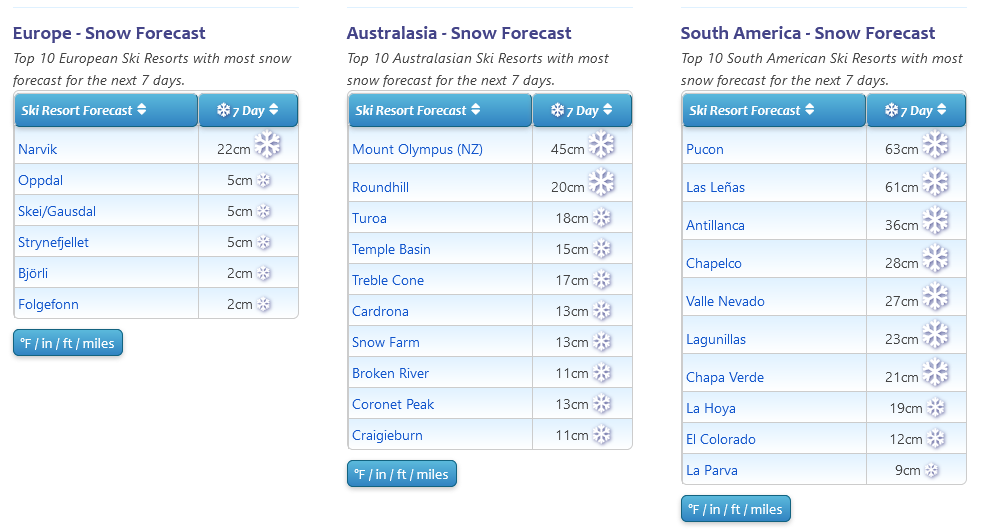 More snow for South America, and a top-up for New Zealand on the way.
Re-publication :- our Snow Report Summary, being the text above this line, is free to re-publish, but must be clearly credited to www.J2ski.com with text including "J2Ski Snow Report" linked to this page - thank you.
World Overview
As the southern hemisphere's meteorological springtime and the northern hemisphere's autumn/fall begin to gather pace we're seeing all kinds of weather arriving on mountains right around the world.
The Andes, for example, have seen more heavy snowfall up high, but as temperatures gradually warm, some areas have sadly seen heavy rain too.
In the USA there's been more snowfall on high slopes as the 23-24 season starts gets nearer; just dustings so far but good for building anticipation levels before the snowmaking guns start firing in a few more weeks.
In Australia there's a definite 'end of the season' feel with warm weather and wet snow forcing resorts to close large swathes of their terrain and some to close entirely.
In the European Alps, the late summer snow a week ago has enabled one (temporarily) closed summer glacier area to reopen.
For real novelty, Portugal's only ski area (Serra Estrela) posted white ski slopes on September 2nd, saying it was down to a huge hail storm, not snow though!
Across in North America snowfall was reported earlier this week on high slopes in Utah and then in the past 24 hours at resorts around
Banff
in Alberta, Canada. It looks like the next few weeks are going to be bumpy for weather changes as the northern hemisphere's 23-24 season nears and the southern hemisphere's 23 season winds down. So buckle up!
Southern Hemisphere
Australia
It's been another warm and sunny week in Australia with daytime temperatures reaching high single figures.
This, combined with what showers there have been in recent weeks falling as rain rather than snow, is impacting snow cover in the final weeks of the season.
The worst hit are
Selwyn
and
Mount Baw Baw
which both now say that their slopes are closed for the season with no sign of significant snowfall on the horizon.
Others are conserving what terrain they have open, with
Hotham
shutting down a big part of its terrain and pushing the snow onto areas they're aiming to preserve around the base. Overnight lows have been down enough for fresh snowmaking and Hotham was a resort that reported natural snow flurries too, earlier this week.
The largest resort,
Perisher
, still has the most terrain open but it's dropped a lot from a week ago to a little over half of its full area.
Falls Creek and
Thredbo
are also at around 50% of terrain still open but Buller and Hotham are down to about a third.
New Zealand
New Zealand continues to report the best conditions of the season (the first half wasn't great), with a month now of predominantly cold, sometimes snowy weather after the warm June and July.
Most resorts have had another week of clear skies, with strong winds again the main complaint.
Mount Hutt has one of the deepest bases in the world at over 2 metres up top and reports its slopes 100% open – one of the very few resorts worldwide that can – all 40km of runs, the most in the country.
Turoa goes one better on snow depth, up to 255cm now, the most in the world.
Both centres should stay open until at least mid-October.
Argentina
Argentinian ski areas have reported a mostly cool and sometimes snowy week, although the dumps some ski areas on Chile's Pacific Coast posted don't seem to have materialled further east, although on the upside nor have the warmer temperatures and rain so much.
All of the country's ski areas remain open although the published amounts of terrain accessible has begun to drop for the final weeks of winter 2023, with Catedral near
Bariloche
still posting the most in the world at present, but down from 100km to 70km of runs.
Most Argentinian ski areas will end their 2023 seasons at the end of next week, or the weekend after.
Chile
Conditions appear to be either really good or really bad in Chile at present depending on whether your resort is seeing snow or rain from the latest big storm that has been impacting the country for much of this week.
Portillo, for example, posted over 50cm of snowfall in 48 hours at the weekend but
Lagunillas
announced it was closed with heavy rain and temperatures in the afternoons at +10C.
With only a few weeks of the planned season left for most resorts in the region, it's unclear if Lagunillas will reopen this year.
Important to note though that most of the major resorts are still open and offering spring skiing conditions.
Europe
Alps
After the excitement of last week's summer snowfall, the beginning of Autumn (on the meteorological scale!) has seen temperatures on glaciers creeping up a little again unfortunately. Not as warm as they were in August, but still getting back above freezing overnight and afternoon highs getting back to high single figures Celsius.
Saas Fee and Zermatt in Switzerland as well as
Hintertux
in Austria, remain open.
Passo Stelvio ended a week of being "on hold" and re-opened its slopes last weekend after deciding snowfall and lower temperatures were enough. Conditions remain fairly good on what slopes are open there and elsewhere in the Alps with mostly sunny skies since the weekend.
Zermatt announced it had begun opening a new beginner's terrain park on the Italian border at the base of its new lift up to the Klein Matterhorn from Plateau Rosa. This will operate year-round and is due to have a new covered conveyor lift installed over the next few months.
We're now just a fortnight from the first of the autumn glacier openings at Austria's
Pitztal
which should continue most weekends from then on.
The slopes of Serra de Estrela, Portugal's only ski area, turn white at the weekend, but it was a build-up of hail from a big storm, not snow. It didn't last long.
Scandinavia
Scandinavia's highest slopes at
Galdhøpiggen
summer ski centre in Norway remain open, there's about a mile of slopes and a metre of snow still lying. The weather has turned sunnier over the last few days following an unsettled start to the week. Overnight lows around -2C afternoon highs +10C. The Finnish centres of
Ruka
and
Levi
are due to start their seasons in 4 weeks' time now thanks to snowfarming.
North America
There's only indoor snow skiing possible in North America right now, at Big SNOW in New Jersey, but anticipation is building for the start of the 23-24 season, hopefully next month.
Dipping temperatures saw snowfall reported on the White Mountains of New Hampshire in the East and on Mount Hood in Oregon in the Western US last week and then more reported on slopes at
Alta
,
Snowbird
and
Solitude
in Utah at the start of this week.
Most recently,
Lake Louise
and Sunshine near Banff in Alberta, Canada, both two months from the start of their 23-24 seasons, posted pictures of their slopes turning white on Wednesday.
Snowmaking ahead of the season start is expected to begin on high slopes in Colorado later this month.