J2Ski Snow Report September 1st 2023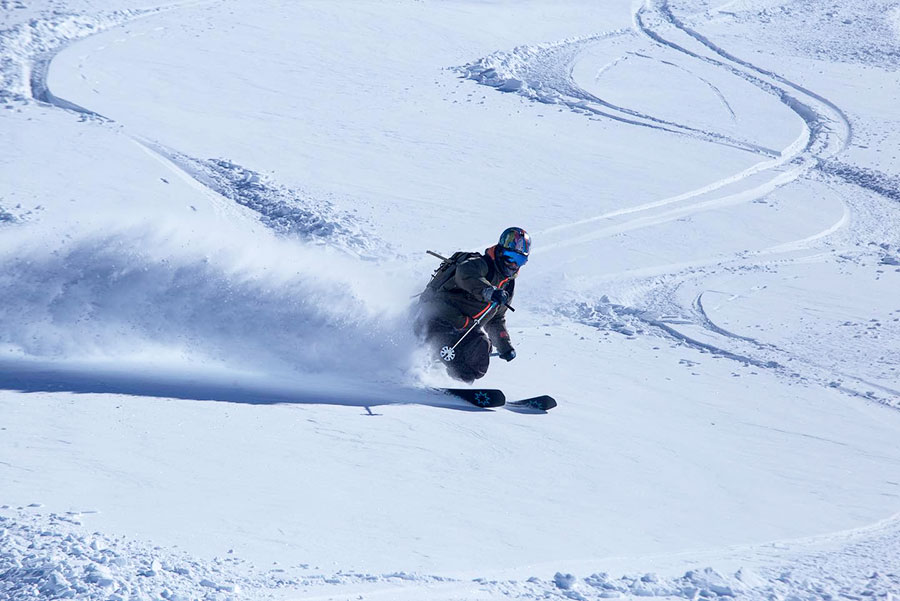 El Colorado, Chile getting some of that South American goodness...
More big snows in South America, and more late-summer snow in the Alps.
The Snow Headlines - September 1st
- South American super snowstorm totals up to 4 metres of snowfall in five days.
- Italy's Passo Stelvio suspends summer skiing due to high temperatures in the Alps.
- Argentina's largest ski area Catedral first in world to post 100km+ open since May.
- Temperatures drop and summer snow falls on glaciers in the Alps.
- More Australian ski areas close slopes in warm weather.
- Pyrenees also report summer snowfall.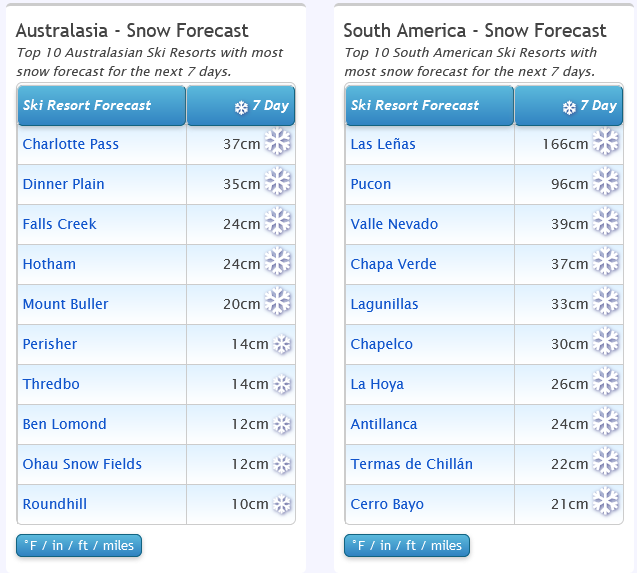 A freshen-up on the cards for Aussie ski areas, more powder for the Andes!
Re-publication :- our Snow Report Summary, being the text above this line, is free to re-publish, but must be clearly credited to www.J2ski.com with text including "J2Ski Snow Report" linked to this page - thank you.
World Overview
It's been a week of quite significant changes as springtime arrives in the southern hemisphere and autumn/fall in the northern, by the meteorological seasonal calendar at least!
Most ski areas in the southern hemisphere are in their best shape of the season so far with Argentinian and Chilean ski areas now seeing the benefit of a massive multi-day snowstorm that ended last weekend after depositing, allegedly, up to 4 metres of snow on higher slopes.
New Zealand may not have had quite such a big snowstorm but it has had weeks of mostly cool and sunny weather after a decent mid-August dump so here too most slopes are open and bases are also the best of the season to date.
The only hiccup in the positive picture for the southern hemisphere is Australia where warm temperatures and rain have led to a second ski area calling it a day on the 2023 season.
In the northern hemisphere, anticipation for the 23-24 season may be in its early stages but the good news is that cooler weather and even snowfall up high has arrived in the Alps and Pyrenees after record warm temperatures in recent weeks. Social media channels were busy in the first half of this week with images and videos of summer snowfalls.
More glacier ski areas are due to start opening in just three weeks and snowmaking should be getting underway on the highest ski slopes in North America by late September too.
Southern Hemisphere
Australia
Australia's ski areas continue to battle mixed conditions, the key issue is always overly warm weather.
That, and associated rainfall rather than snowfall, has caused
Selwyn
ski area to shut its ski slopes once again after the respite of the snowfalls a fortnight ago.
Mount Baw Baw
has now joined them.
Hotham says it is having to close a lot of terrain due to warm temperatures and rain. Conditions continue to be marginal with overnight lows sometimes allowing snowmaking to work, but then daytime highs causing an ongoing thaw.
That said, most of the other main resorts –
Falls Creek
,
Thredbo
, Buller and
Perisher
, have enough snow lying from early season snow and the top-ups there have been – machine or natural – to have most of their terrain open still.
New Zealand
It's been one of the best weeks of the season in New Zealand with consistently cold and mostly sunny weather, with occasional snow flurries. Temperatures have dropped as low as -13C overnight and only got a few degrees above freezing in the daytime, keeping the snow in great shape.
The only real negative has been strong to gale-force winds at times, occasionally closing centres.
Turoa on the north Island is still posting the world's deepest snow at present at over 2.5 metres, while
Coronet Peak
on the south island has the most terrain open in the country, with 40km of slopes, as it is 100% open.
Sunny weather continues to end the week but a front is expected to bring fresh snowfall imminently.
Argentina
The skies cleared after the almost week-long "snowstorm of the century" (we recall there have been a few called that) that hit the Andes and Patagonia. Official snow total stats were hard to find but we saw anything from 1 metre to an incredible 4 metres claimed for the five days.
All the snowfall caused a lot of practical issues of course too though; access roads blocked, power lines down, lifts buried and high avalanche danger. So several centres closed until it was safe to open.
Las Lenas saw the biggest reported snowfall (4 metres), although that seems to be an unofficial stat for the backcountry with official depths remaining more modest, but still the best they've been all season.
The continent's largest resort, Catedral near
Bariloche
, has reported over 100km of slopes open for the first time this season, and the first time any ski area in the world has had over 100km of slopes open since May.
Chile
The huge snowstorm in the Andes last week impacted Chilean ski resorts as it did Argentinian, leading many of the country's ski areas to close temporarily due to high winds, avalanche danger, low visibility, blocked roads and buried lifts!
At the end of the five-day storm last weekend reports of storm totals of up to 2.5 metres came in, with
Portillo
reporting the biggest dump and becoming the first area in South America to post a 2m+ base.
Since the storm cleared ski areas have been digging out and re-opening terrain.
El Colorado is posting the most open terrain in the country at present, with 40km – about 80% of its full area – open.
Temperatures have remained cold and it's a mixture of sunshine and cloud with just the odd light snow shower forecast for the next few days.
Europe
Alps
It's been an exciting week for snow fans in the Alps with a big change in conditions as storms moved in at the weekend after the record heat at altitude for much of the latter half of August.
Up to 30cm (a foot) of snowfall was reported on high slopes across the region, extending as far north as Germany's Zugspitze and down to
Grandvalira
in the Pyrenees in the south.
Skiers were even spotted on a webcam on the fresh snow at (closed) Les 2 Alpes. The snow fell to as low as 1500m in places but by Wednesday the snowline was at 2,000m and rising, as are the air temperatures although they remain much cooler than they have been.
Currently, Saas fee and
Zermatt
are open for skiers in Switzerland, and
Hintertux
in Austria while Italy's Passo Stelvio, which decided on a 'temporary close' last Friday, is yet to reopen despite fresh snowfall there.
Scandinavia
Norway's Galdhopiggen summer ski areas look to have made it open through August. That's an achievement as more often than not in recent years it has been forced to close for a while by hot weather, but it's still reporting the snow over a metre deep and much cooler temperatures than further south have led to some fresh snowfalls in recent weeks. Overnight lows have also been below freezing.
It's just over a month now until Finland's
Ruka
and
Levi
ski areas will use snow farming to open for their seven-month-long 23-24 seasons at the start of October.
North America
There's nowhere open in North America at present other than the indoor snow slope at Big SNOW in New Jersey, so it's really all about anticipation for the start of the 23-24 season, perhaps 6-8 weeks away.
Snow has been spotted on high slopes in Utah and Idaho and temperatures have been dropping over a wide area. The first snowmaking cannons are expected to fire up on the highest slopes in Colorado in about a month at the end of September.