J2Ski Snow Report April 13th 2023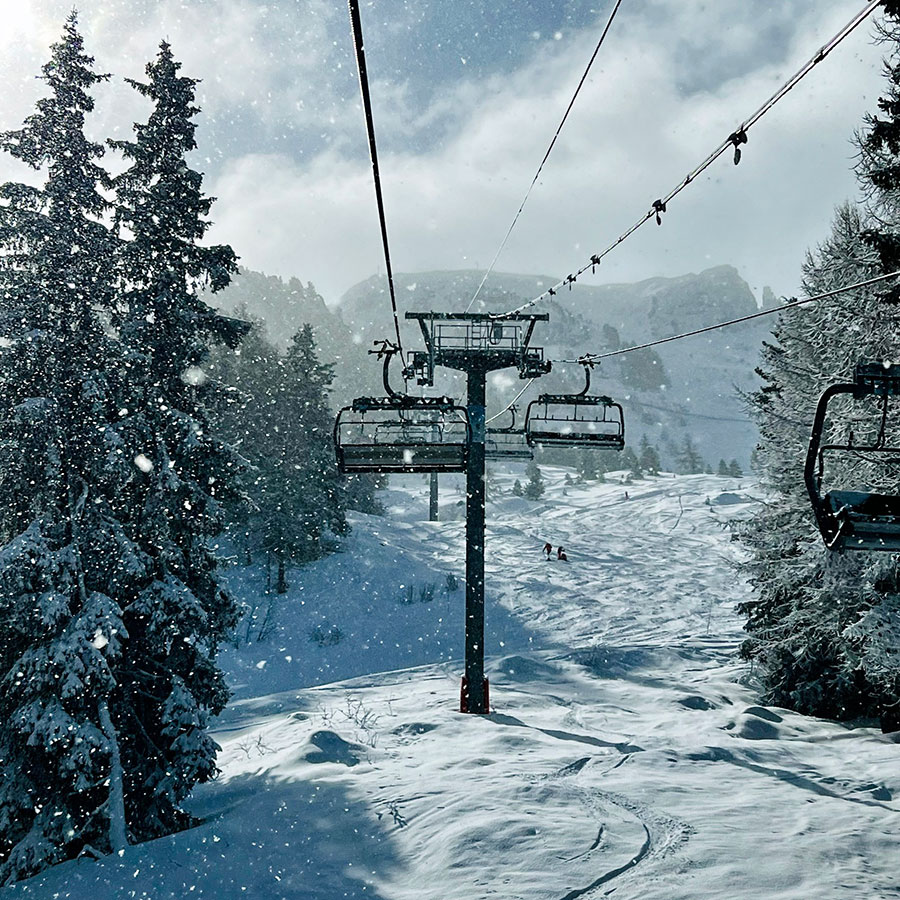 This was Les Arcs, France, this morning... just saying...
Northern hemisphere season slowing, but the snow's still falling...
The Snow Headlines - 13th April
- Access road to
Alta
and
Snowbird
closed for much of the past week due to avalanche danger.
- Snow base depths begin to drop in Europe and North America.
- Fresh spring snow both sides of the Atlantic.
- Japan's Gassan summer ski area opens for the 2023 season.
- Fresh snow reported on Australian ski slopes two months ahead of 2023 season.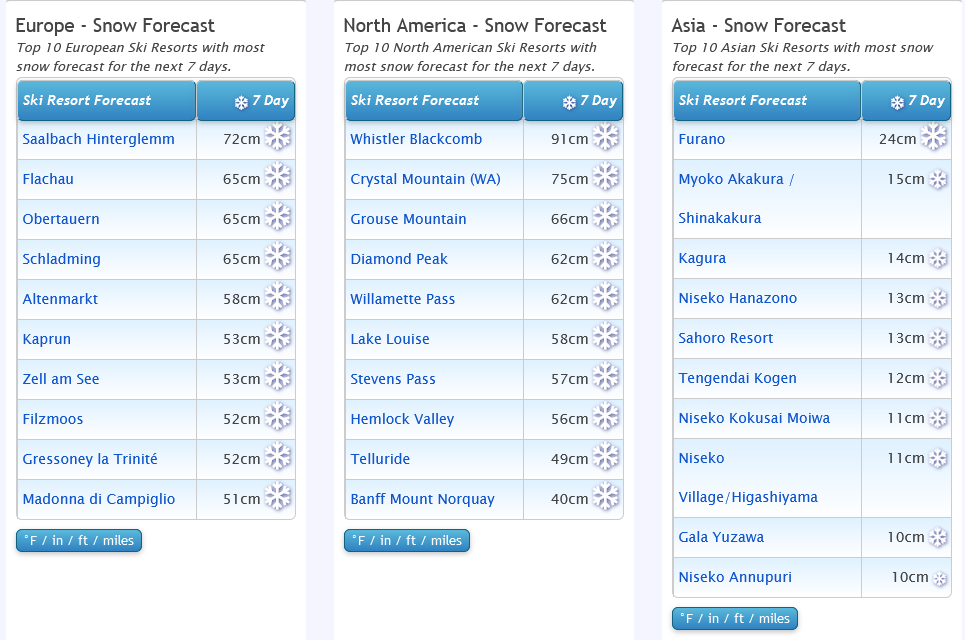 Yep, still snowing...
Re-publication :- our Snow Report Summary, being the text above this line, is free to re-publish, but must be clearly credited to www.J2ski.com with text including "J2Ski Snow Report" linked to this page - thank you.
World Overview
About 90% of ski areas across the northern hemisphere have either closed in the past few days, following the Easter weekend, or will do so this coming weekend, but it's still possible to ski at hundreds of locations across Europe, North America and Asia, which are remaining open to the end of April or even into May.
In Europe, it was a cold and (up high) sometimes snowy Easter weekend, but things have warmed up since, although weak fronts moving across the continent have brought more light snowfall to high slopes. The thaw is finally starting to win through with the deepest snowpack down 30cm (a foot) compared to a week ago.
It's a similar story across in North America where again there was weekend snowfall but now the thaw is marked and the deepest snowpack (in the continent and the world), at Mammoth in California, has dropped back down below 8 metres.
Europe
Austria
It's been quite cool and there has been more fresh snowfall on higher slopes in Austria over the last few days.
That's slightly ironic given that the 22-23 season is rapidly ending in the country with many areas closing after the Easter weekend and plenty more closing this coming weekend.
However those that open later into April and the few continuing into May or even June are the ones reporting the snowfall, including 20cm for Solden, 12cm on the
Kaunertal
glacier and 10cm at St Anton, so it's looking fairly good for the next week or two here.
In the short term, more cold and snowy weather is forecast through the weekend.
France
As with most parts of the skiing world, with Easter behind us and the latter half of April nearly beginning, most of France's ski areas have either closed down or will be doing so soon (this coming weekend or next) and those that are still open have, in most cases, shut down large chunks of their terrain with a focus on higher runs.
Ski areas open up to May include
Chamonix
,
Tignes
, Val d'Isere and
Val Thorens
, and the good news is that it has been decidedly wintery on those higher slopes above 2,000m altitude with repeat snowfalls through the last week.
Base depths, even up high, appear to have finally peaked though with Europe's deepest at Tignes dropping from a season-high point of 4.5 metres (15 feet) for the past few weeks to 4.2 metres now.
Italy
Most of Italy's ski areas closed for the season on Monday or Tuesday this week but a good many remain open including
Val di Fiemme
open until this weekend on the 16th, an extra week at Kronplatz (until 23 April) and
Arabba
(until 25 April) with more than a fortnight of the season left to run at Cortina d'Ampezzo until 1 May and three weeks for Cervinia to May 7th.
The past week has seen a mix of all weathers with plenty of sunshine - and valley temperatures rising to double figures. There have been showers too, with a few centimetres of fresh snowfall above 2,000m, and rain lower down.
Switzerland
Swiss ski areas have begun closing and most of those still open will be closing after Sunday's skiing; but several dozen areas will be open later in the month.
As with other Alpine nations, it's these higher centres that have been reporting snowfall with low temperatures over the last few days and more snowfall forecast for the rest of this week and through the weekend.
Several centres reported 25cm of snowfall in the last 24 hours with
Zermatt
(hoping to stay open year-round again if summer heat allows after being forced to close last August-September) one of the big winners and decent dumps too at
Samnaun
(Open to May 1st) and
Saas-Fee
.
Scandinavia
Scandinavian ski areas have been reporting some good fresh snowfalls over the past few days after a sunny Easter weekend.
5-20cm accumulations have been reported and with temperatures only just beginning to climb a few degrees above freezing so the snow quality is also still good. Unlike further south, most ski areas in the region remain largely fully open, thanks to their northerly latitude, and will remain so into early May in the case of big players like Are,
Hemsedal
,
Levi
and
Ruka
.
Pyrenees
The season is all but over really in the Pyrenees with most of the ski areas in the region now closed for 22-23 and almost all of those remaining planning to close at the end of this coming Sunday.
The Easter weekend here was very warm and sunny although it has cooled in the last few days with snowfall on the very highest peaks but rain lower down.
The largest area
Grandvalira
has just a foot or so of snow left up high and about a quarter of its terrain open until Sunday, having closed Soldeu-El-Tarter on Tuesday.
Scotland
Scotland's season is more or less over. There was some hill snow to start the week which
Glencoe
described as potentially the last chance for ski tourers who can use the centre's chairlift to ease access to the touring terrain.
The only lift-accessed skiing still just about open at the time of writing is at Cairngorm which reports soft snow conditions and the runs in the Ptarmigan Bowl becoming thin in some sections, "...but still good snowsports to be had."
Eastern Europe
Most of the well-known ski areas are still open in Eastern Europe and it has been a cool and snowy week for many with fresh accumulations on higher ground.
Daytime highs of +15C were reported at the resort level in Bulgaria in the last few days and most areas are expected to close there after a final ski day on Sunday. Bulgarian ski areas are now running at 30-60% of their slopes open for the last few days of 22-23.
Jasna in Slovakia has the most terrain open.
North America
Canada
Springlike conditions were reported in eastern Canada but much more wintery weather in the west, where Whistler was largely shut down by gales at the weekend and
Fernie
by heavy rain over the last few days.
Fellow BC ski area
Revelstoke
, though, posted 25cm of fresh snowfall in 48 hours and a snowy final few days to the season there.
USA
Last week saw more huge snowfalls in the Rockies with the resulting avalanche danger so great in parts of Utah that some ski areas including Alta and Snowbird have been cut off for most of the past week for road safety reasons.
There was snowfall in other areas too, but not with quite such dramatic volumes (another five feet/1.5m) or consequences.
Spring has now though finally sprung and most US resorts are seeing sunshine, warm temperatures and a fast thaw. Lots have also ended their season on schedule, including Jackson Hole after declaring a record 595" seasonal snowfall total.
However, dozens more have extended their seasons into May, or beyond, including
Breckenridge
,
Heavenly
, Mammoth, The Palisades, Snowbird,
Winter Park
and most recently the country's biggest ski area,
Park City
.