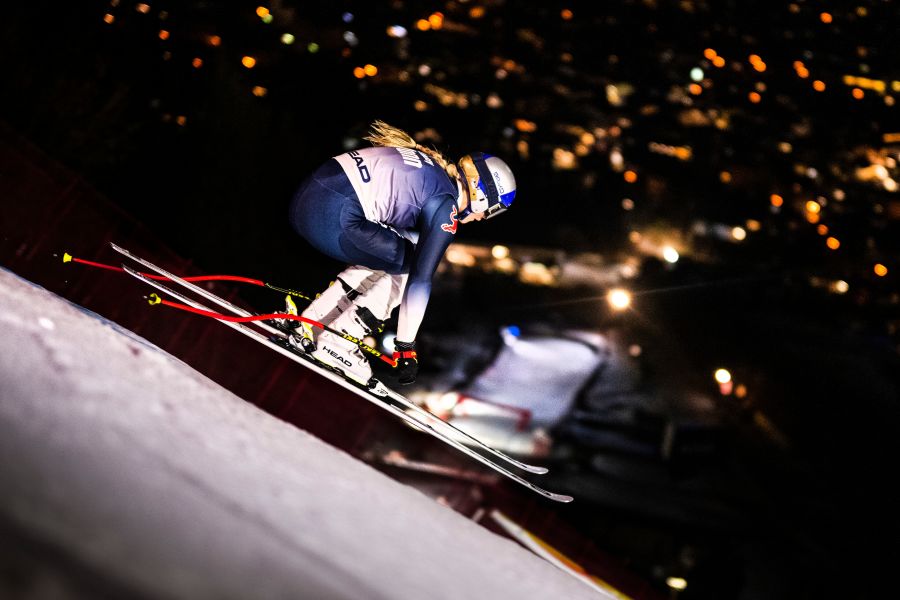 Lindsey Vonn has returned to ski racing to become the first woman to ever ski the Streif – the legendary downhill course in Kitzbuhel - and at the same time the first to ever do so at night.
The American racer won everything there is to win in the sport before retirement in 2019 but she had never had the chance to ski the Streif in
Kitzbühel
, Austria until this week, ahead of the 83rd Hahnenkamm Races this weekend.
Setting off in the dark from the original start in preparation for the iconic race, Vonn crowned her career in spectacular style.
The Streif is considered the greatest challenge on the FIS Alpine Ski World Cup and it is a race Vonn could never compete in due to only men's downhill races being held in Kitzbühel.
The 38-year-old said:
Only when you ski the Streif are you a real downhiller. It's the pinnacle of downhills, the most difficult course in the world. Nobody believed I could do it. After all my injuries, to get the chance to kick out of the starting gate is incredible.
I've always had respect for the men that raced here, but I have even more respect now, because it's one thing to go down it and another thing to ski to win.
Vonn had not raced a downhill course in four years but pushed out of the start gate and entered the notorious Mausefalle (Mousetrap), with an 85% gradient.
She had prepared intensely in preparation for the descent despite the severe knee injuries suffered in a career that brought Olympic gold, 82 World Cup victories and saw her crowned a multiple World Champion.
Vonn borrowed the skis from US skier Ryan Cochran-Siegle and was coached by her compatriot Daron Rahlves, himself a course winner in 2003.
Rahlves said:
To see Lindsey finally have a chance to ski on this track in this kind of situation is incredible. I had no doubt she could ski it, but I was questioning if she was going to really ski it with a lot of determination - I was really impressed that she did. This is true downhill, if you make one mistake, you can have some bad outcomes. But the way she just came out to own it was really impressive.